With the strength of rice production, the Vietnam Mekong Delta area is carpeted in the variety of greens and the maze of small canals. The river is also the base of living for people here, for transportation, floating society, market, etc. This living culture turned out to be interesting to people around the world. Some say you have not come to Vietnam unless you travel to see the Mekong Delta. There are several Vietnam tours that bring you to explore each province among 13 provinces here, however in this article, I am going to introduce some highlights of the Mekong Delta tours 2 days and the time period you should spend in the area.
The first day of Mekong Delta tours 2 days
My Tho – Ben Tre
Considered as the easiest way to access to Mekong Delta, the route is the most crowded one. It is also close to Ho Chi Minh City which is just nearly 2 hours (90 km) to drive to both places. My Tho is a friendly market town that nestles on the north bank of the Mekong River's northernmost strand, Tien Giang or upper river. Crossing a bridge, you are getting to Ben Tre – a coastal province, green land of the endless rice fields, coconut trees, and fruit gardens.
Here below is some good place to pass by:
Vinh Trang Pagoda – the greatest pagoda in My Tho/Tien Giang. Built in the late 19th Century, it is a national historical and cultural relic. Living through the Vietnam – French war, it was damaged and successfully renovated thus having the harmonious combination of Asian and European types of architecture. Vistors are soaked up with the pleasant ambiance and peace here with the garden full of century-old trees, flowers, and lotus pond.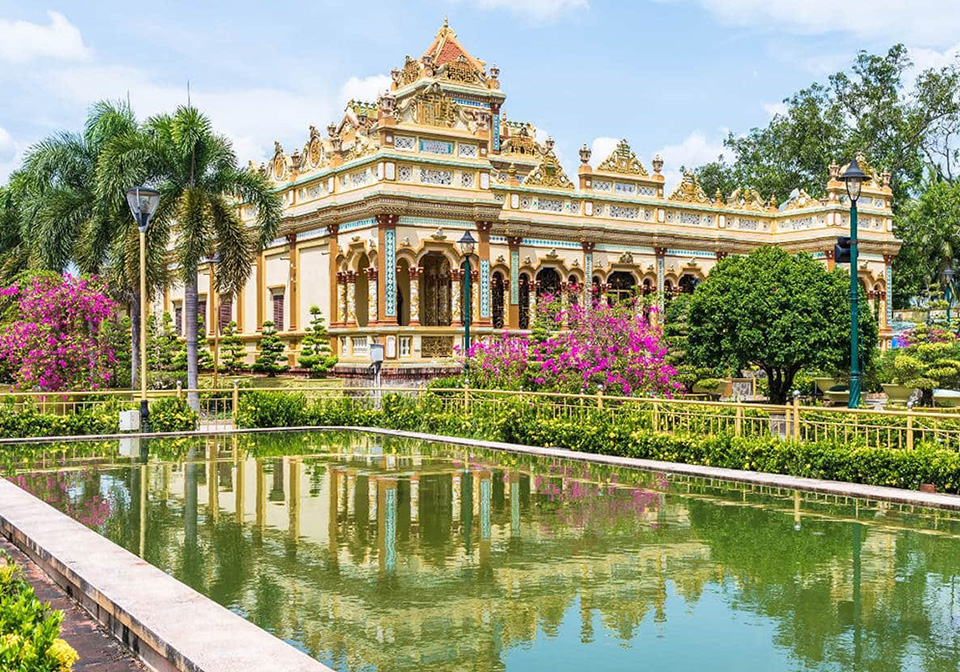 Join the motorboats to visit Dragon Island, Unicorn Island, Phoenix Island, Turtle Island.
Local workshop: coconut candy, bee farm and product made from honey, rice wine.
Cai Be – Vinh Long
This is one of the less touristy routes in the area and it takes a long time to get there. You are going to see Cai Be floating market too so starting early in the morning is highly recommended.
Cai Be floating market: Opened in the 18th Century, it used to be the busiest floating market in the area, famous for colorful garden fruits like grapes, starfruits, or rambutans, seafood, and poultry. The liveliest time is from 5 am to 8 am. So for travelers, the most suitable time to be there is 6 am to 7 am. Local people sell, buy and exchange goods on their boats.
Unfortunately, this floating market is getting smaller through the years since there is a new bridge built and the trade is shifted to the modern central market on land. However, besides the Mekong Delta floating markets, guests coming here can also emerge into the countryside life by jumping in the sampan boat to discover the small canals or ride a bike on the narrow roads along small side canals and visit the orchard.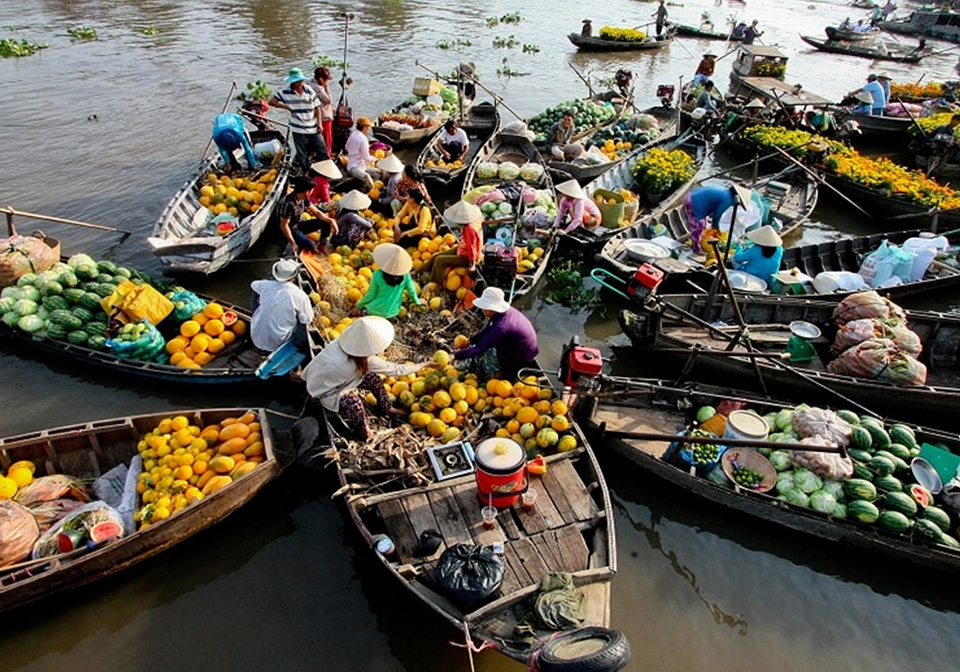 Visit the tropical fruit orchards in Vinh Long city.
Enjoy the Vietnamese traditional music (Đàn Ca Tài Tử) – A folk art form from Southern Vietnam accredited by UNESCO in 2013 as Intangible Cultural Heritage of Humanity.
The second day of Mekong Delta 2 days
After visiting Cai Be & Vinh Long, you can drive straight to Can Tho which is 1.5 hours away and stay overnight there and prepare for the next morning to Cai Rang floating market. It is very common that after Cai Be, visitors move to Can Tho to stay overnight in a friendly and authentic homestay then be ready for Cai Rang floating market in the sunrise. It takes 30 minutes if you get there by boat from Ninh Kieu pier.
This is the largest floating market in the Delta also the most popular one due to its location and accessibility. Cambodian or Chinese buyers can be found here thus you know that this market is very well-known in other countries by the Mekong River. It is exciting to see the traders "perform" so professionally and creatively to juggle fruits from boat to boat.
Can Tho is also famous for Binh Thuy ancient house which was finished in 1911 and owned by Duong's family. This is a perfect sophisticated combination of Western Europe, Chinese and Vietnamese architecture. This house is also a popular place for film shots – one of those was the famous movie "The Lover" a 1992 film based on the semi-autobiographical novel by Marguerite Duras.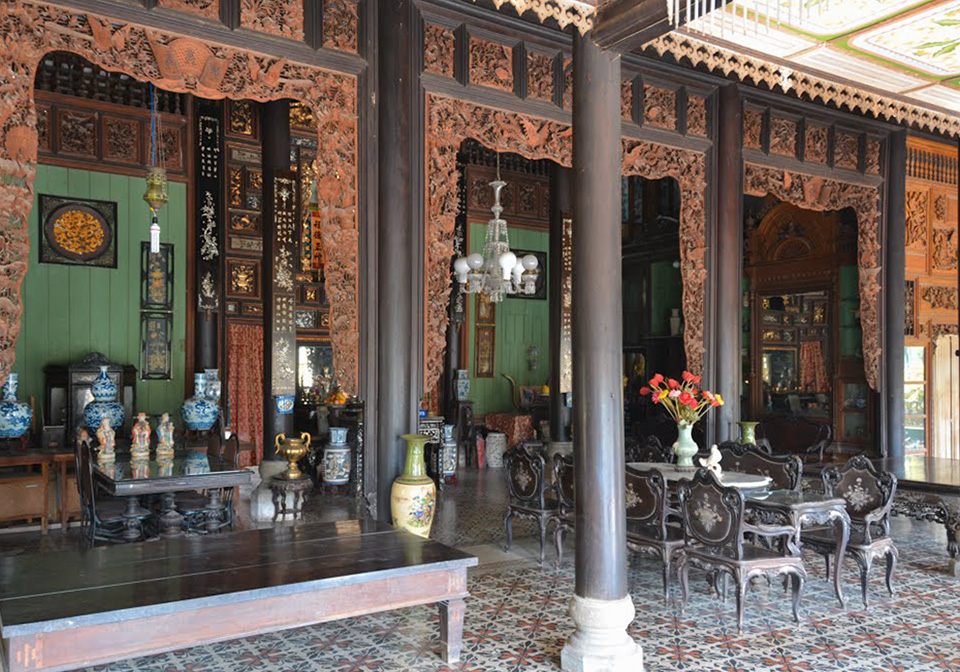 Overnight boat
Instead of sleeping at a homestay or a local hotel, sleeping over abroad is a special way to enjoy the destination. You can see the sunset from the sundeck or have a silent romantic night while the ship docks. Most of the local boats are assembled the Chinese – Vietnamese traditional style fishing boat with around 10-15 cabins. Those are usually under 20 sqm, not like multiple Halong Bay cruises, but really authentic. There are also private boats for couple and family such as Gecko Eyes Cruise (1 cabin), Dragon Eyes Cruise (2 cabins), Mekong Douce Cruise (4 cabins), Song Xanh Sampan (2-3 cabins), etc.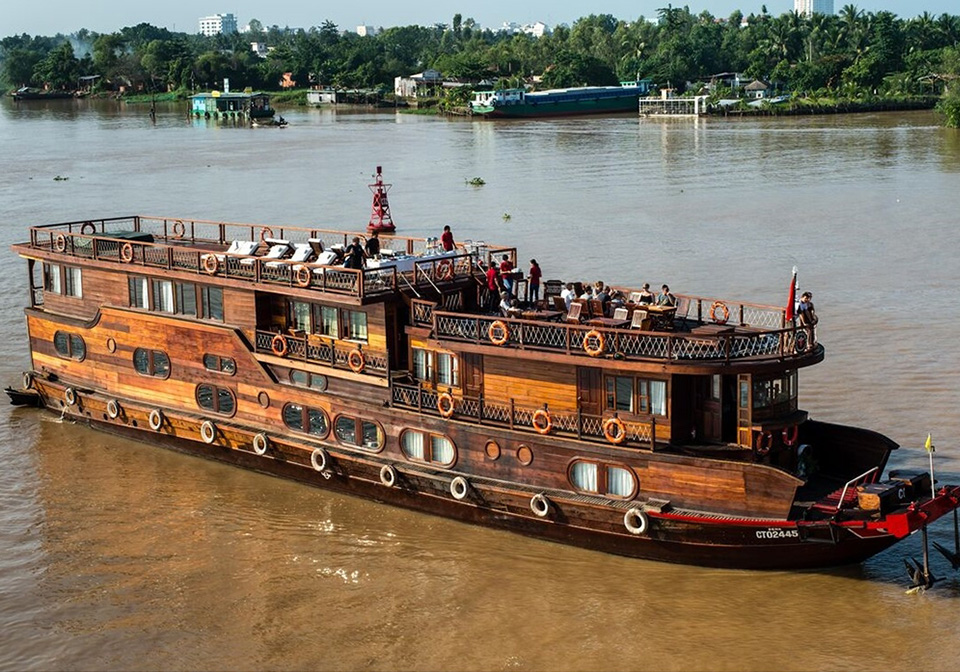 The itinerary of different cruises are quite similar which are to Cai Be – Can Tho – Chau Doc; or you can even extend your trip to Chau Doc with Tra Su Cajuput forest, Phu Quoc island or Phnom Penh/Siem Reap in Cambodia. With that, the excursion lasts for 2 days, 3 days, 4 days and even 8 days if your final destination is Siem Reap.
In general, the main highlights of the Mekong Delta tours 2 days are to witness the daily rural life, to explore the small canals with the water coconut trees along the sideway, and to understand the unique culture here which affects people life day by day. If you have not decided how long you should stay here, I hope this article will help.
Daniel Nguyen – Travel Specialist