The most bustling - floating Cai Rang market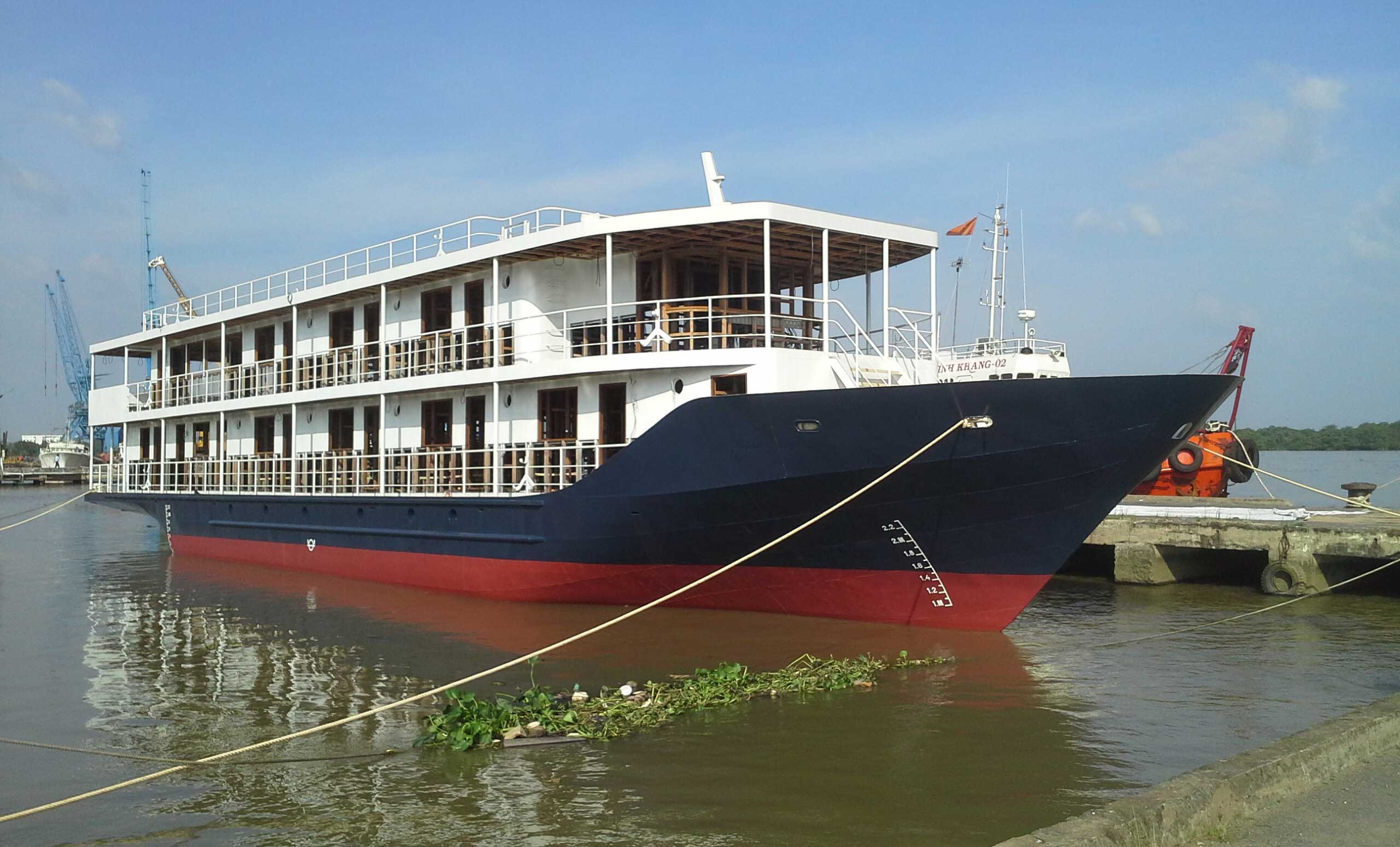 An alliance between traditions and modernity, the utmost care has been taken in order to build Le TAMARIN for your enchantment, comfort and safety. Le TAMARIN is not a renovation but a brand new boat, built in 2013. Hence, she complies with the highest environmental protection and security standards.
Moreover a foldable roof on the sundeck enables us to go under the lowest bridges and unlike others cruise ship we are able to go to S'ang to explore the Bassac river and we also can embark our passengers directly from the international port of Saîgon.
LE TAMARIN hosts a maximum of 28 passengers in 14 cabins (+ a guide cabin), optimizing conviviality as well as the feeling of intimacy. Her size, voluntarily modest, as well as her shallow draft, is perfectly adapted to navigation on all parts of the river, even in its most secrets arms without damaging the river bed and banks, unlike massive cruise ships that create a huge amount of waste. We have done a thorough job considering every aspect aboard our vessel for both energy efficiency and waste reduction. Our approach of the inhabitants and the local life is done in the same respect.
The French, English and Khmer speaking Sandy, a seasoned purser, along with his 16 crew members will endeavor to do their utmost to offer you a magical and unforgettable memory of your time on Le Tamarin, through the various riches of this mythical region you will discover in the relaxing atmosphere of the promenade deck, the sundeck, the restaurant or the lounge-bar, mainly opened on the river's life.
FACT SHEET
Year 2013
Length : 39,00 m
Beam : 7,00 m
Draft : 1,50 m
Engine: 450 HP
Speed : 12 Knots
Flag : Cambodia

Cabins
With a warm decoration, wood paneled and wooden floor, are fully equipped with:
a king size or twin beds
an individual air conditioning
a safe
220V plugs
The bathroom offers:
hot water
bathroom linen and bathrobes
hair dryer
Two couples of connecting cabins can be booked for the comfort and pleasure of families and friends. No passenger's cabins are next to the kitchen or to the engine room, moreover, at night, engines and generators are turned off; power is then supply by batteries, so passengers are sure to enjoy peaceful night's sleep.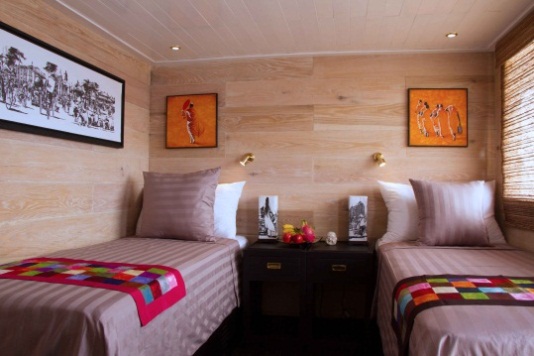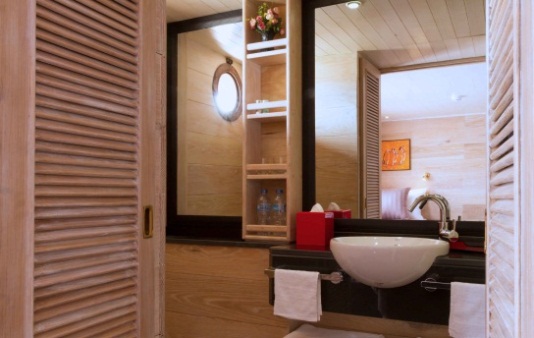 The restaurant
For breakfast, a buffet with Continental and English breakfast.
Set menus at lunch will be served to make you discover the best of Asian cuisine.
Your diner will be "à la carte" offering others discoveries of your choice.
The lounge bar
With large picture windows and comfortable seats, will offer you at any time its warm atmosphere, in the comfort of the air conditioning system or opened to the river and its cool breeze during navigation. A free Wi-Fi internet access is available in the lounge bar.
Drinks
A welcome drink and a farewell drink will be offered.
Water, tea and coffee are free and unlimited.
Other drinks will be offered at a very reasonable price.