The most bustling - floating Cai Rang market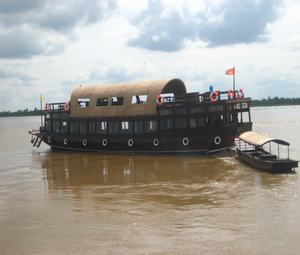 Authentic Mekong sampan is designed according to the traditonal sampans which have navigated on the Mekong flows. Long of 21.5 m and wide of 4 m , made of ''Sao'' wood, a variety of oak, very resistant to water, well appreciated by people who spend all their life working and living on water.
For a pleasant and long cruise in comfortable conditions, the sampan is equiped with a well ventilated compartment which could be used as a diner room as well as bedroom with couchettes available for group of 2 to 30 persons maximum; besides one kitchen, three restrooms with showers, one terrace on the deck, a five- person- crew included the captain, one mechanic, the chief cook, one sailor and one guide, are at your service .
Passengers on Authentic Mekong will be amazed and integrated in their discovery of landscapes, of local daily life, of smiling and open hearted people of the Delta and of aquatic life anywhere they go with the sampan.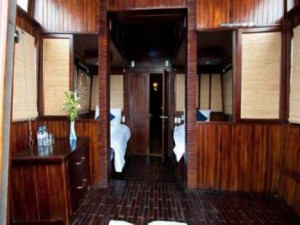 Technical characteristics
Date of conception: Oct 2010
Length: 23.00 m
Width: 4 m
Bedding: 2 sampans of 16 couchettes, 32passengers in total
Capacity: 16 passengers each boat
Engine: ISUZU 120 CV
Speed during the cruise: 15 km/h
Electricity on board: 220 volt, standard continental plugs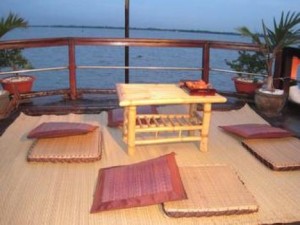 Facilities
Lower deck: Couchettes, Kitchen
Upper deck: Restaurant, Bar, Terraces at the stern and at the bow
Adjoined to the boat: Bicycles, Motorised row boat
Services on board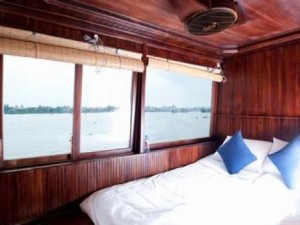 Crew: 5people including 1 cruise guide, 1 captain, 1 chef
Languages spoken on board: English, French
Food: Local food
Beverages: Local wine, French wine and Australian wines, alcoholic and non-alcoholic cocktails, fruit juices, soft drinks, teas and coffees (drinks not included in packages)
Passengers services: Foot Massage
Activities: Cycling, Walking