Can Tho, the biggest city of Mekong Delta located in the South of Vietnam, has raised so much curiosity to travelers for its distinctive culture, simple-hearted people and a great diversity of local food. Tourists surely cannot help surprising at the beauty of fruitful orchards and fertile paddy fields.
You want to explore the whole city but have just the limited time of a day, then check out these tips to have an amazing one-day trip in Can Tho. Indochina travel agency
Cai Rang floating market
We all feel it hard trying to wake up early in the vacation but this is the only way to enjoy the floating market. Waking up early to in time catch up with the opening of Cai Rang floating market can make actually your day.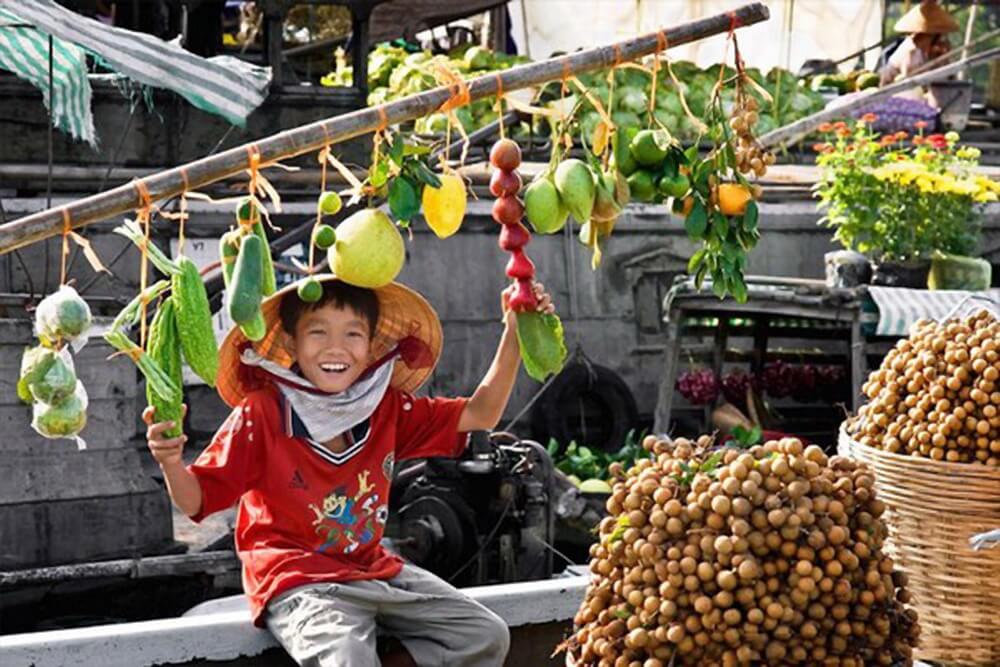 Cai Rang floating market, which is about 6km away from the center of Can Tho is number 1 recommended for you. Like a terminal market of the area, Cai Rang floating market daily starts at about 4.am for the local to exchange goods and ends around 8-9.am.  Hundreds of boats selling different items from agriculture products, textile to food and drinks for breakfast! Especially, samples of items sold will be hung on a bamboo pole to be seen from distance. Enjoying a bowl of noodle on boat can bring you fun experiences!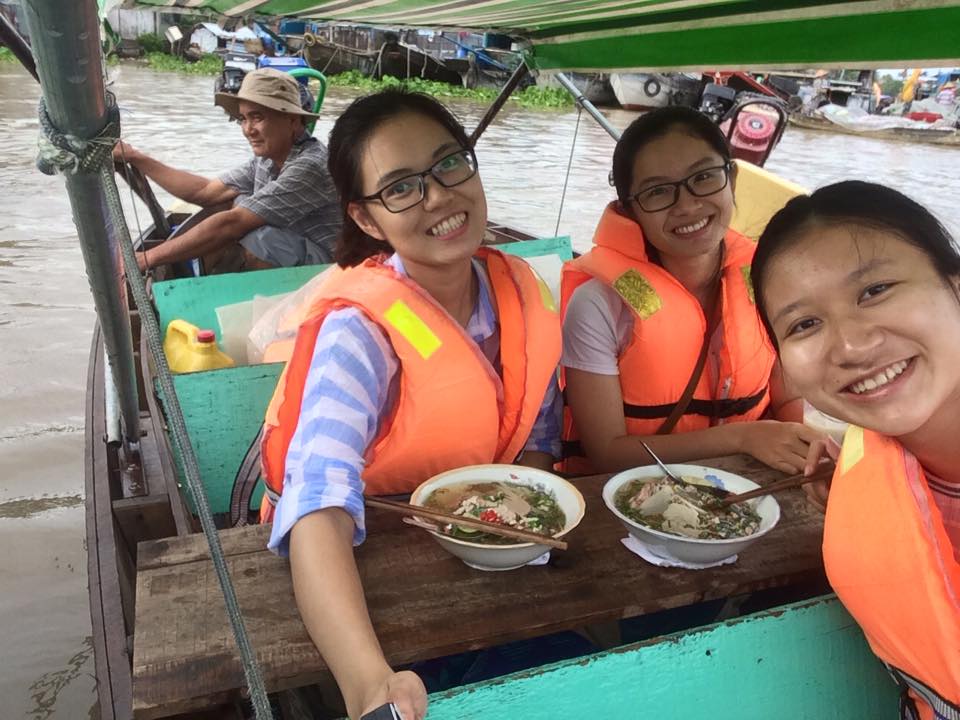 There are typically two ways for tourists to reach this market. You can go to Ninh Kieu Pier, buy ticket (about US$2 without tour guide) and get on boat with other tourists. It takes about 30 minutes to get to the market. This method is convenient and cheap also but you have to go with other people and up on the firm's route. Another way is going to straight into the pier under Cai Rang Bridge then book a boat to the market. This way can be a little bit costlier and you have to bargain to get the good price (at about US$4-5 without tour guide also) but you can require the host to take you further and longer to enjoy more.
My Khanh Eco-tourism
After the boat trip, it is time to relax in a quieter place called My Khanh Eco-tourism. This is kind of a tourist village where you can experience the lifestyle of rich Southern landlords in the former days. Particularly, there are a 100 year old house moved piece by piece from Binh Thuy District, bungalows in garden, orchards, Southern Vietnamese folksongs performance, food stalls selling local favorite cuisine such as pan cake, rice papers, spring rolls and etc. It is also good to have lunch here.
This 80.000 square meter area is located at no.335 Vong Cung road which can be reached by both car and boat. The entrance ticket is US$2.5 per adult and US$1.5 per child. The working time is from 7am to 10pm. cruise on Mekong river
Pagodas and temples in the central of Can Tho
Mekong Delta people are from ethnic groups including Kinh, Khmer, Hoa, Cham and etc. As a result, there are different religions and worship places. The rest of your afternoon can be best spent to discover these tourist attractions. Phat Hoc Pagoda, located at no.100, Nguyen Thai Hoc Street (at the corner with Hoa Binh highway), is a religious building of Kinh people. The construction has totally five floors, each of which presents different Buddhism statues. From the fifth floor, you can have a good view for the area around.
Khmer Pagoda of Munirangsyaram is on the other side of Hoa Binh highway, nearly opposite to Phat Hoc Pagoda. This construction was first simply built in 1948. The brilliant-yellow temple is highlighted in the deeply blue sky. The main gate leads you straight to the main temple area with Buddha Sakyamuni and other Buddha sculptures. Every year, there are ceremonies solemnly hold here.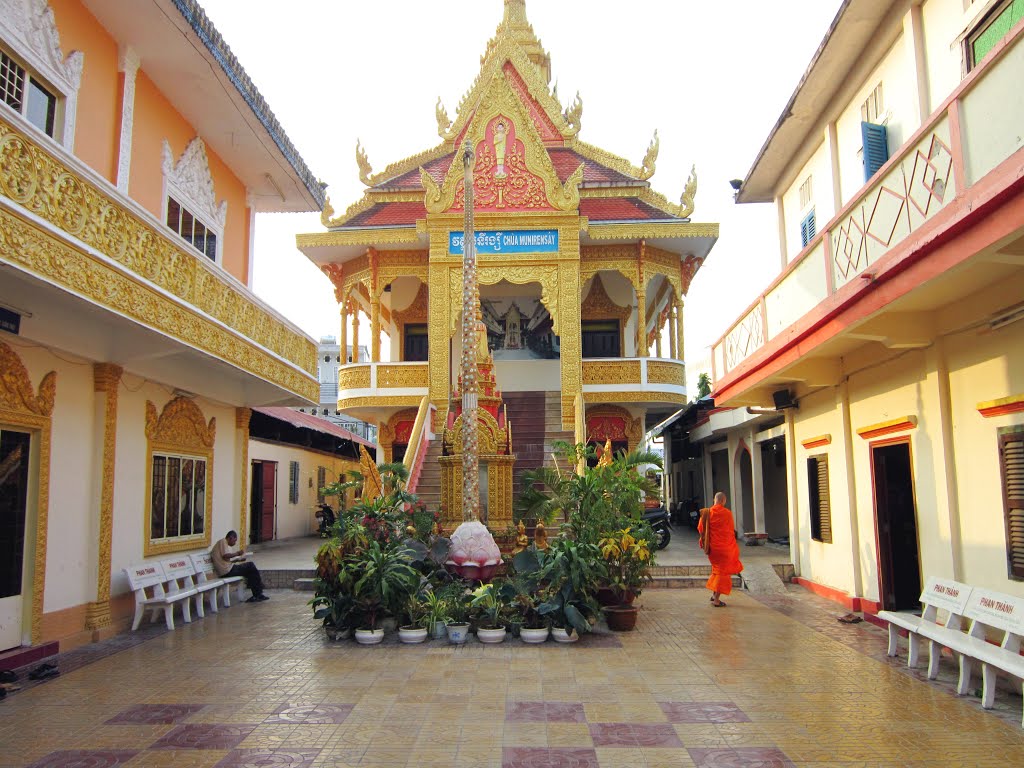 Besides, Can Tho is also well-known for other Buddhism constructions such as Quang Duc Pagoda, Bui Tri Pagoda, Ong pagoda and etc. in the surrounding.
Ninh Kieu Pier and Pedestrian Bridge
Ninh Kieu Pier together with the standing statues of President Ho Chi Minh, lying along the peaceful river called Hau River, is the symbol of Can Tho city. The large square around is always crowed with local people as well as foreign tourists gathering. Interestingly, there is a floating restaurant on boat where you can have drinks and sail at night.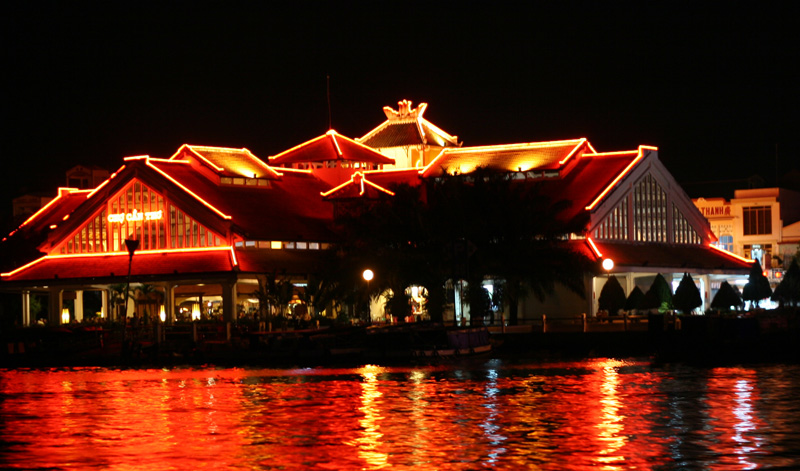 In addition, there are small street food stalls around so you can easily try favorite dishes of the local teenagers, walking around and enjoying the peaceful atmosphere of the riverside. The newly pedestrian bridge also a cool place for a jog. Standing on this walking bridge give you a good view to beautiful Can Tho Bridge –the pride of Mekong Delta people.
The best time to be in Ninh Kieu Pier is from 7pm when all lights are turn on! The area is particularly much more crowed at the weekends.
Ninh Kieu Food Street
And the last must-enjoy place before getting back to your hotel is certainly night market. Just about 300 meters away from the dock is Ninh Kieu food street where you can enjoy favorite dishes of the Vietnamese young, such as chicken steamed sticky rice, stirred rice papers with salad, fried/grilled meat and etc.. Especially, food vendors are extremely friendly and do offer reasonable prices.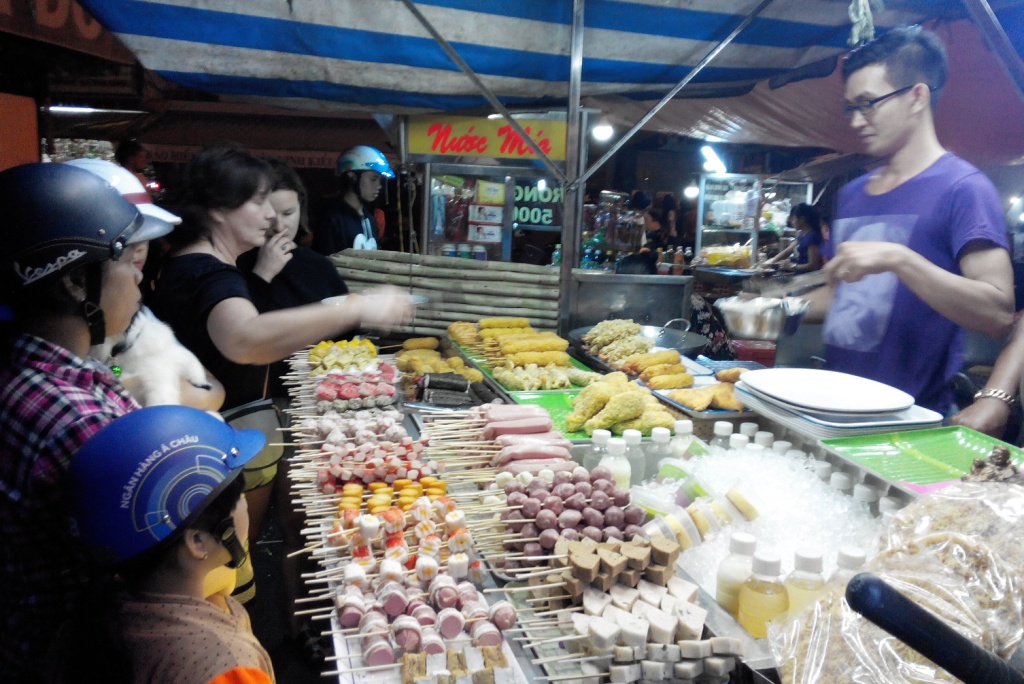 So that is enough for a full day tour moving around Can Tho city! The remaining time can be spent for foot massage and a good sleep to recharge for your next day!
See more:
IV Insider