Ben Tre is the capital of eponymous Ben Tre Province in Southern Vietnam. Although only a 20 min ferry-ride away from bustling My Tho, this seems to be barrier enough to give the town a genuine backwater feeling.
There are no real sights in their own right, but you could have a look at the unspoiled market or visit the rice wine factory on the south bank, 0.5 km west of the old bridge. You can also visit the inevitable coconut candy factory here. It is a must if you have not been to one yet, since in this "factory" basically everything is done by hand. Mekong river tours
Having such complex network of rivers and canals, Ben Tre has advantage to develop ecotourism with clean ecology, green trips of coconut and many green fruit gardens. This is quite suitable for outdoor camping and expedition tours. Ben Tre Province provides some of the most beautiful scenery in the Mekong delta. The milk coffee coloured waters wind their way along small channels lined with water palms, thatch, and bamboo houses are nestled in the lush orchards. The town's sleepy waterfront, lined with ageing villas, is easy to explore on foot, as is the rustic settlement across the bridge to the south of the centre. This is also a good place to arrange boat trips in the area, particularly for those wanting to escape the tour bus bustle. Indochina travel Vietnam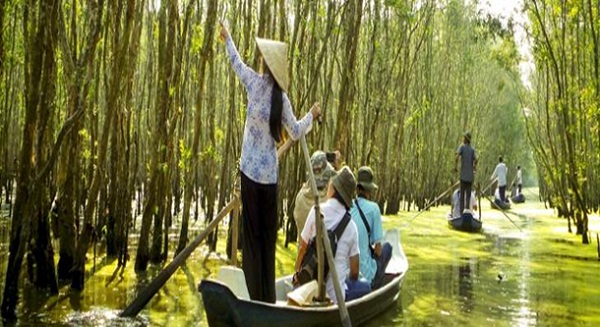 In Ben Tre, boat trips to island are highlights beside other activities including visit orchards, bee – keeping farm, enjoy traditional music and see coconut candy production process at a local factory.
Ben Tre is the granary of Mekong Delta. There are agriculture productions such as rice, corn, pineapple, custard-apple, star apple, durian, mango, longan, and many more. Industrial trees are tobacco, sugar-cane, and cotton. Especially, Ben Tre is homeland of coconut. It is known with Ben Tre coconut candy, Cai Mon Ornamental Plant Garden. Vietnam holidays packages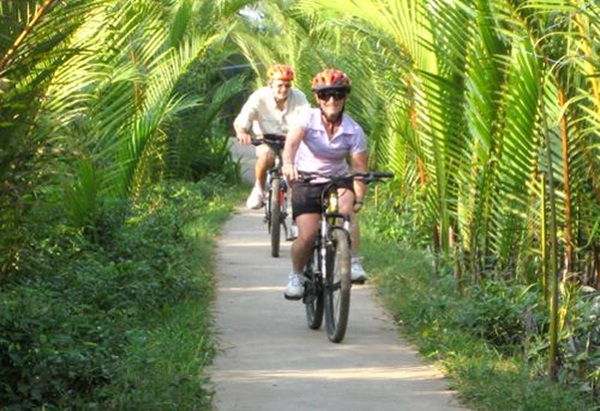 Famous for its coconut desserts, the province is suitably covered in coconut trees. During the war these coconut trees were used to make coconut oil which was then used as a valuable substitute for kerosene. Verdant and flat, the province is mostly given over to rice and fruit cultivation, though being an island province, fishing is another mainstay of the local economy. Traditional Mekong life is the norm here and it is a very unadulterated scene – wandering the market, sipping the coffee, doing a boat trip and skipping through the local museum are the main pastimes.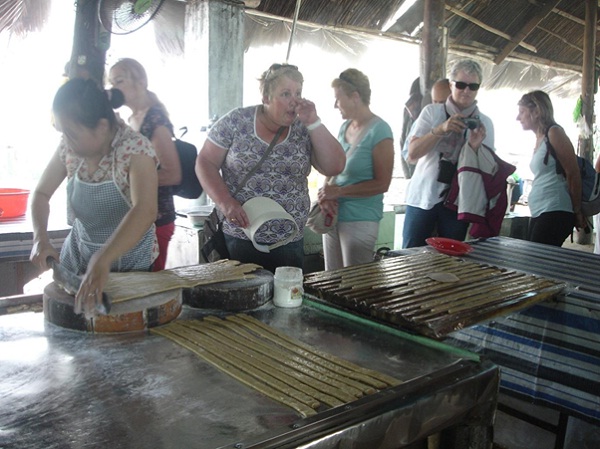 Workers here use every part of the coconut. Its husk is sold off as fuel for brick masonries and rice mills, its milk poured into tanks and shipped out via boat and the meat packaged for candy production, among other uses. The work in the factories is entirely manual, with sharp knives and big muscles as the only tools.
Other popular places are My Hoa Bird Reserve, Con Phung (Hillock of the Coconut Religion), Vam Ho Bird Sanctuary, Vien Minh Pagoda.
Ben Tre is one of tourist attractions of Mekong Delta.
I Love Vietnam.
Read more: