Without a visit to Cai Rang floating market, you cannot convince your friends that you have been to Can Tho City. Literally having been around for a long time, Cai Rang has become not only an integral part of the lives of the locals but also the iconic image of Can Tho City.  Let's explore with: ho chi minh city to phnom penh by boat
If you feel hungry while cruising around diverse goods, mainly fresh vegetables and fruits from surrounding orchards, let's make a stop at one of the small canoes and satisfy your stomach with a delicious bowl of Hu Tieu, Bun rieu or chao long.
A bowl of hu tieu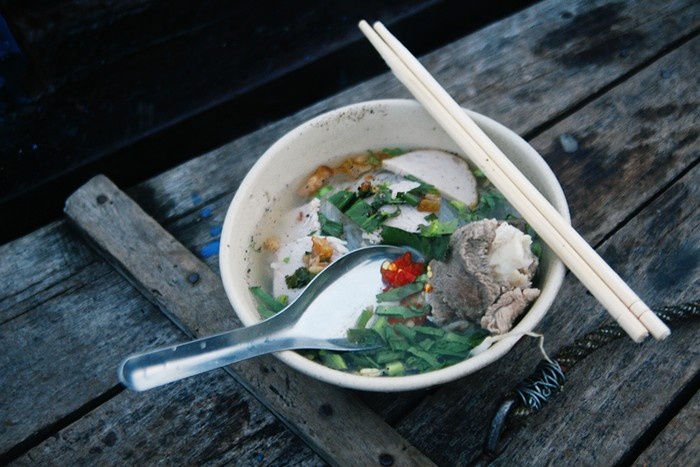 It is the two main ingredients of Hu Tieu: a delicious soup cooked from pig's bone and stretchy rice noodles topped with succulent fish that have set this dish on the top dishes to try in Cai Rang. Unlike Hu Tieu My Tho also in the Mekong Delta, whose sweet aroma of the broth is created by dried squids, fresh farmed shrimps and quail eggs, Hu Tieu in Cai Rang floating market is simple with a few slices of pork, bean sprouts and green onion. Not special condiments, not additives and not seasonings, a bowl of Hu Tieu attracts any travelers coming to this floating market for its incredible simplicity.
Taken as the iconic dish of the Mekong Delta's cuisine, this Southern noodle soup is second to none in making all appetites of both oriental and western diners satisfied. When it comes to dishes for breakfast in Cai rang floating market, Hu Tieu is what you should not miss. It is hard to imagine something more interesting than having your own bowl of Hu Tieu while feeling floating on the water and seeing other boats passing by. mango cruise mekong
Crab noodle soup (Bún riêu)
Originally from the Northern Vietnam, bun rieu is a traditional Vietnamese crab-based rice vermicelli soup that you should not miss in Cai Rang. Though there are several varieties of bún riêu– bun rieu oc with snails, bun rieu ca with fish and bun rieu cua with crab, the broth base is quite the same and makes your stomach very happy.
Focusing on the broth and the contrast in consistency between the soft crab and the more textured tofu, the Northern styled bun rieu are much simpler. The freshwater crab meat mixture, which adds flavor together with texture to this dish, is the key protein component. Colorizing the broth is hints of red tomatoes, the brown paddy crabs, tangy, sweet and subtle taste all at once.
Not only stunning in flavor with the strong taste of shrimp paste as the highlight, this dish is also rich in nutrition: iron from the congealed pig's blood, calcium from the ground crab shells and vitamins and fiber from the vegetables. Having a fresh sour of the tamarind paste, mẻ or giấm bổng (kinds of rice vinegar), bún riêu is best enjoyed in summer.
Innards rice porridge (cháo lòng)
Innards rice porridge, which is a rice-porridge based dish, may sound like the strangest thing ever, but give it a try and you will not regret. It is the rice and bone broth for the porridge and liver, tubular innards for the meaty experience that lend cháo lòng its tastiness and strong smell. Blood is added to the porridge resulting in the brownish color of cháo lòng. Crammed with pig innards, this thick, hearty broth boasts the heat drawing people in the cold mornings. Not including expensive ingredients, with just a few slices of meat, liver, blood cubes, bean sprouts and chopped green onions, innards rice porridge still is a favorite dish for breakfast in this floating market.
Vietnamese iced coffee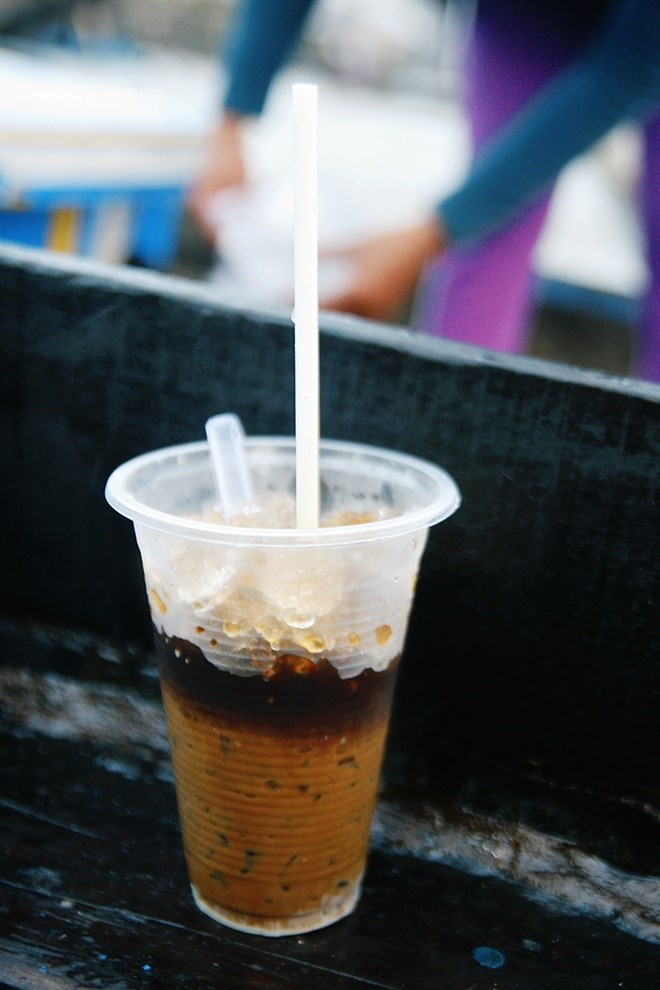 After tasting these hot noodle soups and rice porridge, you can get to order yourself a glass of Vietnamese iced coffee. It may not have awesome flavor as what you can find in Hanoi or Ho Chi Minh City, the complement of impressive water sceneries will make your experience unforgettable.
See more:
Asia Travel Lover