Mekong is a big river. Mekong River is the common name for the Mekong distributaries flowed in the territory of Vietnam. Starting in Phnom Penh, it divides into two branches with the flow from north to south. Tien Giang is one of the best place to go in Mekong Vietnam.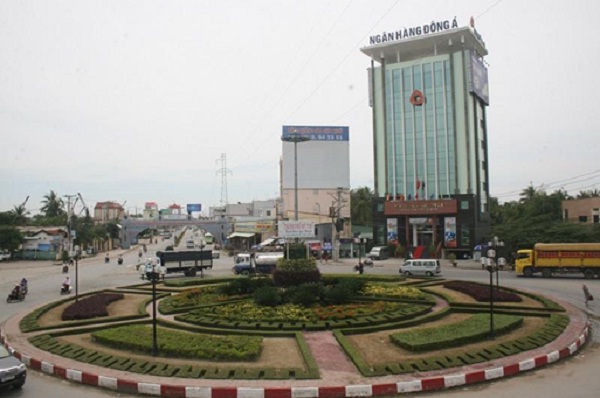 We call Mekong as the name is Cuu Long river in Vietnam. Tien Giang has many beautiful places to visit. The most famous of Tien Giang is Cai Be floating market, located about 40km from My Tho. Market started in the morning, the most ideal time for you to visit this market range from 5pm to 7am. Main business items of the boats here are fruit and agricultural products. Travel Indochina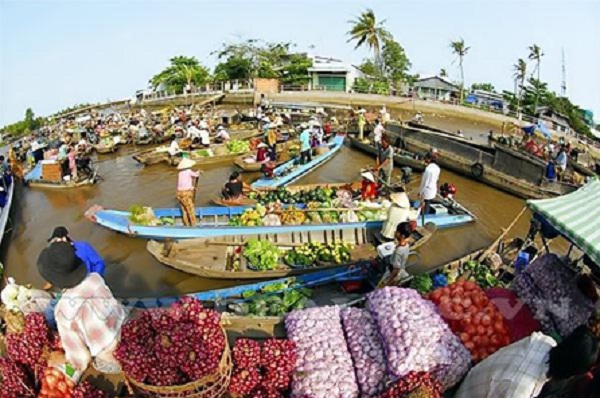 In addition to the floating market, you can take a cruise to visit the isles Long, Lan, Quy, Phung Tien river banks. Thoi Son Island (also known as roller) is also an attractive sights. Coming here, you will be watching the processing of coconut candy Made famous Ben Tre, flower label honey tea, ride horses on the village road, enjoy specialty Lo Ren star apple.
Besides, the other attractions that you can hardly miss such as historical relic Rach Gam – Xoai Mut; Dong Tam Snake Farm; Vinh Trang pagoda; Tien Giang museum; Dong Hoa Hiep old houses … You can also walk around, sit sipping coffee on the waterfront. Mekong river cruise
The most interesting point when you unleash Tien Giang is enjoying good food without fear of being "tight guillotine" like the other resorts. The most famous is that of My Tho noodles, if coming here without enjoying this dish is a shortcoming for your trip.
In addition to noodles, vermicelli salad old, dirt cake Hang Bong coconut milk is also good food that visitors should try. Besides, you can go to the night market on 30/4 street to eat delicacies such as snake soup, pho, beef noodle, soup crab soup, satay noodles, seafood …
If you want to shop for gifts, rich and most famous fruit, you can buy apples blacksmith , orange , orange, honey , your sensitive labels , Chau Thanh dragon … or buy items saved concept made ​​of bamboo or coconut are plentiful.
Tien Giang associated with HCM City so if you're in Ho Chi Minh city, with a day off or work experience, spend a day exploring the freedom to place the gateway to the southern region. You can go early in the morning and return in the day. But if you want to relax more, you can have an ideally one day and a half trip. At My Tho city, the hotel has a lot. Room rates are also relatively soft, about 200,000 VND for a night, most of the hotels have hot water and wifi. Ideally, you should choose the hotel located in the city center or on the road 30/4 street, Ap Bac , Tet … is the most vibrant areas of the city of My Tho.
Travel lovers.
Read more: