The Mekong Delta is Vietnam's vibrant hive, no more evident than at the Cai Be floating market. The mouth of one of Asia's great rivers has many openings and the area is home to millions of people, but of the busy towns and markets in between, Cai Be is perhaps the most dazzling in colour and variety of produce. Shallow wooden boats adorned with verdant sprays of vegetables, fruit, rice and fish, oscillate all higgledy piggledy on the river, making this section of one of Asia's great rivers the most spectacular and, alongside its rice fields, a veritable cornucopia. It's with good reason the Mekong Delta is known as the 'rice basket' of Vietnam and, in cruising the delta, you'll get a real sense of the river's significance to South East Asia.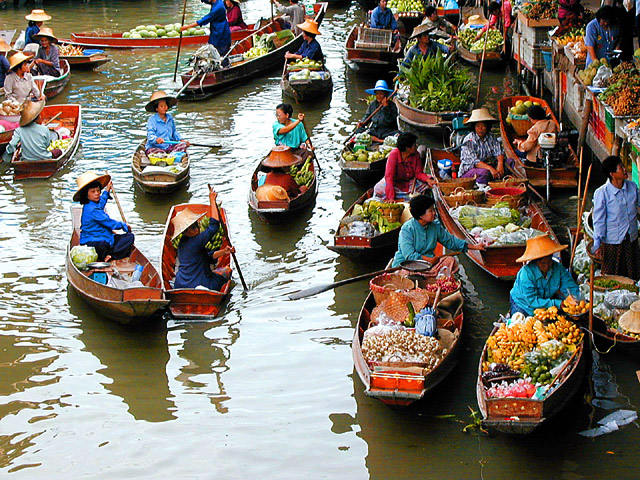 Cai Be is a charming small town, which is not very far away from Saigon (approx. 2 hours by car). There are lots of colorful fruit and vegetable gardens, traditional crafts, a French church from 1935 and an impressive traditional house, which can be visited. Unfortunately the floating market of Cai Be is getting smaller every year, since trade is shifting more and more into modern central markets. The Catholic cathedral in the background of the floating market is an awesome motive for photos.
There are numerous small canals in the area of Cai Be, which invite to a discovery tour by sampan. You can explore the area very well by bicycle riding on narrow roads along small side canals. Many of the small shady canals, which branch off from the larger riverarms, are hard to spot, because they are overgrown by lush greenery. On an exploration tour you will often think that you landed in a dead end, but after an overgrown bend it still goes on.
This bustling river market is worth including on a boat tour from Vinh Long, but aim for an early morning visit. Wholesalers on big boats moor here, each specialising in just a few types of fruit or vegetable, hanging samples of their goods from tall wooden poles. A notable sight is the huge and photogenic Catholic cathedral on the riverside.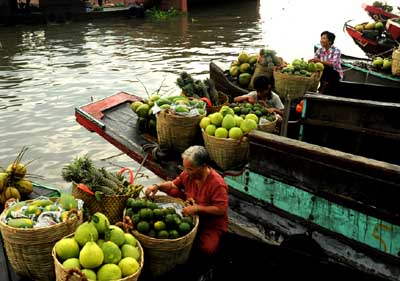 It takes about an hour to reach the market from Vinh Long, but most people make detours on the way there or back to see the canals or visit orchards. For those travelling on an organised tour of the delta, it is customary to board a boat here, explore the islands and moor in Vinh Long before continuing to Can Tho.
This small town attracts many day trippers from Saigon. Besides a handfull of simple homestays some more sophisticated accommodation places slowly emerge.
Read more: