Cai Rang Floating Market is the largest wholesale floating market in the Mekong Delta. Located about six kilometers from Can Tho, or approx a 30-minute boat ride, touring the early floating market in the Mekong Delta is a dream that many travelers to Vietnam wish to fullfil. It's an ideal place to come and explore its unique and cultural experience Cai Rang has to offer.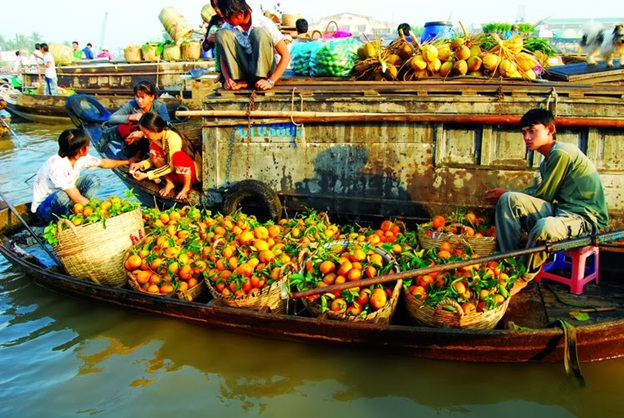 Long time ago, in the demand of trading and exchanging goods, people gathered on the river by means of canoes or boats. Today, although road traffic network has grown nicely, the floating market still exists, more bustling and crowded.
Coming to Cai Rang Floating Market, you'll pass vibrantly painted boats anchored along the shore, merchant vessels carrying loads down the river and houses built on stilts over the water. Once you go there, you'd be impressed by the all sites around. It is said that "not being in Cai Rang floating market means not knowing the land of Tay Do – an old name of Can Tho". Cai Rang floating market, one of the famous floating markets of the Delta, specializes in selling fruits and agricultural products of the whole region. The spectacle every morning of myriad boats milling around floating stalls overflows with bananas, rice, mangoes, pineapples, potatoes …even flowers or groceries…All are at incredibly inexpensive prices with a remarkable sight. Sellers tie their goods to a tall pole so that buyers can see from a distance what they are selling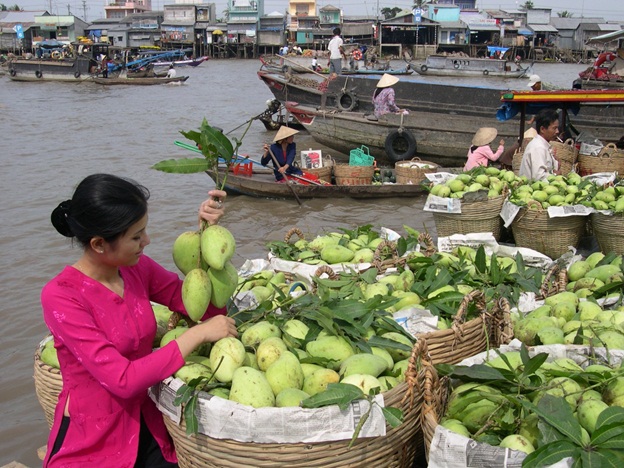 These cultural factors are cores to be the unique floating market culture on the river, allowing it to survive over time. Draw yourself into the bustle air of the fair, visitors can observe, learn of the many families and to get a close feel to this unique lifestyle of the locals in Mekong delta region.
The Indochina Voyages Team.