Can Tho Bridge is a cable-stayed bridge over the Hậu River, the largest distributary of the Mekong River, in the city of Cần Thơ in southern Vietnam. The bridge is 2.75 kilometres long (1.68 miles). It has a 6-lane carriageway measuring 23 metres (76 feet) in width, with 4 lanes for traffic and two pedestrian lanes. It has a clearance of 39 metres (128 feet), which allows large ships to pass underneath it. Indochina tours Vietnam
This enormous bridge, which rises on the Hau River, is the symbol of the progress of Vietnam and a milestone of modern architecture and design, in addition Can Tho bridge is one of the most important in the city of Can Tho tourist attractions. You will easily recognize its special red colour as soon as your car approaches it. At night, the bridge is lit up with hundreds of lamplights making it a must see from Ninh Kieu wharf.
The Can Tho bridge stands on the Hau River, the most important river in the Mekong Delta, and its objective is to improve communications between Can Tho and Vinh Long Provinces. The bridge replaces the ferry system that currently runs along National Road 1A and links Vinh Long Province and Can Tho City. The bridge is considered to be one of the largest engineering projects in Vietnam's history ever and overtook the title of Vietnam's longest bridge. The construction of the bridge in Can Tho region marked a before and after in the economic development of the region.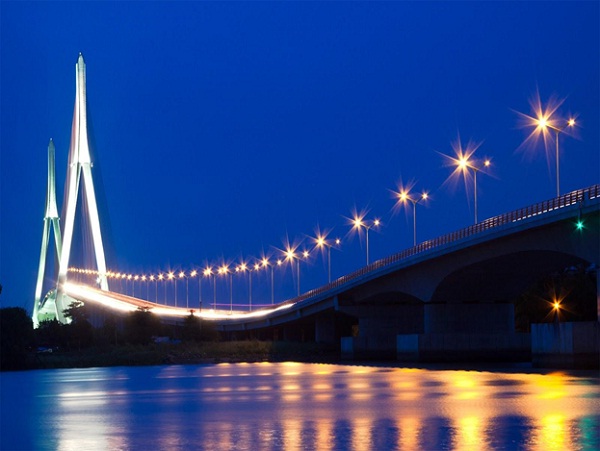 On the benefits of tourism, Can Tho Bridge will be definitely one of the new appealing tourist attractions in Can Tho in the tourism development of the city in particular and Mekong Delta tourism in general. Not only connecting the riverbanks of Hau River, Can Tho Bridge also plays an important role in the exchange among regions in Mekong River Delta contributing to bring the region's position to be worth its potential and strengths. Can Tho Bridge thus also significantly promotes Mekong Delta travel closer to international friends. Discovering Can Tho Bridge is also one of the most unforgettable things to do in Can Tho.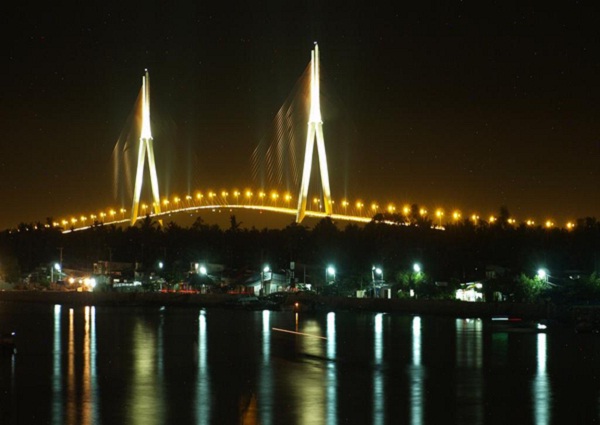 Inaugurated in 2010, Can Tho Bridge is the longest main span (550m) bridge in Southeast Asia, with construction cost of VND 4.842 trillion (roughly US$342.6 million), making it the most expensive bridge in Vietnam.
Can Tho Bridge is actually a suspension bridge, but has the longest span in Southeast Asia.
I Love Vietnam.
Read more: