In the weekend, to avoid hot weather and the noise of urban places, many people choose U Minh Thuong forest for going fishing like a hobby. Tourists not only catch fish but also listen to the sound of bird and insect here. In addition, tourists will contemplate the wild beauty of Tram forest. Anglers who live far from here often rent a room from the night before and then in the tomorrow morning they rent canoe and go along Hoa Mai canal. Visiting U Minh Thuong national park, you find it so difficult to distinguish between fishes in this national park and fishes out of thí national park because the fishes here is similar to the one in some lakes. After sailing along with canal in the U Minh Thuong forest, anglers find it easy to catch Tilapia with big size, snakehead, etc.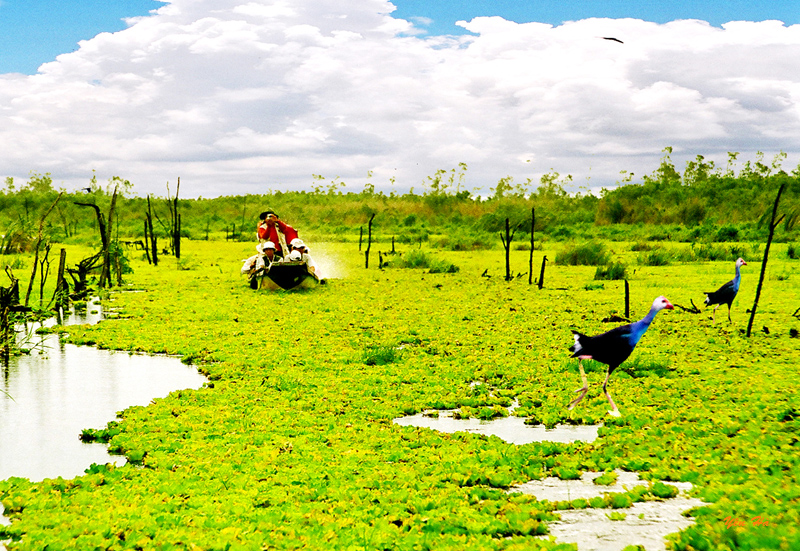 U Minh Thuong is a core are of a big national park with area of more than 8000ha, in which 500ha of area is available surface for visiting demand of tourists. Almost tourists visiting U Minh Thuong come from Ho Chi Minh city, Binh Duong, Dong Nai, Can Tho and Rach Gia city, etc.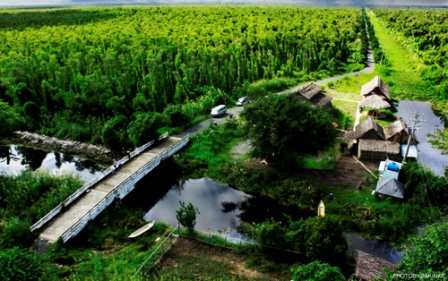 U Minh Thuong gradually become an attractive place for tourism with many kind of wonderful services and diverse activities.
Almost visitors prepare carefully for a trip to U Minh Thuong so they just need to buy ticket with price of 40.000 VND per day for 1 visitor and Ba la boat with price of 30000 VND. In addition, the people who cannot sail can ask the guard to take them to the fish-catching place. The tourists have right to catch fish without limitation about the quantity but they are not allowed to use modern tool to catch. After the tourists catch some kind of fishes, they can cook at that place because the host of thí place always prepare enough ingredients and vegetables as well for cooking. Moreover, tourists will have a chance to enjoy lots of featured vegetable of U Minh Thuong.

Coming to U Minh Thuong forest, the tourists will have an opportunity to taste grilled snakeheads with fresh vegetable, flapjack and special sauce made from tamarind-tree. It is more interesting for you to drink a little big wine from the south west area of Vietnam.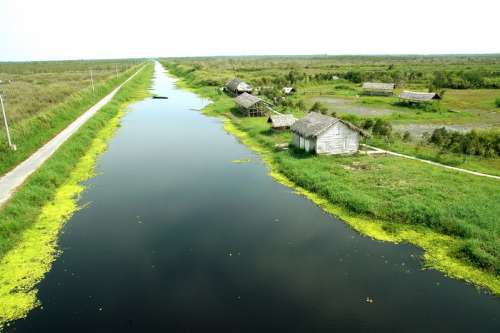 U Minh Thuong National Park is one of the most important biodiversity reservation zone of the Mekong Delta in particular and Vietnam in general. This park has been recognized by international organizations, with many species of wild animals, birds and the aquatic plants that are listed in the Red Book of Vietnam.
You can always have a sightseeing of U Minh Thuong whenever you travel Ho Chi Minh city around the year. It is easy to book a tour for U Minh Thuong even from Ho Chi Minh or online. You can book a Mekong tour on a Saigon – Kien Giang boat trip traveling around U Minh Thuong national park such as shampoo cruise Mekong, river cruise Mekong, Song Xanh cruise, etc. Pre-booking via a travel agent or your hotel in Ho Chi Minh City will be a good recommendation for you to have much safer and cheaper option.
The Indochina Voyages team.
Read more: