Mekong Delta in Vietnam is a lush and vibrant landscape where Mekong River and its branches shape life and culture of the region. If you come here, I bet that you will burst into "wow" when seeing its beauty and uniqueness with your own eyes. When in Mekong River, one of the most special things that you should not miss is fruit markets in vessels. Mekong river travel
With favorable geographical conditions, local people can plant many different fruits in Mekong Delta area. Trading fruits as well as other products mainly takes place on boats and vessels.
Most of floating markets selling fruits are held from 5 to 11 am every morning. Boats full of produce from Mekong Delta's orchards converge to these markets. They bring fruits such as coconuts, oranges and mangos, but also fishes and vegetables.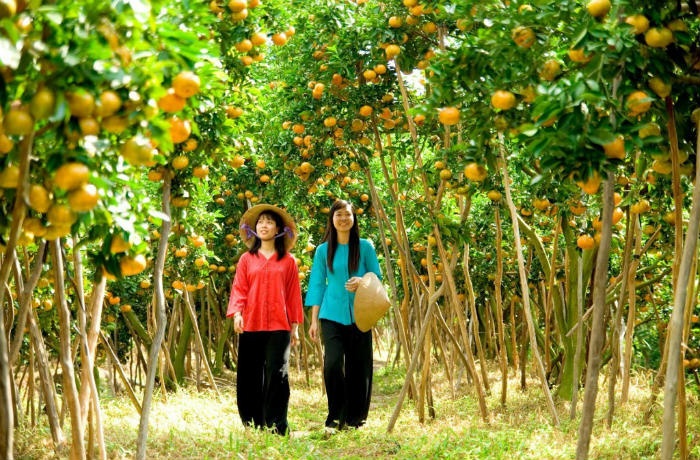 Phung Hiep  is a fruit markets in Mekong river
Mention fruit markets in Mekong River, Phung Hiep market is the biggest one that we should not miss. Located at the intersection of 7 major canals, it meets all day long. In the precious evening, boats loaded with seasonal fruits and vegetables left villages for sunrise market. Some boats has roofs to cover, the sellers often hold high a stick that hangs with fruits.
In Phung Hiep floating market, market-goers do not bargain but just a few words of exchange. After being sold, fruits are mostly brought to big boats to deliver to fruit-processing factories. Although Phung Hiep is a float market, its services are available. Foods and drinks are sold on small boat to serve sellers and buyers.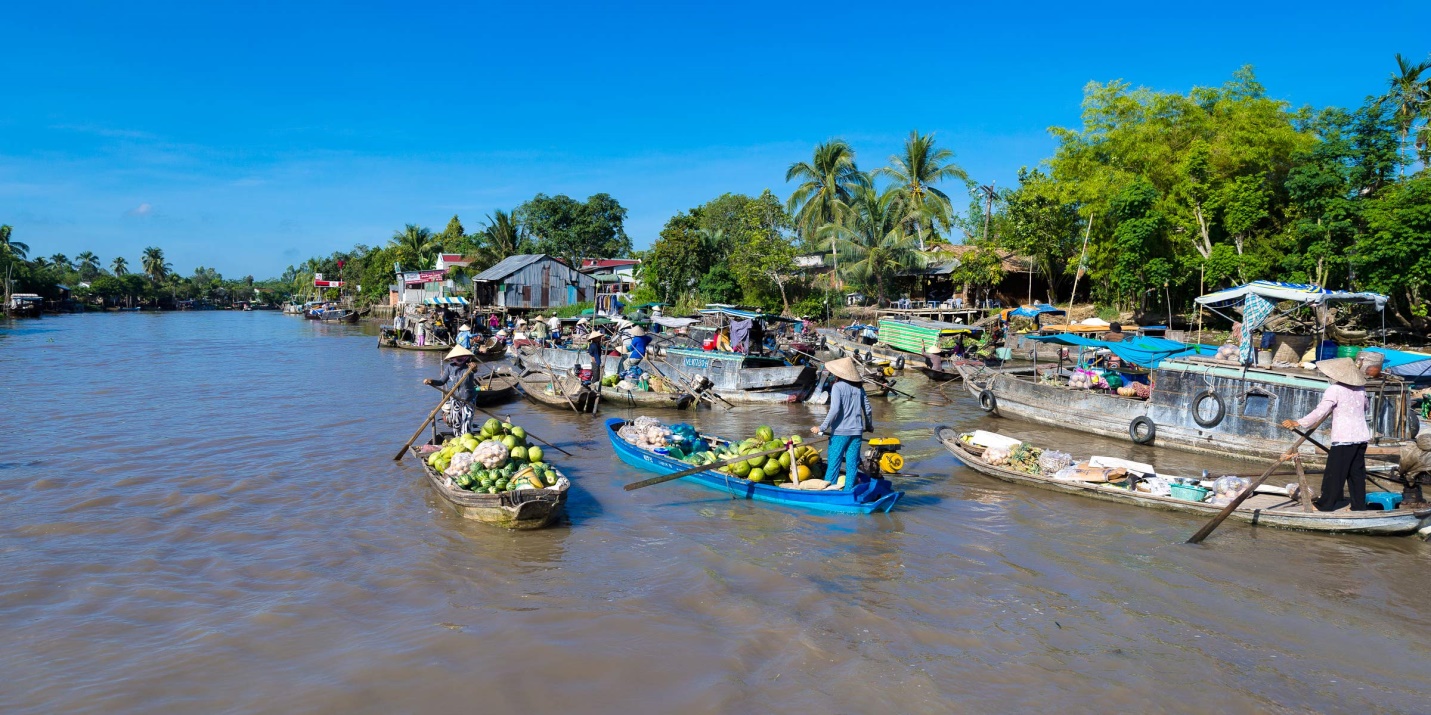 Cai Rang market
Cai Rang market is also open all the day but it is busiest from sunrise to 9 am. Items are farm products from Cai Rang town and Chau Thanh district, as well as neighboring areas. On each boat, there is an upright pole for the seller to hang samples of the goods for sale. Tours in Myanmar
During the market hours, the waterway is full of hundreds of boats with bananas, papaya, pineapple, mango,… Sellers do not cry out about their items because buyers can see it in distance when they sail around the market. Like Phung Hiep market, there are also small boats selling beer or soft drinks to serve visitors and market-goers. On some occasions, the market will hold some activities for visitors to understand the culture of southerners.
Cai Be market
Cai Be market is opened from 5am to 5pm. The best time to visit this market is early morning. Wholesalers moor here, each boat specializes in one or few types of fruits. In smaller boats, customers cruise the market to find items they are looking for. One of special things is that you can see huge Catholic cathedral on the riverside when cruising in this market. This is a great chance to take fantastic photos. From Vinh Long, it takes visitors about an hour to reach the market. However, if making a detour, you can see canals and visit some orchards.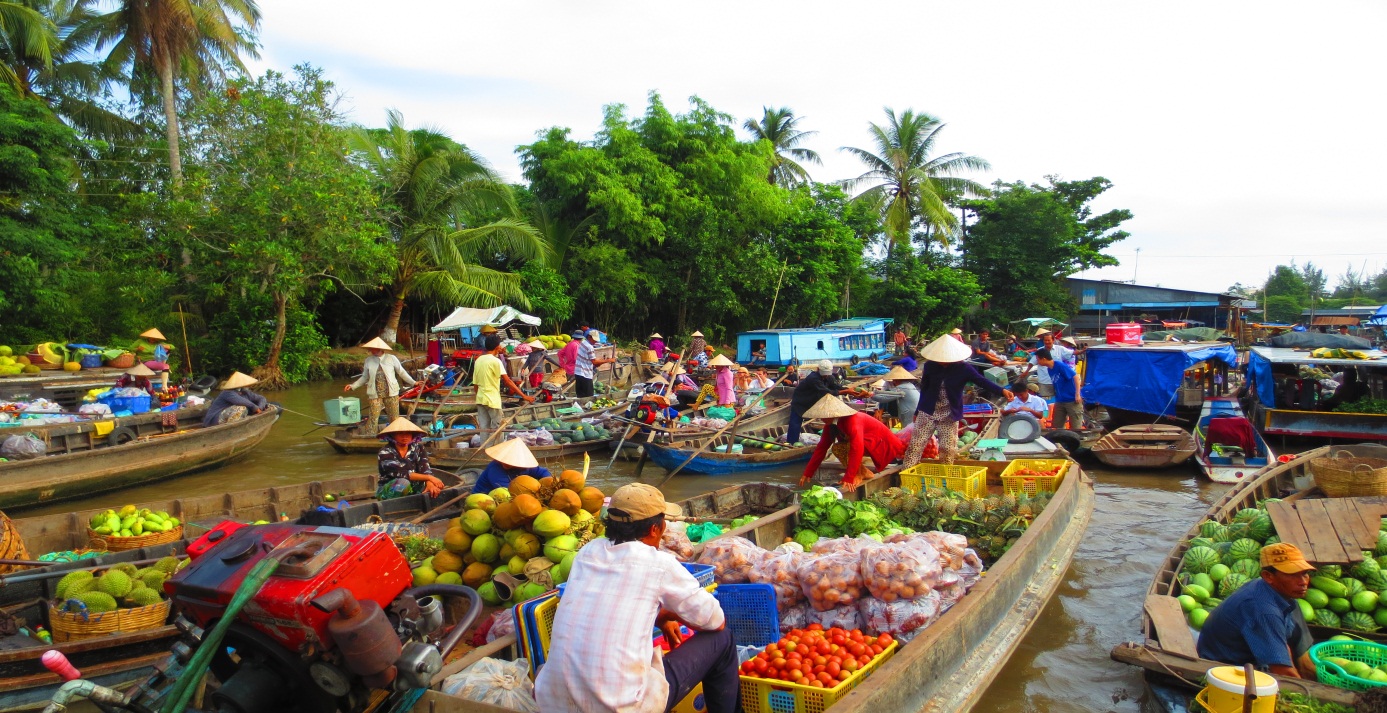 So above are 3 most popular fruit markets in Mekong River. I hope that you can visit them on the nearest days to see the southern Vietnam's beauty and its unique culture.
See more:
Asia Travel Love