The Mekong Delta is well known for image of sampan boats, silhouetted coconut groves and floating markets, etc. Specially, this land is also famous for Khmer temples which are colorful, standing majestically, taciturnly and become a religious cultural icon of the Mekong Delta. Traveling in the Mekong Delta, tourists should not miss chance to visit Ghositaram temple which is one of the most beautiful Khmer Theravada Buddhist temple in this land.
Ghositaram temple is located in the Cu Lao village, Hung Hoi commune, Vinh Loi district, around 5kilometers from Bac Lieu city center. The temple was built in from 1860 to 1872. After more than 150 years, Ghositaram temple was rebuilt at the end of 2001. After about 10 years of construction, the main hall of the temple was inaugurated in mid-2010. The main hall has an area of more than 400 meters square, height of about 40 meters and has many relieves, sculptural works and mural paintings with unique patterns of high artistic value. This area has interior and exterior, reliefs, decorations that bring Angkor style from the lotus motifs to the gentle and powerful curves. The temple is an appropriate place for those who like Mekong Delta travel to explore the unique architecture of the Khmer temples.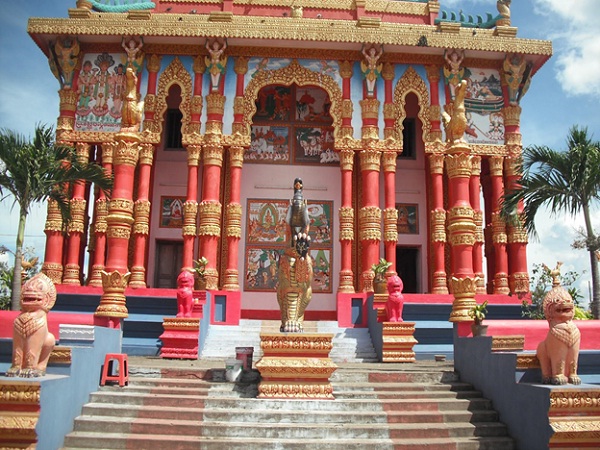 Temple's architecture is a combination of dragon head, body and tail that creates a picture of boats. In Buddhist stories that Khmer have often told, dragon is sacred animals that metamorphose into boats to help the Buddha for the salvation of the world. The temple's decorations took about 4 years to be completed. Besides pillars which are carved finely, frieze paintings that describe legends of Buddha are shown alive with vibrant colors and attract viewers. In addition, in the temple's campus, there are two columns of over 40 meters high and two towers preserving remains of Buddhists, which also have beautiful decorative features. Read more: Mekong Eyes cruise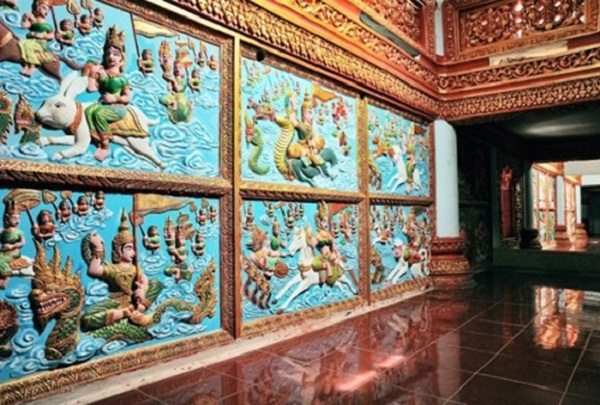 Specially, if you travel in Bac Lieu province on the occasion of the Festival of Don Ca Tai Tu, in addition to visiting and exploring the Ghositaram temple, you will have chance to hear and see main activities of the festival. The Fesstival of Don Ca Tai Tu is usually organized from April 20 to 25 every year with 21 main activities. This will be an occasion for tourists to enjoy and harmonize in cultural spaces which are infused with the national identities.
The Ghositaram temple is not only Khmer temple in Vietnam but also a place to practice, training thousands proliferation of neighboring provinces. The temple is as a gem in the cultural beliefs of the Mekong Delta.
The Indochina Voyages team.
Read more: