Mekong Delta tour Vietnam is one of the highest searching words relating to Vietnamese tourism. When you insert keywords "Mekong Delta Tour Tripadvisor" on the platform, you can see a lot of suggestions with the best price and good service quality. It is true that discovering the hidden charm and unique culture in Mekong Delta does not charge you much, just around $85 for a 2 day 1 night tour and a little bit higher for a 4 day tour. Together with the affordable price, you can learn and experience a lot because of residents' hospitality.
Mekong Delta facts
First and foremost, it is better to know a little bit about the wonderful region. Mekong Delta is praised as the largest agricultural land in Vietnam contributing the highest percentage of revenue for Vietnamese agriculture. The Mekong Delta weather is different from the Northern region. The season is divided into two different types as the dry season from December to March and the rainy season from April to November.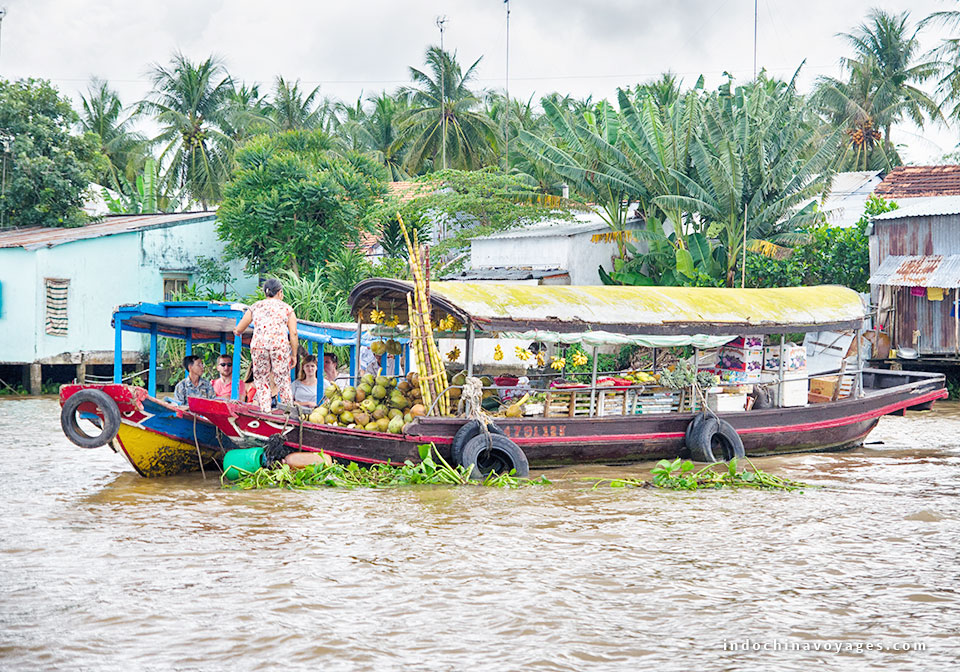 The fertile land is suitable to grow rice, apple, mango, pineapple, banana and orange. Silt from the Mekong river – the river of nine dragons – raise the level of the field. Mekong Data is huge, so travelers can visit a lot of provinces such as My Tho, Vinh Long, Dong Thap and so on and find out amazing things. Now, it's time to look at what you would visit in the 4 day itinerary.
Mekong Delta tour Vietnam in 4 days
This article would recommend you a 4 day Mekong Delta tour to maximize your experience and surely this customized tour would win your affection.
Day 1: Ho Chi Minh – Long An – Tien Giang – Ben Tre – Dong Thap – An Giang
After you arrive in Ho Chi Minh City, you can get on a van to My Tho. You would go along highway 1A then pass by Go Den, Tan An in Long An province, in which travelers can enjoy Go Den wine, Ben Luc rice wine. After 1 hour and a half from Ho Chi Minh city, you reach My Tho city in Tien Giang province. At My Tho, you can try "hu tieu" and go to Vinh Trang pagoda if you have enough time. After that, you will go to Chau Doc – one of the most famous destinations of Mekong Delta.
In the afternoon, when visiting Chau Doc, it's time for you to go Tra Su cajuput forest. It is a submerged forest of the western area of Hau river. The 850-ha forest is a shelter for hundreds of fauna and flora, a lot of which are recorded in Vietnamese Red Book. To understand more about Tra Su cajuput forest, you should hire a boat and on the short boat trip, you can observe unique animals that exist only in this region like le le, bim bim, trich co and so on; and even listen to a brief presentation from the boat drivers. It may take you a whole afternoon to finish the short trip in Tra Su cajuput forest.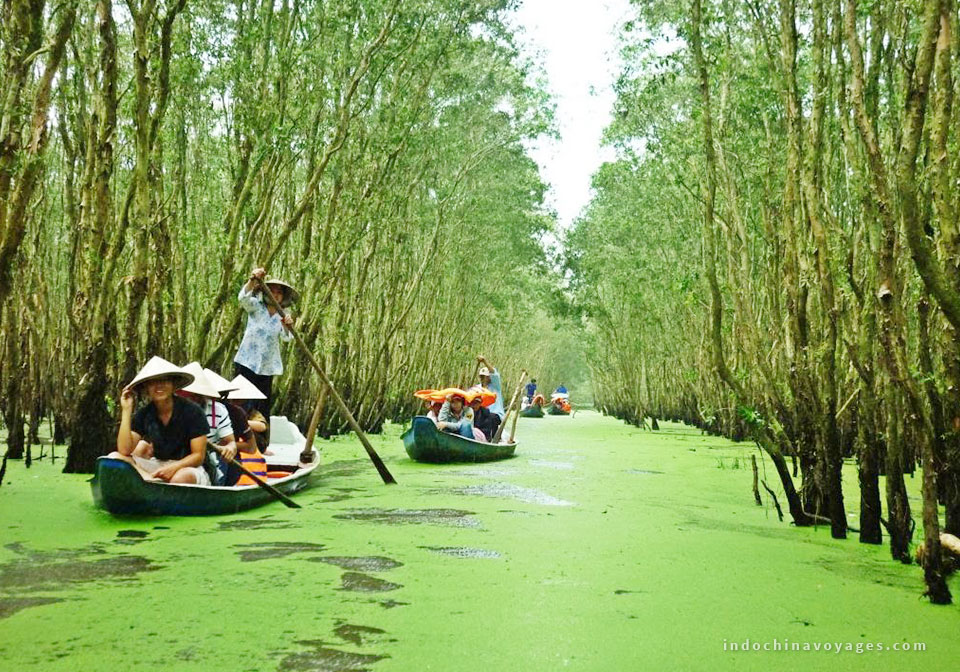 In the evening, you can hire bikes to ride around Nui Sam night market or walk around the town.
Day 2: An Giang – Kien Giang
In the next morning, you check out and get ready to go to Ha Tien. On the way to Ha Tien, you can take a short break to visit Tinh Bien Market – the biggest market located near the border. Besides, on the way, you can also enjoy the breathtaking scenery of That Son meaning seven mountains, the mystery beauty of Ong Cam mountain. After 5 hours of driving, you will officially in Ha Tien and you will go check-in. In the afternoon, you can visit a lot of interesting places here. Mui Nai Beach is waiting for you with crystal clear water tourist can enjoy Mekong Delta's coffee at Nai Vang hill. Another choice is to go trekking to Ta-Pang peak to get the bird's eye view to entire Ha Tien, even Phu Quoc island.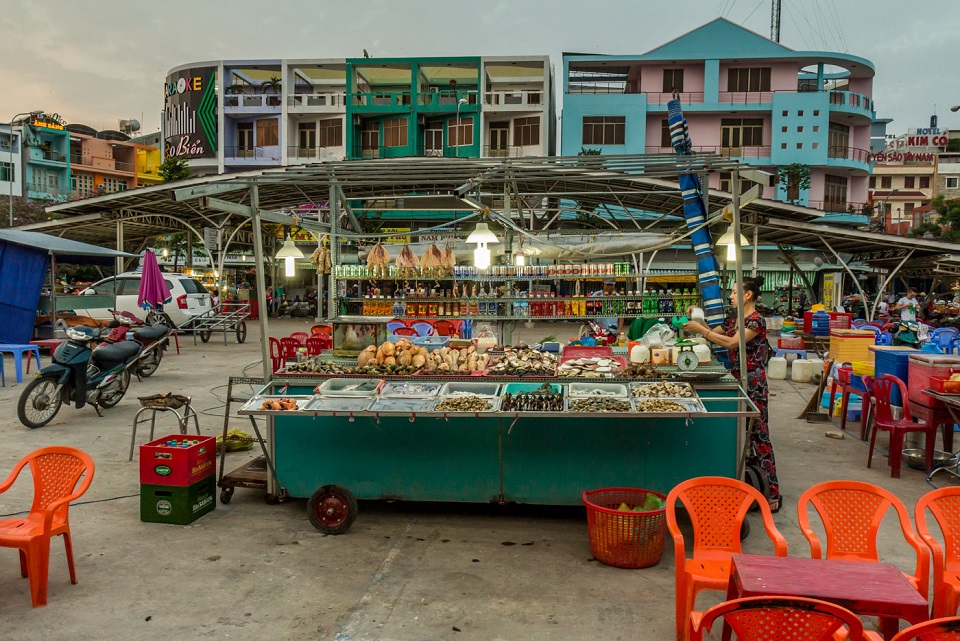 In the evening, you go to Ha Tien night market to buy attractive souvenirs.
Day 3: Kien Giang – Can Tho
Next morning, you will continue to go to Rach Gia in Kien Giang province which is a thriving city and famous for the seafood industry. In the afternoon, you come Can Tho and do the check-in.
After a break of fairly long journey at Kien Giang, in the evening, you should never miss Tay Do night market or Cai Khe Trade Centre where there are a lot of exciting activities. Then, you can get a taxi to go Ninh Kieu wharf and listen to Southern amateur music – "Đờn ca tài tử".
Day 4: Can Tho – Vinh Long – Sai Gon
In the morning of day 4, after checking out, you ca have a Mekong boat tour to visit Cai Rang floating market. It is said to be one of the best floating markets in Vietnam. Being here, a lot of fruits or commodity are hang with a view to indicating or distinguishing among boats while each boat sells different types of goods; so visitors can see and come to the boat that they like. It is interesting for you to know about the culture of goods exchange on the water. The boat continues its journey to ride you to My Kanh Garden. You can emerge yourselves in lovely orchards of durians, mangos, jack fruits, and rambutans.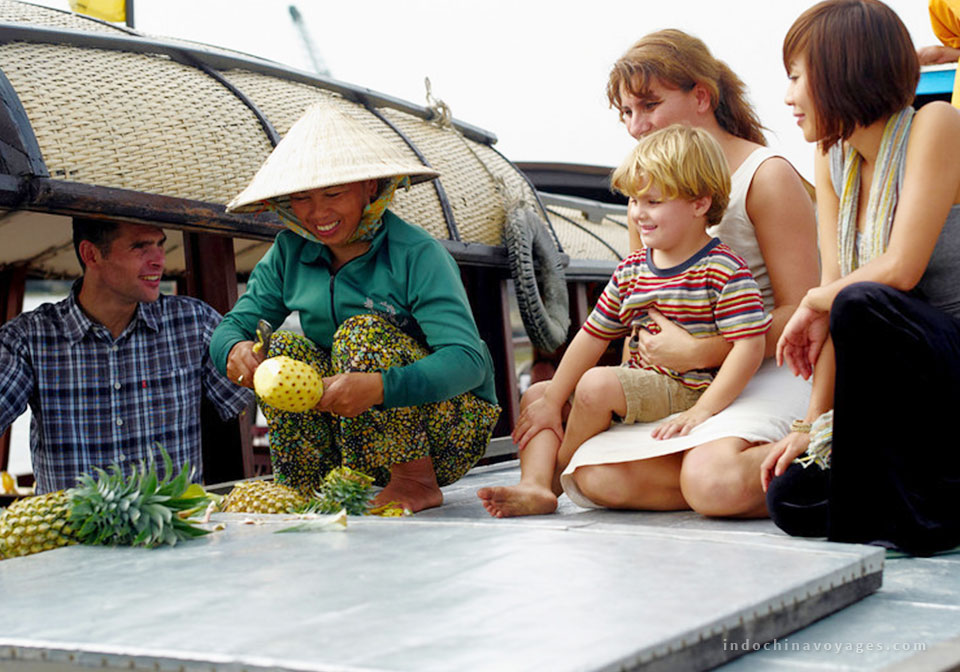 In the afternoon, you pass by Can Tho bridge, My Thuan bridge and come back to Ho Chi Minh city.
This is a suggested 4 day Mekong Delta itinerary to help you to maximize your experience and knowledge about a special region of Vietnam. Travelers can see interesting aspects related to people's lifestyle and society which is a little bit different from that of Northern areas.
Moreover, if you wish to have a Mekong delta trip to some other destinations such as My Tho – Cao Lanh – Sa Dec, this itinerary of Authentic Mekong Delta Tour 4 Days will be a good choice.
Hope that you will have a wonderful and meaningful Mekong Delta tour Vietnam.
Mai Linh – Travel Lovers