If you desire to experience a Mekong River cruise while you are in Luang Prabang, let's face it! From grass-roots to fabulously luxurious, there are a few options open to you.
For more information,  you can click:  Cruise mekong delta
As the Mekong is such a large part of what makes Luang Prabang what it is, while you are in Luang Prabang, a Mekong River cruise is one of those must do things. You can stroll along its long banks, have meal at a riverside restaurant while gazing across it and, if you are really lucky, catch an impressive view of it right from your hotel balcony. You are a stronger person if you can resist the lure of a cruise on the Mekong.
There are a number to choose from if you are after something a little less random and a bit more luxurious.
Nava Mekong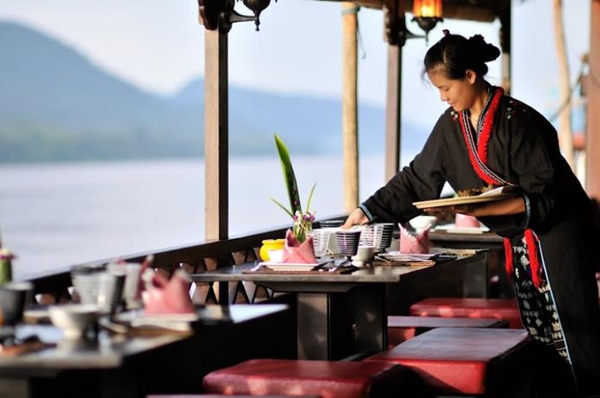 Nava Mekong offers an awesome boat styled as a floating restaurant with enough seating for 40 passengers around 10 individual tables. They run two cruises a day, a 2 hour sunset dinner cruise including traditional dancing for $30 pp and a 4 hour lunch cruise to Pak Ou caves for $25 pp. Even though you will be sharing the boat with a number of other passengers, these are really good value cruises at the higher end of the market from the traditional boatmen. Depending on how social you feel, this can be a bad thing or a good thing. If you are part of a larger group, it does offer a good option. Bookings can be made direct at the desk of your guesthouse, at any of the myriad booking agencies in town or at info@navamekong.com. mango cruise mekong
Bounmi Cruises
Bounmi Cruises provides a diverse selection of cruises on a smaller, traditional and intimate boat with lounge and beanbag style seating. There are cruises available including a 2.5 hour sunset cruise for 2 that is inclusive of snacks, wine and beer for $175, up to a 6 hour Pak Ou Cave cruise for a maximum of 6 passengers, including a guide for the caves, lunch, wine and beer, with the price ranging from $75 pp for 6 passengers to $325 if you want to independently do it.
In addition, you can also book Bounmi for an overnight cruise that will see you camping on the sandy banks of the Mekong or a fishing trip to the Captains favorite fishing spots. Depending on the number of passengers, their prices range from $100 to $245 pp. Bounmi offers a full selection of cruises at the price reflecting the flexibility of the cruise and the smaller number of passengers (you will get the boat to yourselves).
Even though it is possible to book online, you will need to book at least 2 days ahead and to hold your booking, a 50% deposit is required. Though credit cards are not accepted, you can transfer or pay cash directly at the office. On the Bounmi website can you find a map showing the office location, near Dara Market on Kitsalat Road.
Luxury on the Mekong
Luxury on the Mekong provides travelers with truly luxury Mekong River cruises. Their boats are the only one on this list to offer cabins: an aft stateroom with a king sized bed and full ensuite bathroom and a forward stateroom with full ensuite bathroom and a queen sized bed. This makes them an ideal choice for overnight cruises for one or two couples. The on-board kitchen prepares gourmet meals for their lunch and dinner cruises.
Including trips to Pak Ou caves, day cruises for up to 8 passengers start at $770 for one person and increase by $225 for each additional traveler. You can also take part in an interesting half day elephant experience that will see you cruising to a fascinating rendezvous with an elephant and a great opportunity to ride and then wash them in the Mekong River. For 2 people, this one is $920. You will really take advantage of the luxury of those two cabins with a 3 day 2 night cruise to the Thai border. The price is $11,400 for two passengers or $12,000 for four people. And, quotes are also available for customized cruises.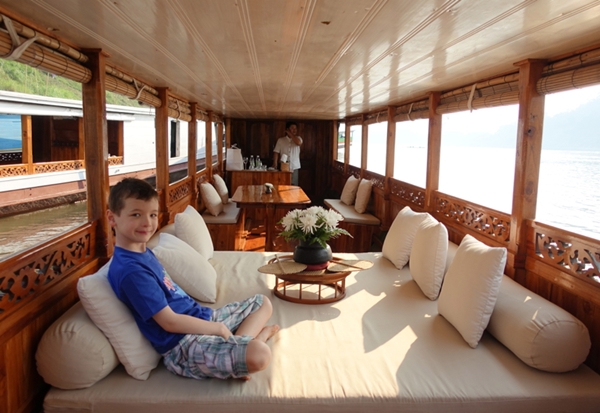 Of course, it is always possible to take the cross river ferry for less than $2 return. It is such a great way to discover the other side of the Mekong which is something highly recommended to do while you are in Luang Prabang.
See more:
Asia Travel Lover