Short river cruises and sunset cruises along the Phnom Penh riverfront are easy to arrange and offer an interesting view of the city. A cruise typically takes about 1 – 2 hours and runs up the Tonle Sap River along the central riverfront area providing a picturesque view of the Royal Palace, National Museum, parks and Phnom Penh skyline, and then across the Tonle Sap and up the Mekong River tours to view floating fishing villages. For these cruises, you should not miss Mekong River Sunset Dinner Cruise, which bring you opportunities to spend your evening sailing along the Mekong River on an all-inclusive 2.5-hour cruise and enjoy cocktails on board your boat as the sunset over the water, before indulging in a delicious dinner and a free flow of drinks.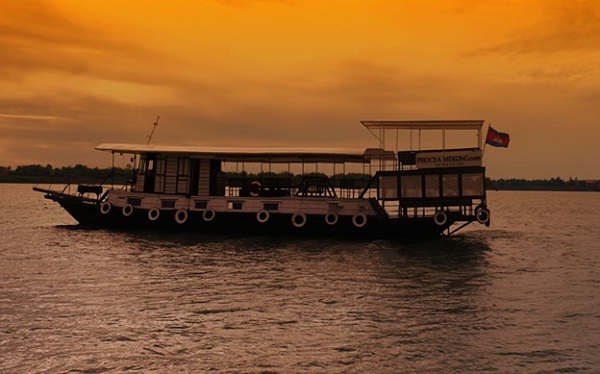 Cruise with a unique overview of Phnom Penh, from Wat Phnom to Royal Palace and Mekong crossing. During almost 1.5 hours (2.5 with dinner), you will discover Phnom Penh, riverside from Tonle Sap river to Mekong River from a unique, quiet and breezy place, while you enjoy unlimited drinks throughout the cruise and our on board BBQ dinner, overlooking the busy Phnom Penh's riverside by night. Boat trip, dinner and free flow of drinks are included in your ticket price. Visit Phnom Penh with Indochina tours Cambodia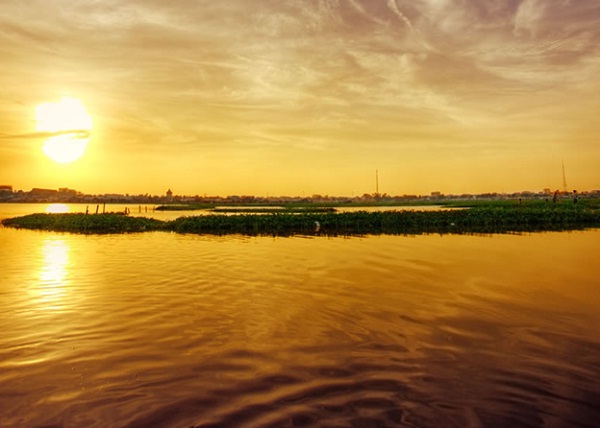 Mekong River Sunset Dinner Cruise through the four rivers, where the Mekong meets the Tonle Sap and enjoy a great view of Phnom Penh, the Royal Palace and the Chrouy Changvar Peninsula. In this cruise, you will enjoy an evening experiencing Phnom Penh from the water on a 2.5-hour cruise, sail along the Mekong and Tonle Sap rivers at sunset, and take advantage of the all-inclusive nature of the trip, which includes unlimited drinks and delicious food. In additional, Mekong River Sunset Dinner Cruise will let you relax as your cruise sets off along the water and quench your thirst with the large variety of available teas, coffee, soft drinks, beer, and spirits, while sampling different appetizers. But the most special thing is the main meal, which is a Western-Asian fusion BBQ consisting of shrimp, fish, chicken, and pork, all freshly cooked and prepared on board. Stepping the boat, you will have chance to take in the scenery around you as you sail along your scenic and breezy river route. There are beautiful riverside landscapes intermingled with various sites, such as the Japanese Friendship Bridge and floating fishing villages, and on this trip you can truly absorb all the splendor of Phnom Penh.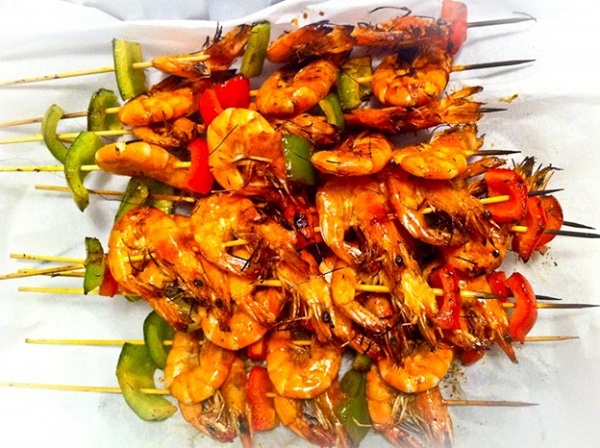 Mekong River Sunset Dinner Cruise bring you many activities which is different from others, such as: discovering Phnom Penh from the water as you sail along the Mekong and Tonle Sap rivers, cruising alongside popular spots, beginning at the Japanese Friendship Bridge and ending at Koh Pich Island, enjoying the passing scenery of natural, untouched beauty and remarkable floating fishing villages and taking advantage of unlimited drinks, tasty appetizers, and a satisfying dinner, all as the sun is setting. Step the boat! Surely, you will have relaxing and memorable experiences with stunning scenery in Phnom Penh and the best service in Mekong River Sunset Dinner Cruise.
The Indochina Voyages team.
Read more: