Despite if its location in the Mekong River Delta, Nui Dat of Long An Province incorporates no features of the area, which results in Nui Dat's unique beauty.
Nui Dat is situated right in the provincial centre of Moc Hoa – a border town of Long An Province where Vietnam shares its frontier with Cambodia. The reason why it is called "Nui Dat", meaning "Land Mountain" in English, is that it is not a natural mountain but an artificial one which was created in the late 50s of the last century as a result of a geographical reformation of the area. Since then, this man-made mountain has become a place of interest and attracts an increasing number of both domestic and foreign tourists every year.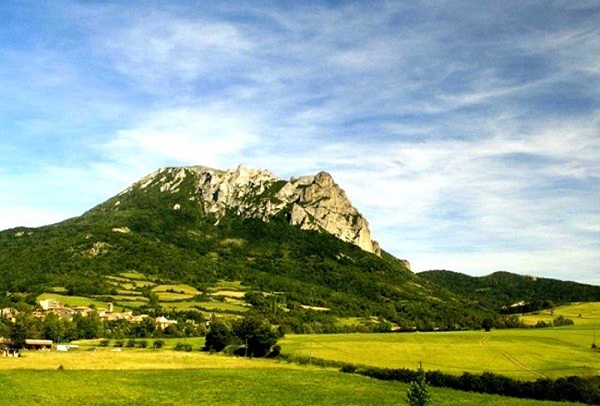 Nui Dat is somewhat isolated from the outside; however, you just need to follow this instruction to get to the spot. There lies Post Office Junction in Tan An Town (Long An) in which you turn right to go along the provincial road no.49. After a 65-kilometre journey, you will reach Moc Hoa Town then turn left at the intersection of Border Guard. Nui Dat is around half of one kilometer from here. If this is first time you set foot on this remote border region, you can hardly imagine such a beauty like that! Nui Dat is just worth visiting once in a lifetime with congenial atmosphere, especially after a tedious trip from the provincial centre. Visit Nui Dat with tours in Vietnam
Seen from a certain distance, Nui Dat somehow looks like a huge penjing floating on an emerald beautiful lake featured by crystal-clear water. There is a concrete curving bridge linking Nui Dat to the bank, which is the only accessible way allowing you to get here. The entire area is divided into three islets varying in size, shape and material. The first islet comprises a big mountain almost 10 metres in height and another mountain just half as high as the aforementioned one. They conclude a number of moss-covered rocks partly hidden by ancient trees which cast a shadow on ground and surrounded by small routes. You do not have to worry about the safety when walking up and down these ways thanks to the embankment.
The islet no.2 is made of soil and connected with the first one with a long and small bridge. The third islet, with the shape of a rocky penjing, is located on the left of a lotus lake. On the lake, you can easily find two floating houses for visitors to unwinding and chatting.
The Indochina Voyages team.
Read more: