Ho Chi Minh City offers a wide range of modern high-rise buildings with international architectural standards, flooded roads, shops and stores, cafes, luxurious restaurants
Big Market (Cho Lon):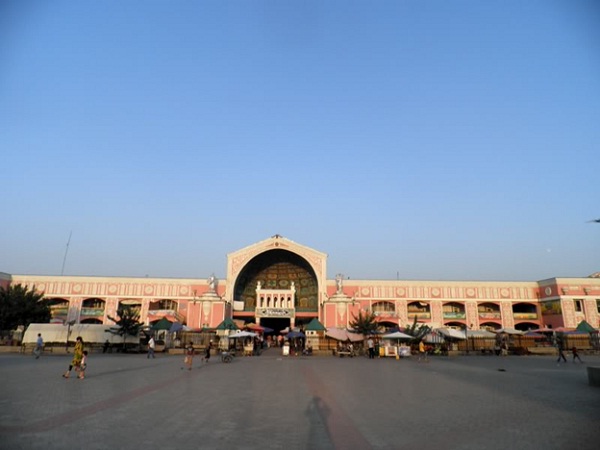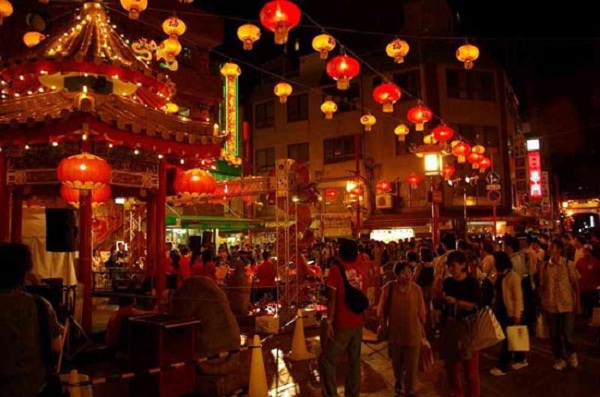 Cho Lon (or known as Chinatown) is the name of the region that the majority of Chinese are living, located close to Te canal stretching from District 5 and District 6 in Saigon, now Ho Chi Minh City, which is in Southern of Vietnam. In the past, this area established a separate city with Saigon: Big Market (Cho Lon) City. In the years 1930-1950 due to the urbanization process, Saigon and Cho Lon gradually merged together. Whenever say go to Cho Lon not mean visitors can go to the market which is in any restaurants yet. In the day Cho Lon is noisy most on the whole day with busy buyers and sellers. In addition to sightseeing, shopping, visitors can also witness vibrant life of Chinese migrants who came here decades ago, and even those who were born and brought up on this land.  Most of them open wholesale, business and services. When the city lights up, numerous panels are designed with electronic light color, flashing in every possible shape and style. Indochina tours Vietnam
Big Opera House (Nha Hat Lon):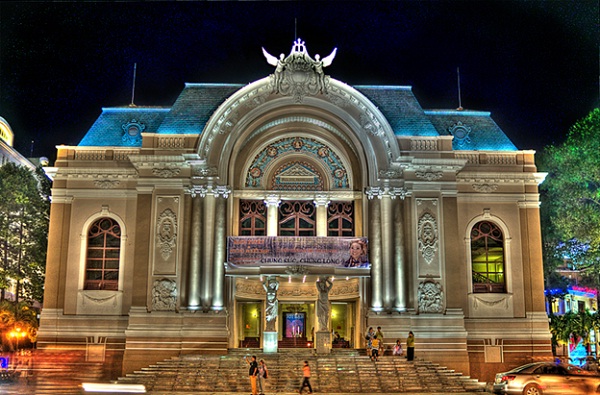 Located on Dong Khoi Street – the center of Ho Chi Minh City, next to the two large hotels Caravelle and Continental. Ho Chi Minh City's theatre has ancient, majestic architecture with 1 ground floor, two floors, 1800 chairs, air ventilation, modern sound and lighting system. It hosts professional performances such as drama performances, music, ballet, ethnic, and opera for all art domestic and abroad troupes. The meetings, big day celebrations, the seminars and so on are also taken placed here. South Vietnam tours packages
Ben Thanh Market: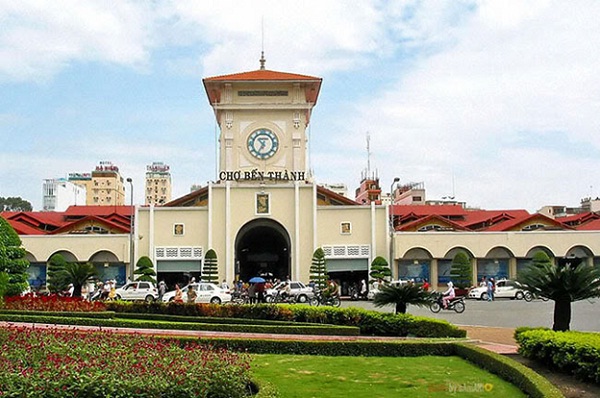 Situated in the city center, Ben Thanh market today are rectangular and sculpted four doors in Quach Thi Trang Mausoleum and the roads: Phan Boi Chau, Phan Chu Trinh and Le Thanh Ton, District 1, Ho Chhi Minh City. Ben Thanh Market is very familiar with Vietnamese people in paritcular and and international travelers visiting Ho Chi Minh City in general.
Before the French invaded Saigon in 1859, there is a small market located in the wetland area adjacent to the bank of Ben Thanh River and close to Saigon. From this origin, the market is called as "Ben Thanh. The market was made of brick, wood frame and thatched. In 1870, the market was partly burned. In 1911 the old market was demolished, a new market was built wider and completed in August 3/1914.
After 1975, Ben Thanh market was invested to upgrade much better than before. In 1985, Ben Thanh Market was renovated entirely inside, outside, only the clock tower was retained as before. Photos of Ben Thanh Market with clock tower are usually used as a symbol for the city. Now Ben Thanh market is a major trading centers not only of Ho Chi Minh City but also of Vietnamese southern provinces.
Whether you're traveling to Ho Chi Minh City for a quick stop en route to other parts of Vietnam or are planning a visit to the city exclusively, you will be won over the city's frenetic energy and the many local gems just waiting to be discovered.
I Love Vietnam.
Read more: