If you want to travel to have experience about Mekong Delta in Luxurious cruises and wish to visit Floating village and market, lifestyle of Mekong people, RV Amalotus Cruise is one of cruises that you should not miss.
Designed follow the combination between Colonial elegance and regional Khmer accents, Amalotus Cruise provides a truly comfort and style. With 62 luxury cabins together with variety of stylish public areas, Amalotus Cruise contributes to a truly opulent discovery of the sights, sounds and remote beauty of the Mekong Delta tours.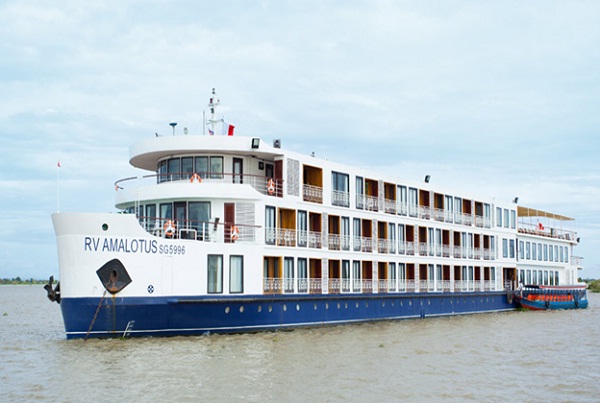 Mekong Restaurant:
Paired legendary European cuisine, traditional and Vietnamese-Cambodia fusion highlights Marguerite Duras' passion for exploring multi sensory dining. A culinary celebration of aromatic taste and texture adds pleasure to the palate, senses, memory and emotions.
Saigon Lounge and relaxing chill out music:
Saigon Lounge: Indulge in a splendid afternoons and evenings with a variety of soothing and relaxing chill out music. Panoramic Lounge: set right in front of the vessel and one could see the panoramic views of the Mekong River thus allowing the travelers to revel in the beauty of the countryside. Visit Mekong with Indochina tours Vietnam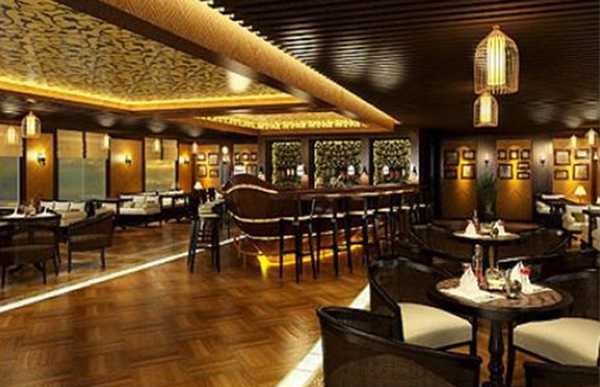 Massage and Beauty Salon:
The way you cruise through Vietnam and Cambodia's most beautiful and tranquil scenery along the Great Mekong River, why not take the opportunity to pamper yourself? We have an expert hair stylist, masseuse and beauty therapist at your disposal for the duration of the cruise. Pamper your body and rejuvenate your soul while you're on board with RV Amalotus Cruise.
Sun deck and Swimming pool:
Enjoy the sun by the dipping pool where you'll find refreshing and invigorating concoctions and snacks that are created and served using the freshest ingredients. You can sip to your heart's content with relaxing views of the Mekong Delta.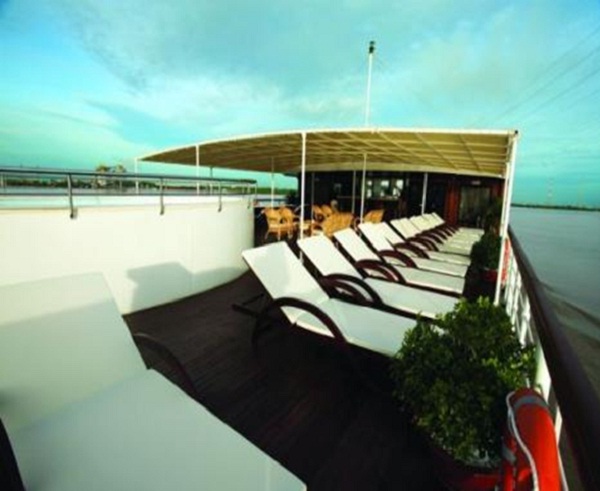 Gourmet cuisine:
For a delicious taste of local cuisine, all meals are included on your Mekong River cruise. While each meal presents the chance to dine on exotic Asian fare, Western favorites are always available, should you desire a taste of home.
Life on Board:
Intriguing and Insightful Lectures: you will learn about the golden age of Cambodia during the Angkor period, which will enrich your appreciation of the fabled temples of the ancient Khmer empire and local customs, beliefs and traditions in the places you will visit.
Magical Musical Performances on Board: There is a diverse program of musical entertainment that offers an amazing glimpse into the cultures of the region. Throughout the entire cruise, a pianist will be quietly playing soothing local music as well as some old favorites.
Traditional and Interactive Evening of Khmer Dance: During an entertaining evening of song and dance, you will enjoy a traditional Khmer folk performance and listen to a range of charming music that is local to the Mekong region.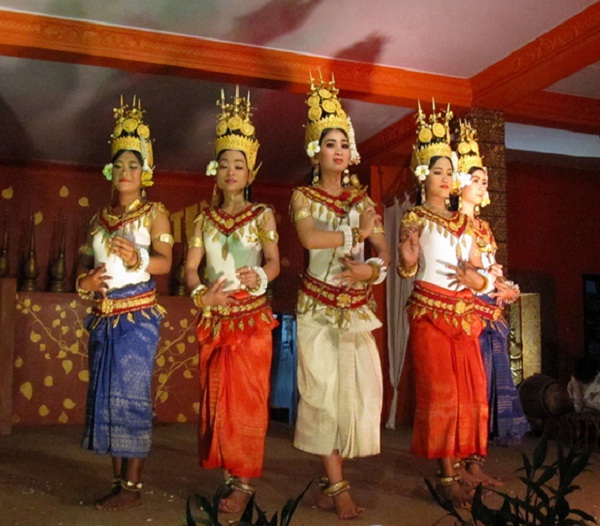 Cooking Class and Fruit-carving Demonstration: Decorative food is a very important part of Vietnamese food culture, as presentation is all-important. Onboard, enjoy a detailed fruit-carving demonstration by the ship's executive chef, and delight in the secrets of making the region's most famous delicacy – Vietnamese Spring Rolls.
The Indochina Voyages team.
Read more: