Enjoying the best services of the luxurious boutique RV Mekong Prestige II cruise on your stunning journey discovering the mighty beauty of the Mekong River in Vietnam and Cambodia is definitely one of your unforgettable trips. With the reminds of many French colonial-era manor homes in design that used to line the streets of ancient Saigon and Phnom Penh, the 32- cabin RV Mekong Prestige II is complex although convenient design with French balcony.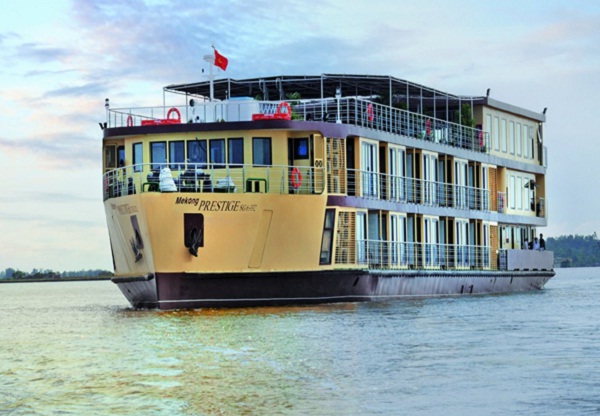 Spacious and generous, yet intimate enough to feel completely unique, the Mekong Prestige II combines relaxed yet comfortable lounging, luxury dining areas, spacious sundeck and modern bubble pool. Guests coming here will be inspired by great dining time with Vietnamese and Khmer food on board and stunning excursions with knowledgeable and experienced English Guide. The river pilot and crew with many years experience using the modern navigation technologies as well as the highest cruise ship standards ensure to bring you smooth travel and safety on the water cruise. Indochina holidays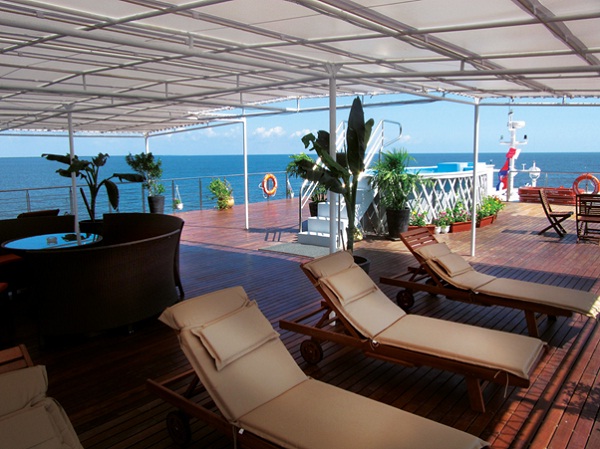 With a total number of 28 modern cabins fully equipped with air condition and private balcony on both main deck and upper deck RV Mekong Prestige II Cruise offers you the best creature comforts. The vessel consists of 4 suites cabin: 2 Junior Suites, 2 terrace Suites, all of which are able to provide the finest comforts as a four star luxurious boutique floating hotel.
All staterooms on Mekong Prestige II Cruise are roomy and practical fully equipped with French personalized balconies; big windows and slithering glass doors to let you have a great opportunity to admire the stunning views of the beautiful outside scenes.
For dining time, you can savor your meals with your lovely partner in the comfortable and fresh atmosphere offered by the spacious restaurant while still keeping your privacy and settlement. Classified from Western to Asian cuisines the menu that is prepared by the experienced chef and with fresh ingredients daily will satisfy any kinds of guests here.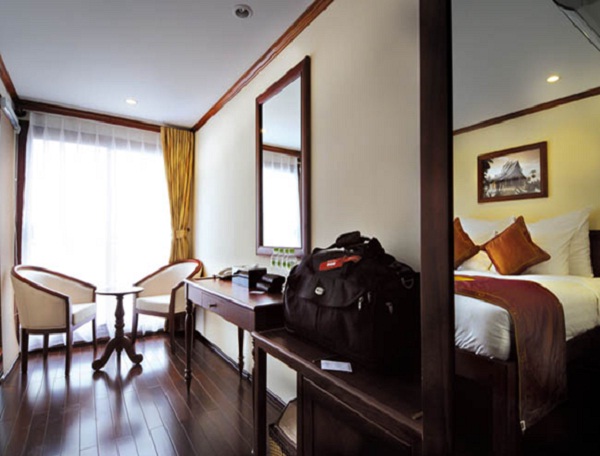 2 Massage Salons, an indoor lounge bar and a Fitness Center are also available right on the board to let passengers enjoy relaxing time. The spacious sundeck is always a good choice for tourists to have a great choice to enjoy the best view of the Mekong Delta.
With many years experience in providing all guests with outstanding trips discovering the charming beauty of the Mekong Delta, our Indochina Voyages promise to bring you unforgettable memory on your trips on the RV Mekong Prestige II.
I Love Vietnam.
Read more: