Currently, Vietnam is becoming one of destinations in the world that attract a large number of foreign tourists every year because of many stunning scenes. When traveling in Vietnam, you should not miss chance to visit the Mekong Delta – a destination with many beautiful landscapes and the unique culture. And Sliver Stone Island is a spot that you should not miss in the Mekong Delta.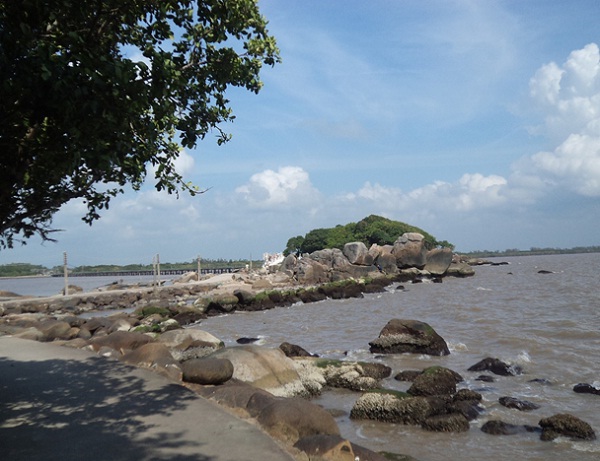 Belonging to Kinh Hon hamlet, Khanh Binh Tay commune of Ca Mau province in Mekong Delta tours, Silver Stone Island is situated about 50kilometers far from Ca Mau city – at the end of S-shaped Vietnam.
Sliver Stone Island is divided into four peaks including two high peaks and two low peaks extending to the sea. The highest peak in this Island is only 50 meters from sea-level. Sliver Stone Island has the humble area of 6.43ha with a rich ecosystem of flora and belongs to a beautiful group of three islands close to the seashore. Although not impressive by its size as other very large islands in Vietnam, Sliver Stone Island is one of the most ancient islands with its age of 180 million years. Visit Mekong with Indochina travel Vietnam
Seen from the main land, Sliver Stone Island looks like a natural rock – garden amidst the immense sea. Surrounding the island and under shaggy branches of primitive trees in Sliver Stone Island, there are numerous shiny granite boulders linking together and pilling up through many centuries to form many weird shapes that local people have named such as San Tien (Fairy Yard), Gieng Tien (Fairy Well), Ban Chan Tien (Fairy Foot) and Ban Tay Da (Stone Hand). Those above names were set by local legends in the old times: there were a lot of fairies coming here to have a bath or the myth about the place reserved for Taoist hermits who lead a Lao (Lão) religious life and got future bliss reward for a devout life in the world. Their life was very simple and harmonious with fruits and vegetables.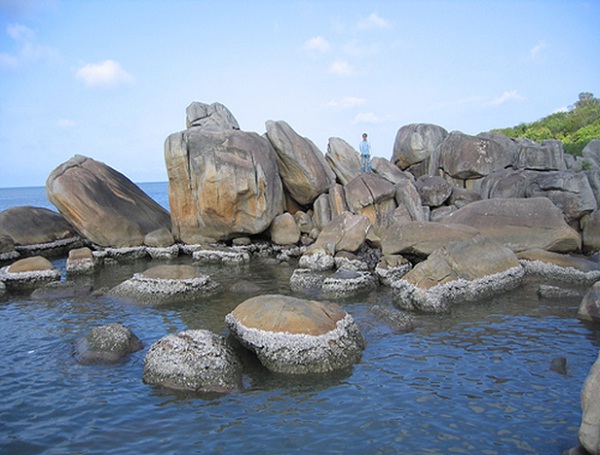 Sea oyster in Sliver Stone Island is unsmooth and thorny, living by staying close to rocks at the foot of the islet in the depth of from 1 to 3 meters, so you want to catch them, you must swim underwater in the sea, use hand – hammers to catch each oyster very meticulous. According to a lot of gourmets, only oysters in Sliver Stone Island are most delicious and nourishing, which can be processed into a lot of attractive courses.
Endowed with not only fascinating and harmonious landscape but also its impressively rich marine system, Sliver Stone Island is an ideal destination for nature lovers or travelers who want to leave busy lives for nature.
The Indochina Voyages team.
Read more: