Known as the Golden Pagoda country with more than 90% of the population being Buddhists, Myanmar always celebrates festivals associated with Buddhism. Thingyan Festival of Myanmar people known as the Water Festival is an important and meaningful event to celebrate New Year which is typical of traditional Buddhist ritual.
Thingyan, a Buddhist festival usually falls around mid-April and lasts over the period of four to five days before New Year day. By throwing water on each other, it is believed that Water Festival washes away sins and welcomes the New Year day which on 17th April. Travel to Myanmar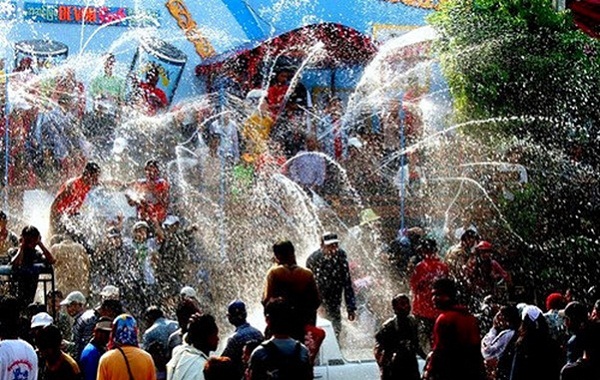 The origin of Thingyan can be traced back to India where it is one of the events of Hindi culture. Formerly, Thingyan is an imported cultural event and then is extensively modified over hundreds of years to become a true Burmese cultural event. Though Thingyan is not an officially traditional Burmese custom, it is; however, one of the most influent culture in the life of Burmese nowadays. Visit Thingyan Myanmar with Indochina tours Myanmar
At such time, the major activity is throwing, sprinkling or pouring water on each other since people consider that water can wash away sins, evils and dangers of the old year and welcomes the New Year with peace, prosperity and happiness. Therefore, what everyone needs at this festival is certainly any devices from which water can be squirted such as garden hoses, huge syringes made of bamboo, plastic water pistols, bowls, cups, etc…People can walk or go with their bicycles, cars or even trucks to play water with each other. In these whole days, water throwing and playing places with Padauk – the symbolic flower of Thingyan blossoming are everywhere, not only in the cities, especially big cities like Yangon but also in the villages that all represents the most colorful and joyous celebration of the year.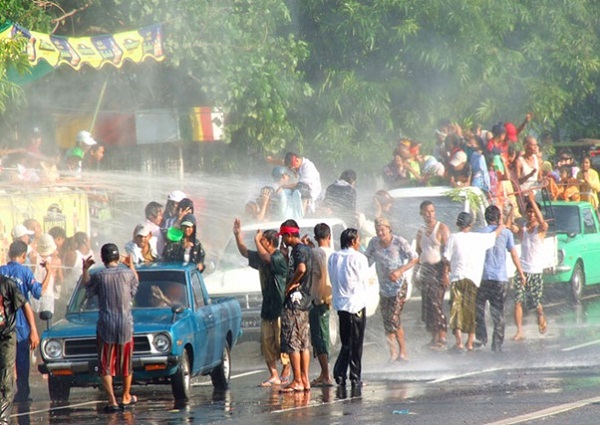 After playing around and having fun throughout the country, Myanmar people welcome the New Year on the 17th by washing their dirty hair, having a bath and cutting their nails, etc…Everyone also gathers together to visit pagodas to pay homage to monks. Some offer free foods and drinks for everyone who comes to the pagodas while some make other donations. Besides, there is also a custom in the festival on the final day of Thingyan when people buy live fish and cows and let them in free in sanctuaries or lakes with a prayer for their better life.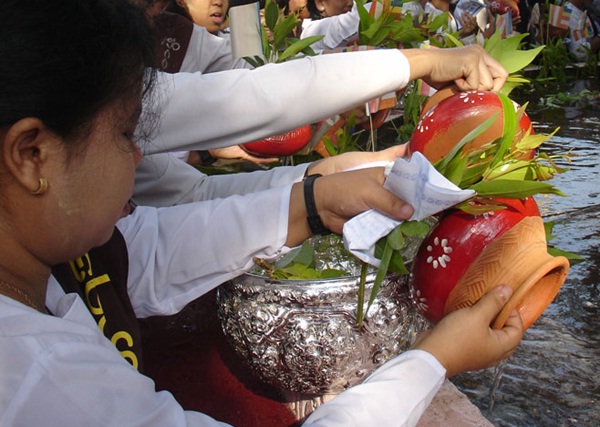 Thingyan Burmese New Year Water Festival is the hottest event of the whole year. It is really great time for laugh, joy and makes everyone the best spirit to welcome a happy New Year.
The Indochina Voyages team.
Read more: