Mekong river delta is the largest delta in Vietnam, which is famous for a special culture of trading on boat. In each early morning, there are hundreds of small boats with full of products gathering in main branches of Mekong river, creating busy and crowded floating markets. Five most attractive floating markets could be named including Cai Rang floating market, Cai Be floating market, Phung Hiep floating market. These floating markets attract lots of tourists each year, coming to find peaceful places and escape from the hustle and bustle of city life. Indochina travel agency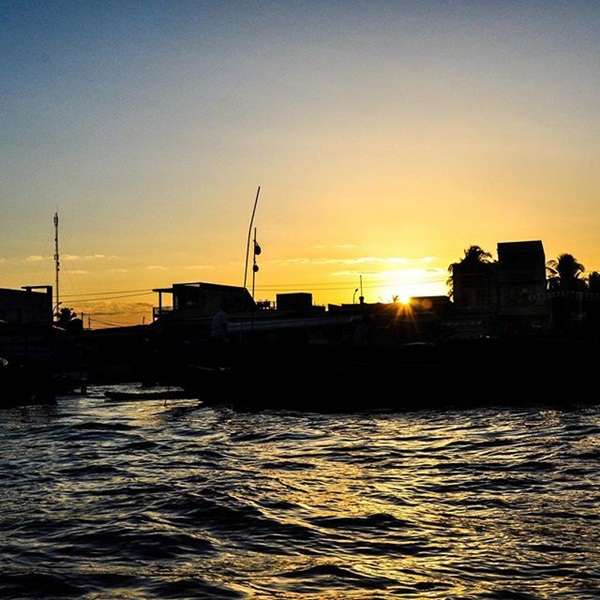 Cai Rang floating market in Mekong river
Cai Rang floating market, the largest wholesale floating market in Mekong delta, is just about 6 km from the center of Can Tho city. It is said that "not being in Cai Rang floating market means not knowing the land of Tay Do – an old name of Can Tho". Cai Rang Floating Market is open all day but it is busiest from sunrise to about 9 am and the waterway becomes a maze of hundreds of boats with full of products. Tropical fruits (mango, watermelon, orange, bananas…) or even smallest domestic products (knifes or lighter) are also sold widely in the market.
Especially, Cai Rang floating market has a reputation for various kinds of delicious breakfast. Imagine you are sitting on a small boat bobbing in the middle of the river, enjoying a steaming hot bow of rice noodle soup, crab noodle soup or sipping a cup of iced coffee. That would be such a memorable experience.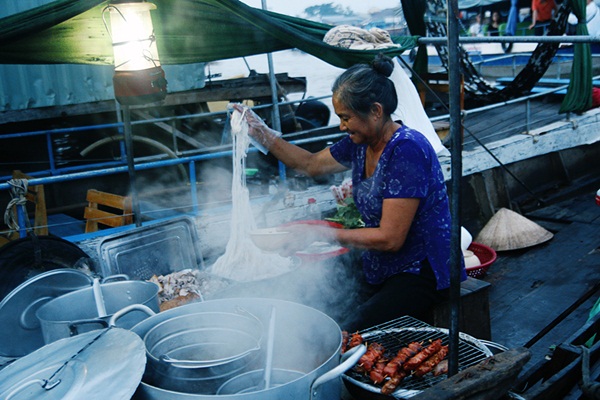 Cai Be floating market
Cai Be is a biggest wholesale market in the West Southern part of Vietnam, which is formed since the Nguyen Dynasty in the 19th century. The floating market is located in the Tien River, adjacent to three provinces of Tien Giang, Vinh Long and Ben Tre. These provinces are famous for many large fruit gardens. On daily basis, approximately 400 to 500 boats filled with fruits, vegetables, and other products are gathered along the river banks. Visiting Cai Be floating market is golden chance for tourism to enjoy well-known delicious tropical fruit such as coconut, orange, mango, durian…Mekong river boats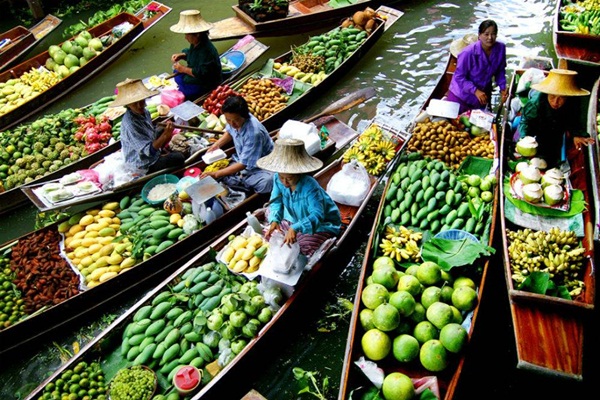 Phung Hiep floating market (Hau Giang province)
Phung Hiep floating market is also called Nga Bay market because it is located at the intersection of 7 canals. The market was formed in 1915 which wholesales a variety of products to not only the local residents but to the Northern part of Vietnam or even export to neighboring countries.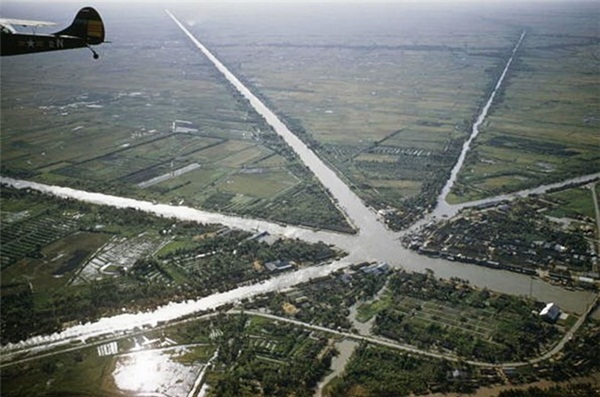 An interesting place you should not forget when coming to Phung Hiep floating market is visiting snake market nearby. Visiting this market, you will have chance to taste high-qualified snake-wine. Moreover, the market also sells some specious bird species, turtles, geckos, varan and other wild animals.
From very early morning, small boats of farmers are anchored along river banks with bamboo poles (called Cay Beo) in front, on which they are displaying their products. By doing so, clients find it easy to recognize what a boat's owner sells. That interesting characteristic is typical for floating markets in Mekong River, and you hardly see it in any other floating markets. With those features, Phung Hiep floating market will make you satisfied with beautiful scenery and unique culture of Mekong delta in the western area of Vietnam.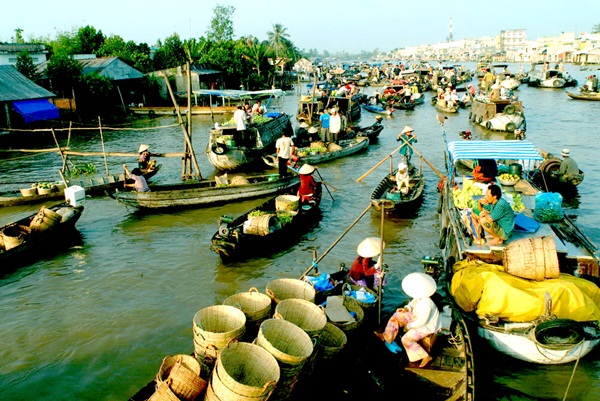 This is a list of three most famous floating markets in the West-Southern part of Vietnam that you should not miss. With different geographic position, each market has its own attractive feature, however it is easy to realize common things among them are peaceful atmosphere of aquatic life, special cuisine, warm and friendly local people. I believe that it is an experience that is worth to try once in your life.
Read more:
Travel Lovers