Cambodia is a right place for tourists starting their soft and hard adventure. For every your tour in Cambodia, you spend many days here to explore and experience fully this land which is famous for many historic landscapes and a unique culture. If you are planning to visit beaches and islands in Cambodia with a long time, choosing a good hotel or bungalow about bout quality and price is very important to make your tour more perfect. From bamboo shacks on a palm-fringed island to a chic resort in Sihanoukville, these cheap Cambodian beach pads are ideal for unwinding after temple-hopping at Angkor Wat. Mekong river cruise
Koh Thmei Resort, Koh Thmei
Part of Ream national park, which is a favorite destination due its 150 different kinds of birds, Koh Thmei Island is a 50-minute boat ride (often accompanied by dolphin sightings) from Koh Kchhang fishing village. It feels world away from the rampant development of Sihanoukville on the mainland. The basic wooden bungalows are not far from the water's edge, ensuring there is little to get in the way of you and the panoramic sea views – aside from the visiting birds. There are just seven bungalows and little noise, except for the sound of the sea, so it can feel fairly isolated. If you can drag yourself out of your hammock, activities include snorkeling, kayaking, wildlife-spotting, and long leisurely walks around the island.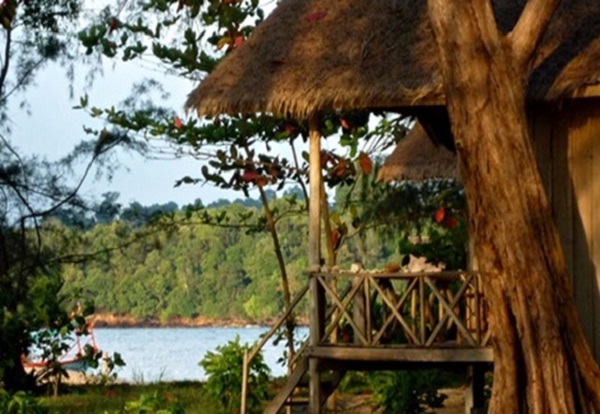 Kepmandou Lounge-Bar, Kep
Only a red dirt road and a lush paddock, dotted with horses and cows separate this French-owned hostel and chilled-out lounge bar (with Rabbit Island views) from the sea. The basic accommodation, in a whitewashed house with green shutters, includes dorms and private rooms with mosquito nets, fans and bathrooms, and perhaps a table and chairs on a balcony or terrace. Although the location is serene, things can get noisy when there's a full sociable house. Most guests spend their time on nearby Kep Beach or swinging in a hammock in the tree house – style lounge, then, come sunset, testing new cocktails at the bar or shooting pool with new friends. The friendly owner can organize bikes and activities. Visit Cambodia with Indochina tours Cambodia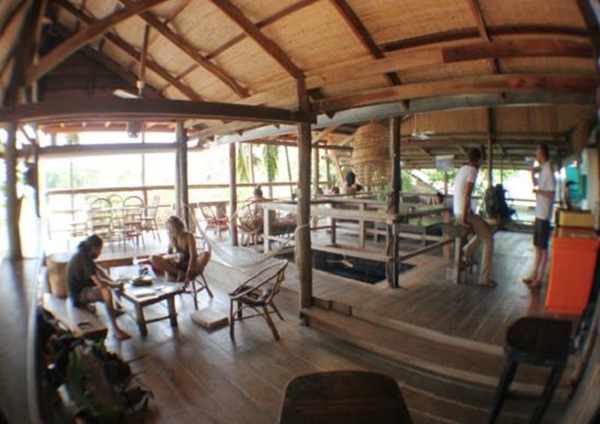 Rabbit Island Bungalows, Koh Tonsay
Most visitors to the tropical paradise of Koh Tonsay (Rabbit Island) come on a day trip from Kep for the swimming. But if you are up for some serious down time, it's worth spending a night or three in the simple bamboo bungalows, owned by Khmer families, which dot the palm-fringed waterfront. While the $20 return ferry ride (20 minutes) from Kep might stretch the budget of some backpackers, you will spend little money while on the island. There are no shops – or roads or infrastructure of any sort; electricity is only on from 5-10pm each day – but you can eat fresh seafood with your toes in the sand at a few beachside restaurants or join locals for a crab barbecue.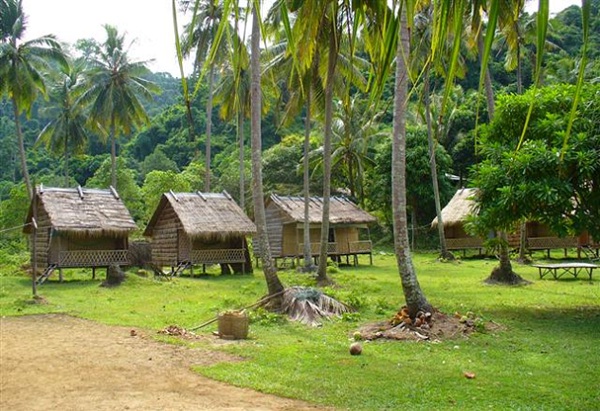 Castaways Beach Bar and Bungalows, Otres Beach
Low-key, casuarinas – lined Otres is the most laid-back and bohemian of Sihanoukville's increasingly busy beaches, and rustic Castaways is a real charmer. Owned by a friendly Khmer family, the sea – grass huts and green timber beach shacks have thatched roofs, grass walls, and shutters that let in sea breezes. There is little else other than timber – slatted beds with mosquito nets, table fans, and basic bathrooms with hot water. Step out of your bungalow – within splashing distance of the sea – and you are on the sand, where hammocks, cane chairs, loungers and sea-grass umbrellas are strewn about to welcome you for a busy day of swims, cheap massages, scrumptious home-cooked Cambodian food, and fruit cocktails from the Castaways Bar.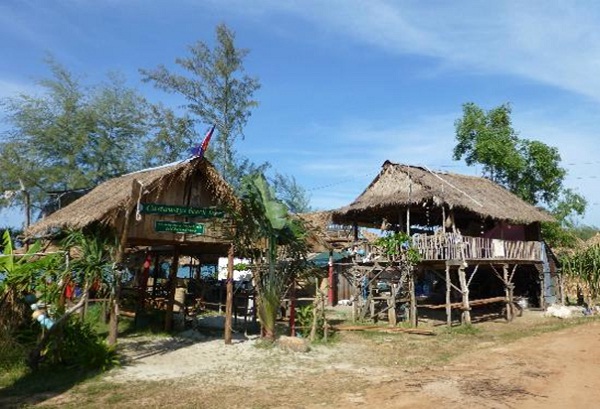 Tamu Hotel, Otres Beach
The first of its kind in Sihanoukville, this chic new beachfront boutique hotel is ideal for those looking for something in between basic bungalows and bland resorts. Rooms are minimalist, with polished concrete floors, retro-inspired furniture, and day beds on terraces overlooking the turquoise lap pool. There is a bar and restaurant on the sand, strewn with more stylish furniture and serving a crowd – pleasing menu of sandwiches, salads, appetizers, and seafood mains. There are plenty of loungers and mattresses, and when you are done with doing nothing, you can snorkel, kayak, kite surf or take day trips to the islands.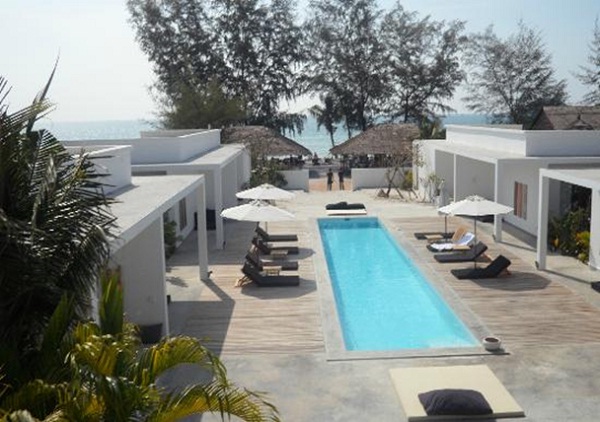 These above beach hotels and bungalows are the best choices about both quality and price for foreign tourists when visiting the beaches and the islands in Cambodia. A combination of a good hotel or bungalow and an interesting schedule will make your tour the most perfect.
Travel lovers.
Read more: