The Mekong Delta or Cuu Long in Vietnam is a large portion of southwestern Vietnam of 15,000 square miles.It is the only region in Vietnam where riverboats and sampans are the main means of transportation due to low-lying, soft soil condition and condensed system of rivers and canals.  You will find the complex maze of the Mekong Delta which is so unique and special, giving you an insight into life on the mighty Mekong River and its tributaries. It's incredible natural scenery and climate attracts so many tourists from all over the world. Travel Indochina Vietnam
Floating market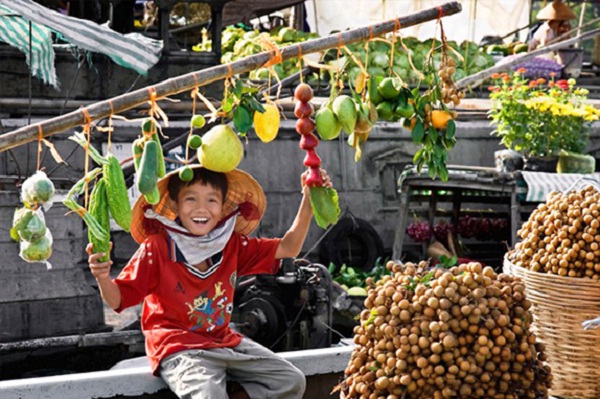 Floating market is the traditional markets where sellers and buyers are doing transaction on a boat in Mekong Delta. It is an incredible agricultural experience.You will have a great opportunity to visit two largest floating markets that are Cai Rang Floating market in Can Tho Province – Mekong delta area by motor boat. Even though transactions are more concerned with tourists rather than locals these days, the floating market; boats are still piled high with tropical fruit and vegetables, fresh, ready-to-drink coconut juice and local food cooked from floating kitchens located right on the boat. It is fantastic to discovering it. Rachel Carson said that "Those who dwell among the beauties and mysteries of the Earth are never alone or weary of life."
Fruit orchards
Mekong Delta is the largest fruit cultivation area, grows many fruits such as durian, Java rambutan, green-peel and pink-pulp grapefruit and mangosteen. Visit the orchards and taste fresh fruits right at the garden? It will be a lot more fun! Moreover, you can learn how to plant your fruit trees, how to prune them, harvesting techniques and more.

Catch fish
It will be lucky for you if you have opportunity to catching fish in the pond while travelling in Mekong Delta once in your lifetime. You will dress Ao Ba Ba (traditional Mekong delta farmer's cloth) and jump into the muddy creek to catch fishes. After that, enjoy fishes fried by straw (traditional Mekong delta dish).  Mekong delta travel Vietnam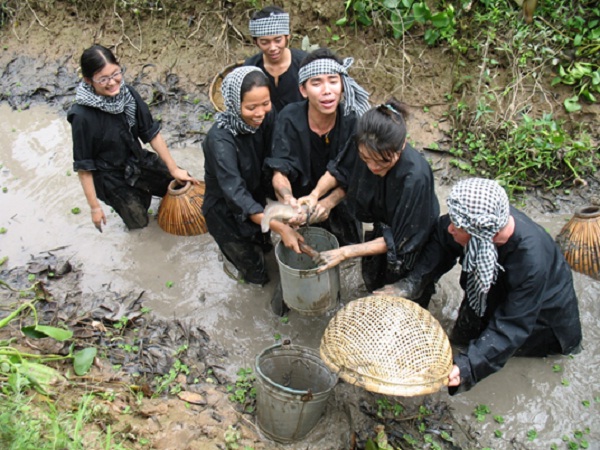 Paddle down the Mekong Delta
Paddle down the Mekong Delta is the best method to explore the region at a leisurely pace as it offers opportunities to experience the truly unique Mekong River lifestyle. On arrival, take a boat on Ben Tre River – one of tributaries of Mekong River, sightseeing lively activities along river. Stop at local brick kilns to see how to make bricks in handy traditional style. Continue going through palm tree- lined canals and visit one of coconut-processing workshops located along canal. It is a chance to interact with local people. The entire culture of the delta's inhabitants revolves around the behaviour of the river.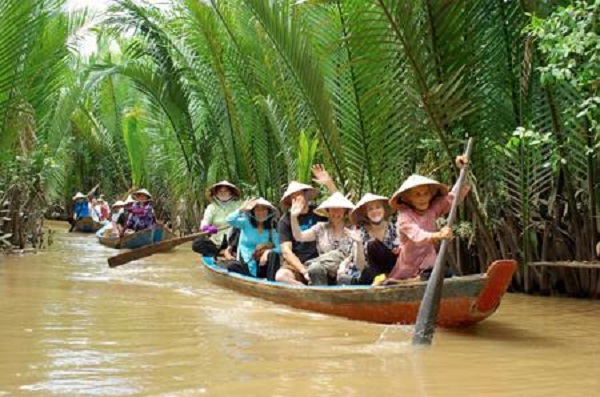 Mekong Delta biking
The most exciting way while you pedal across villages, small canals, fruit orchards, extensive rice fields… is discover Mekong delta on bike. You interact with local people to learn about their lifestyle and daily activities… It is also an idea to relaxing after a tied working week.
Asia travel.
Read more: