Let's imagine that one early morning, you are surrounded by noise sounds, by lively colors, and you are sitting on a boat flow along Mekong Delta. For travelers from afar, visiting a floating market is the best way to discover the unique characters in the South Vietnam. Taking time to explore the floating markets such as: Cai Rang, Cai Be, Phung Hiep, Nga Bay, etc, you will get a special feeling for the rhythm of daily life there. And Tra On Floating Market is one of floating markets that you should not miss when traveling in the Mekong Delta.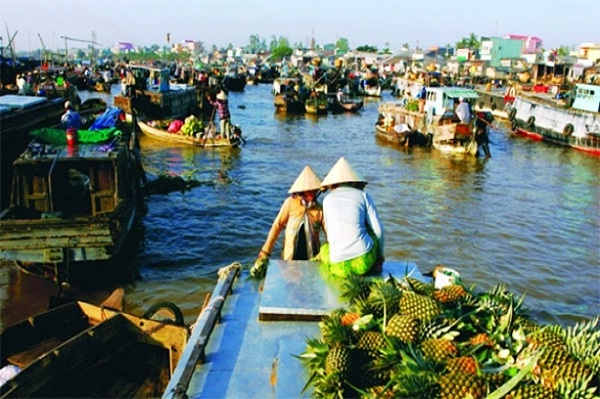 Located at the intersection of the Hau and Mang Thit rivers and next to Tra On Town in Tra On District in Vinh Long Province, Tra On is the last floating market on the Hau River before emptying into the East Sea. Tra On Floating Market is not only one of the most characteristic cultural activities in Southwestern provinces as Vinh Long, Can Tho, Tien Giang, Ca Mau, etc but also one of the oldest bazaars existing in cultural life of Southwestern people. It is particularly popular in this market is market open go after the water, usually crowded in the morning but the moment of raising water is the most crowded. Visitors can watch the beauty of the market in each moment of the day on the water. Tours Indochina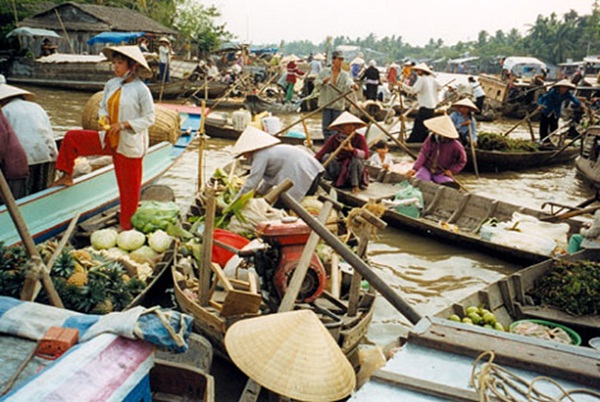 When people are in their deep sleeps, Tra On Floating Market begins a new day, from 2-3 am, the busiest moment is from 5-6 am onwards. In the dim foggy space on surface water, boats of purchasing are wafting gather here. Many types of products are categorized, weighed for traders. From here big boats carry products throughout the country: Can Tho, Vinh Long, Chau Doc, Soc Trang, Ca Mau, Ho Chi Minh City, etc. The market is open all day. The special characteristics of the Tra On Floating Market is that all activities in this market depends on the water level of Hau River. Normally, the market is crowded in the morning, at the same time with the high peak of tide. Thus, tourists can still see the beauty of the market at any time of a day, with different scenes. In addition, all agricultural products are bought and sold in groups, and distributed from boats and gardens in wholesale form. This unique feature also creates Tra On Floating Market an attractive distinction appealing tourists, especially foreign ones. Main products in this market are fruit such as coconut, banana, guava, pineapple, jackfruit, grapefruit, orange, etc.  Large and small boats meet each other in tandem closely to purchase all types of agricultural products. Vietnam holidays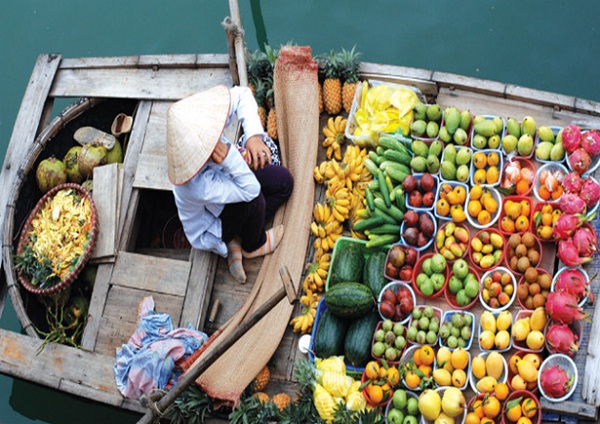 Like all floating markets in Mekong River Delta, all sellers and buyers have to sit on boats. On swaying boats, you will "feed" eyes full by all kinds of fruit of the Mekong Delta River and enjoy a bit of each kind including: the sweetness of Thien My mangoes, Phu Thanh rambutan, longan; the fatness and fragrance of durian and jackfruit, juicy flavor of grapefruit and oranges. Besides, there are many other seasonal agricultural products such as gourds, okra, potatoes, radishes, cabbage, melon, etc. In this floating market, there are delicious dishes being seen as specialties in this floating area: beef noodles served with a special vegetables (getting from banana tree). The scene is more lively and bustling with small boats selling coffee, ice tea, bread, rice noodles, bread, tobacco, etc creeping into bigger boats to server. In this floating market, you also see the "grocery" boats on which there are many items from the needle, spool, sugar, salt, cooking oil, peanut oil, etc. Sounds of "ad languages", of paddles, and of engines create an exciting remix.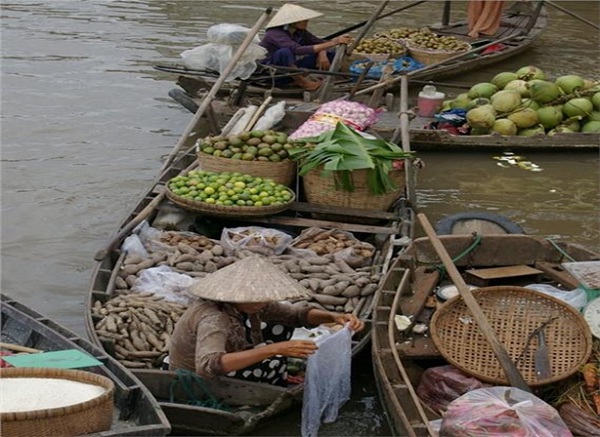 In recent years, Tra On Floating Market is an attractive tourist attraction in Mekong Delta, fascinating tourists from afar. A large number of European tourists have to watch it avidly, take pictures on the bustling floating market, and the openness of this unique one. Visiting the floating market will bring different feelings and experiences to tourists, which should not be missed when coming to Mekong Delta.
Travel lovers.
Read more: