Tram Chim National Park is the reservation for primitive beauty of Dong Thap Muoi in Mekong Delta and also home for various kinds of fauna and flora.
In the immense areas of more than 130 flora species of the National Park are 231 water bird species – ¼ of bird species found in Vietnam. Researches show that there are plenty kinds in Red Book such as white-winged duck, pelican, spot-billed pelican and especially the endangered Sarus Crane (or red crowned crane) which is also considered as the royal bird here. Tours of Indochina Vietnam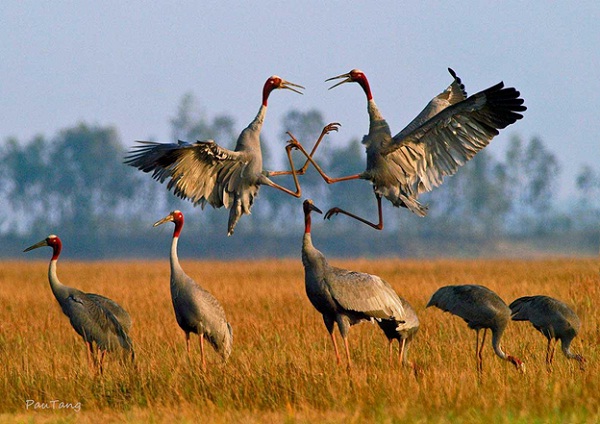 Tram Chim is literally understood in Vietnamese as melaleuca tree and bird. Indeed, this invaluable natural reservation are featured with evergreen melaleuca forests and more than 100 bird species.
Melaleuca is a submerged kind of plant that is popular in Indochina, especially in the Mekong Delta of Vietnam and some regions of Thailand. This plant has a strong root system and totally livable, allocates in the salt water areas. In the dry season of Mekong Delta, plants are hard to survive, but not melaleuca. May be partly because they grow in groups rather than individually. The evergreen forests of melaleuca stretches to hectares, with the distribution ratio ranges from 5 000 – 20 000 melaleuca trees/hectare. Sitting on the small boats of Mekong Delta and go through the melaleuca and other evergreen forests of the National Park, you will find your peace back in soul. Fresh air, quietness, out-of-sight green forests, sounds of nature, and the echoed traditional folk songs of Mekong Delta people, they will all rest your mind and soul. Mekong delta tours Vietnam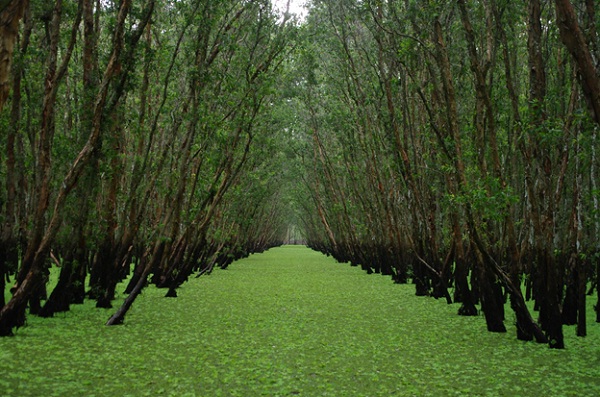 Animals in Tram Chim National Park are living in their natural habitats too. Among them, 42% live in freshwater swamps, 10% use the grassland, 8% live in merged forests, 2% dwell in canals, the rest 38% live in all of the above habitats. Birds are the featured animals here as submerged forests and swamps are their favorite living environments.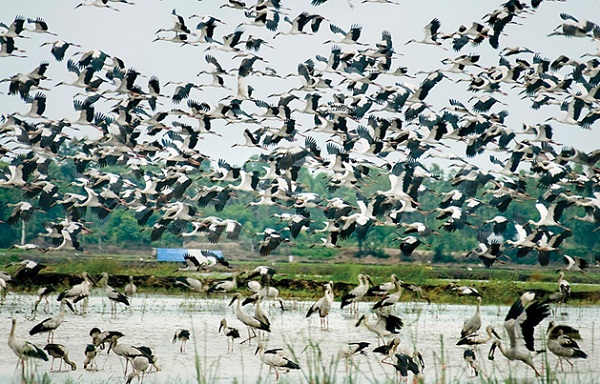 Visiting this reservation, you will observe true lives of various bird species. Mother birds try their best to find the food for their offspring home, royal red crowned cranes dance in their own attractive dances, or hundreds of white ducks fly in the sky. They remind us of how magnificent Mother Nature's beauty is. The National Park also arranges observation huts for tourists to have a view over the thousands of hectare reservation. You will find your breath taken when you are on top of the huts: the splendid evergreen forests, thousands of birds are coming home, winding canals and rivers, pink lotus ponds and yellow rice paddy fields, they are all in your eyesight at one moment.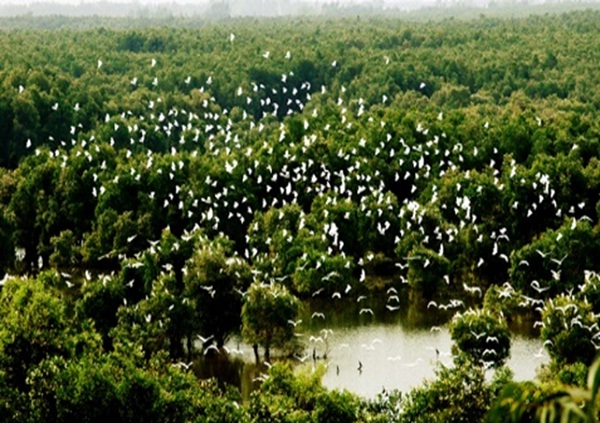 The Tram Chim National Park is not far from Cambodia, and tourists may wonder what Mekong River has in the higher parts of itself to create fantastic sceneries in the Delta in Vietnam. And we are very happy to continue your voyages discovering all parts of Mekong River.
 Asia Travel.
Read more: