Travelling to Ben Tre, a small province of Mekong River Delta, tourists should not miss the chance to visit Vam Ho Bird Sanctuary which is the most famous sites of this area.
Vam Ho Bird Sanctuary lies in the area of 2 communes My Hoa and Ta Xuan, Ba Tri district, Ben Tre province. Travelers can get there which is far about 52 kilometers from Ben Tre by road or waterways. When arriving at Vam Ho, visitors are recommended to take a boat trip because it helps visitors have a clearer look at this submerged forest and makes a tour as a mysterious exploration. What amazing scenes with their own beauty gradually explored!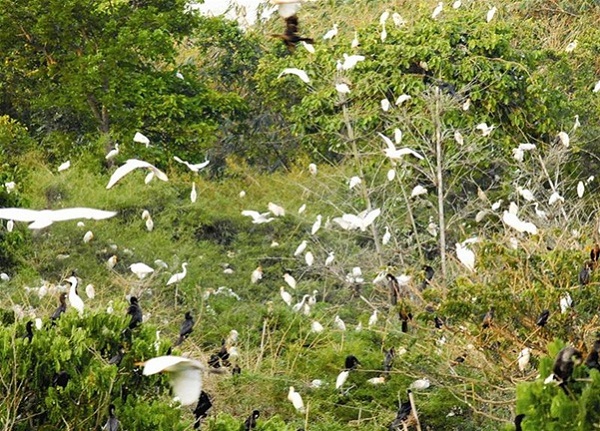 Covering nearly 70 hectares, Vam Ho is a unique ecosystem which has characteristics of Mekong River Delta. With an average elevation of 1.2 meters above sea level, it has become an ideal residence to great variety of flora and fauna.
Taking a boat around this area, tourists are firstly impressed by the endless lines of coconut trees. Besides, mangrove and reed are also typical trees usually seen here. Sailing on tranquil river area, smelling beautiful scent of flowers and breathing in fresh air, tourist are having the great time to relax and making their best spirit to enjoy. Visit Ben Tre with Vietnam travel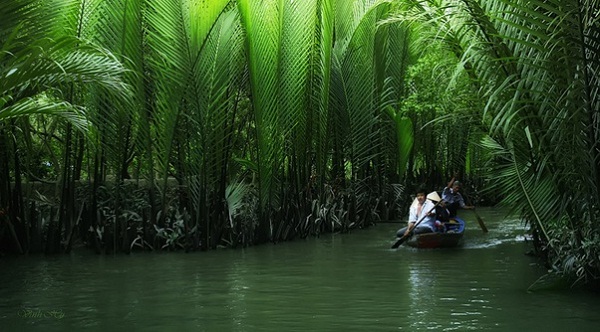 Especially, this has a favorite destination for many animals which almost all are birds. That is also the reason why local people regard it as the bird sanctuary. There are about 84 species of birds in 35 classes in which stork and heron are popular types of birds. Further more, other wild animals are often seen such as black mink, weasels, etc… As for reptiles, it can be listed as snakes, pythons, lizards, turtles, etc…and so many shrimps fish, crab, crayfish, etc…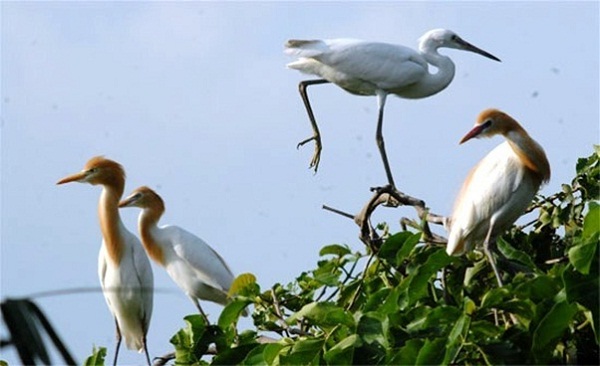 When the sun is going to set, it is high time for thousands of bird storks flying in the sky back to Vam Ho. Their sounds are playing with different rhythms and mixing with the sound of leaves, which all become the enchanting sound of the jungle. This is really a rare opportunity for all tourists to enjoy the fresh air of a wetland and experience memorable moments.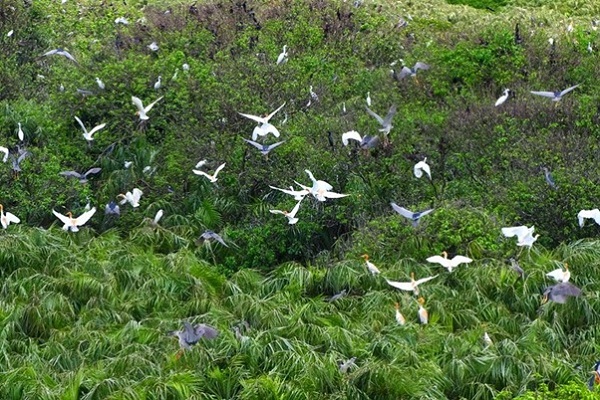 Vam Ho Bird Sanctuary is worth going visit by dint of its spectacular sightseeing of a submerged forest with characteristic of Mekong River Delta. It attracts over 2,000 visitors each year and has become the most famous attraction of Ben Tre province.
The Indochina Voyages team.
Read more: