Receiving much love from the Nature Mother, the cruise Mekong Delta is an ideal place for those who wish to get far away from the hustle and bustle of daily life and immerse in the pristine beauty of nature.
Paddle through the floating markets of Phong Dien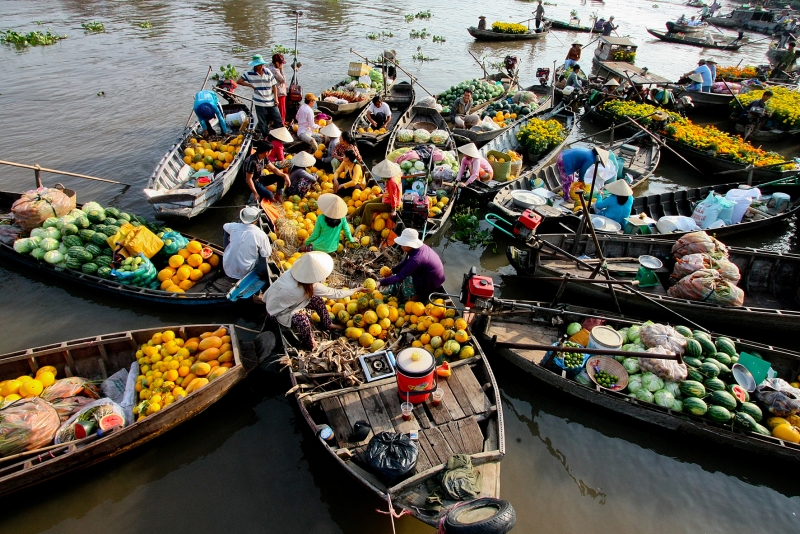 Floating markets are where you can find the flourishing agricultural trade of the Mekong Delta, which yields a large proportion of the country's fresh produce. Among many floating markets in the region, Phong Dien, which has more stand-up rowing boats and fewer motorized craft, with local vendors shopping and exchanging gossip, is the Mekong Delta's most intimate and best floating market. If you do not really like the incredible crowd at Cai Rang market, Phong Dien with far fewer tourists should be a better choice. Like Cai Rang, Phong Dien is also at its most bustling from 5AM to 7AM. You can easily have one of many tour operators tailor your tour at Phong Dien Market, which is 20km southwest of Can Tho.
Overnight in a homestay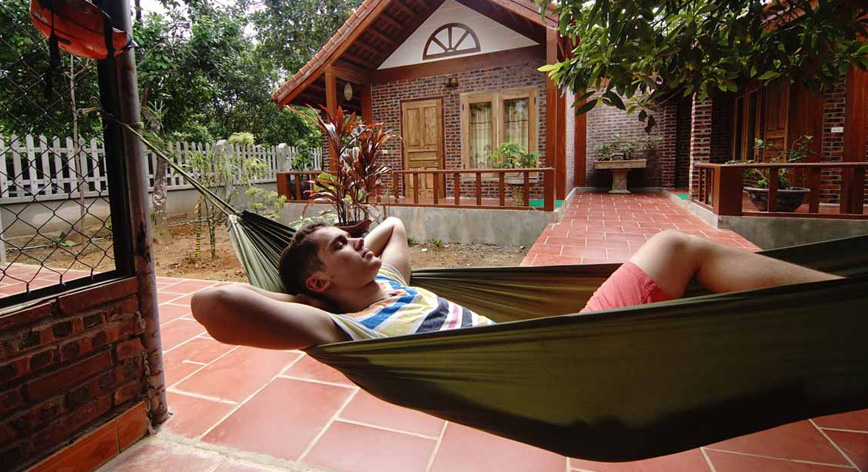 Home-stays can be found all around Vietnam, but those you can see on these tranquil islands of the Mekong Delta, which are surrounded by acres of tropical fruit gardens, are incredibly attractive. Experiencing a home-stay with a friendly local family, travelers will definitely know more about the daily life of locals in the Mekong Delta region, have a chance to sample these freshly picked fruits and gain a true knowledge of the reason why this area is famous for the rice basket of Vietnam. Since your hosts are very likely to be as interested in your culture as you are in theirs, homestay is actually an interesting two-way cultural exchange. Travel Vietnam and Indochina
Catch And Cook Fish By Your Own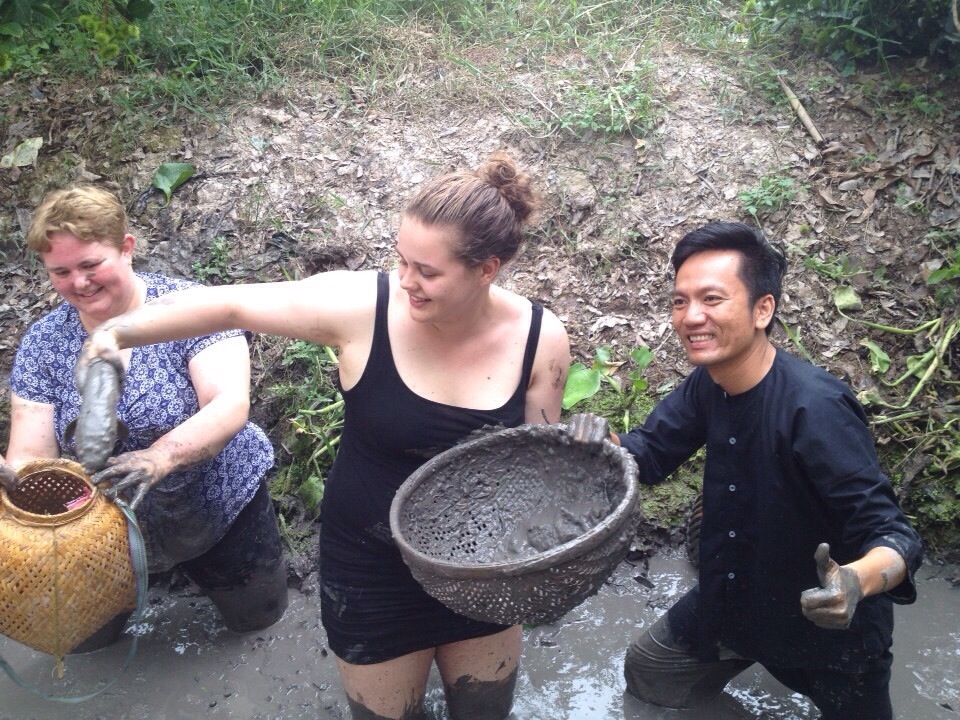 Visiting the Mekong Delta, where the natural environment is perfect for a school of freshwater fishes to live and give birth, tourists are given an amazing chance to catch fish and enjoy their achievements by using fresh ingredients to cook delicious dishes. You can need a fishing rod with bamboo material to catch snakehead fish, catfish and elephant-ear fish while a bucket or even bare hands may be used to catch some types of small fishes in the ponds. The most famous and flavorful dishes you should try once in the Mekong Delta are canh chua cá (sweet & sour soup with fish and vegetables) and cá kho tộ (fish braised with caramel sauce in a clay pot).
Visit And Taste Fresh Fruits In Local Garden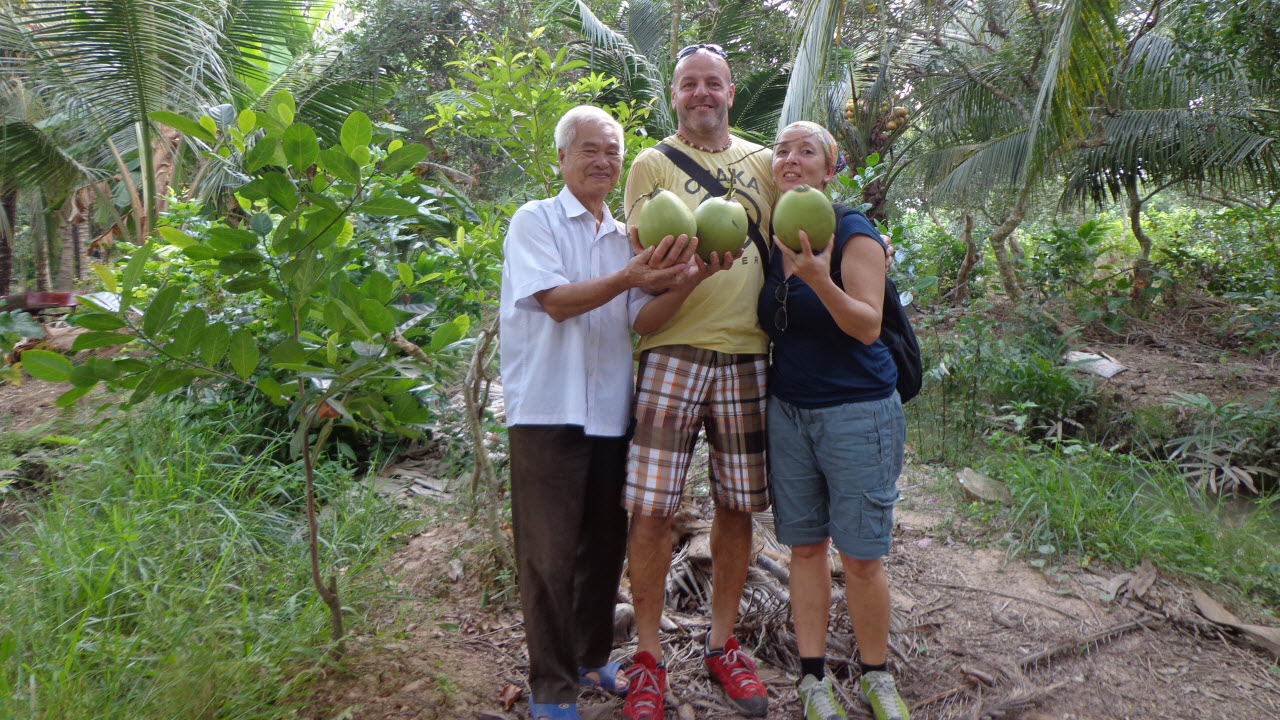 It is not only gentle rivers and streams but also tropical fruits that make the Mekong Delta famous. This delta is an ideal destination for both domestic and foreign tourists thanks to its pleasant climate and abundant fruits available four seasons in a year. And no tourists coming to this region without stopping at one of these huge fruit gardens. Picking and enjoying ripe fruits by your hands while listening to these stories told by the host of the garden is an unparalleled experience.
Cai Mon Orchard (Ben Tre), Cai Be Orchard (Tien Giang), My Khanh and Phong Dien (Can Tho), etc are some of the most famous fruit orchards in the Mekong Delta. In addition to savoring fresh fruit, you can also get a good chance to broaden your knowledge by seeing and distinguishing the specialties of each area. A tour to these fruit gardens not only gives you excitement but also honors the effort of the locals and makes their life much better.
Ride bicycle around quiet village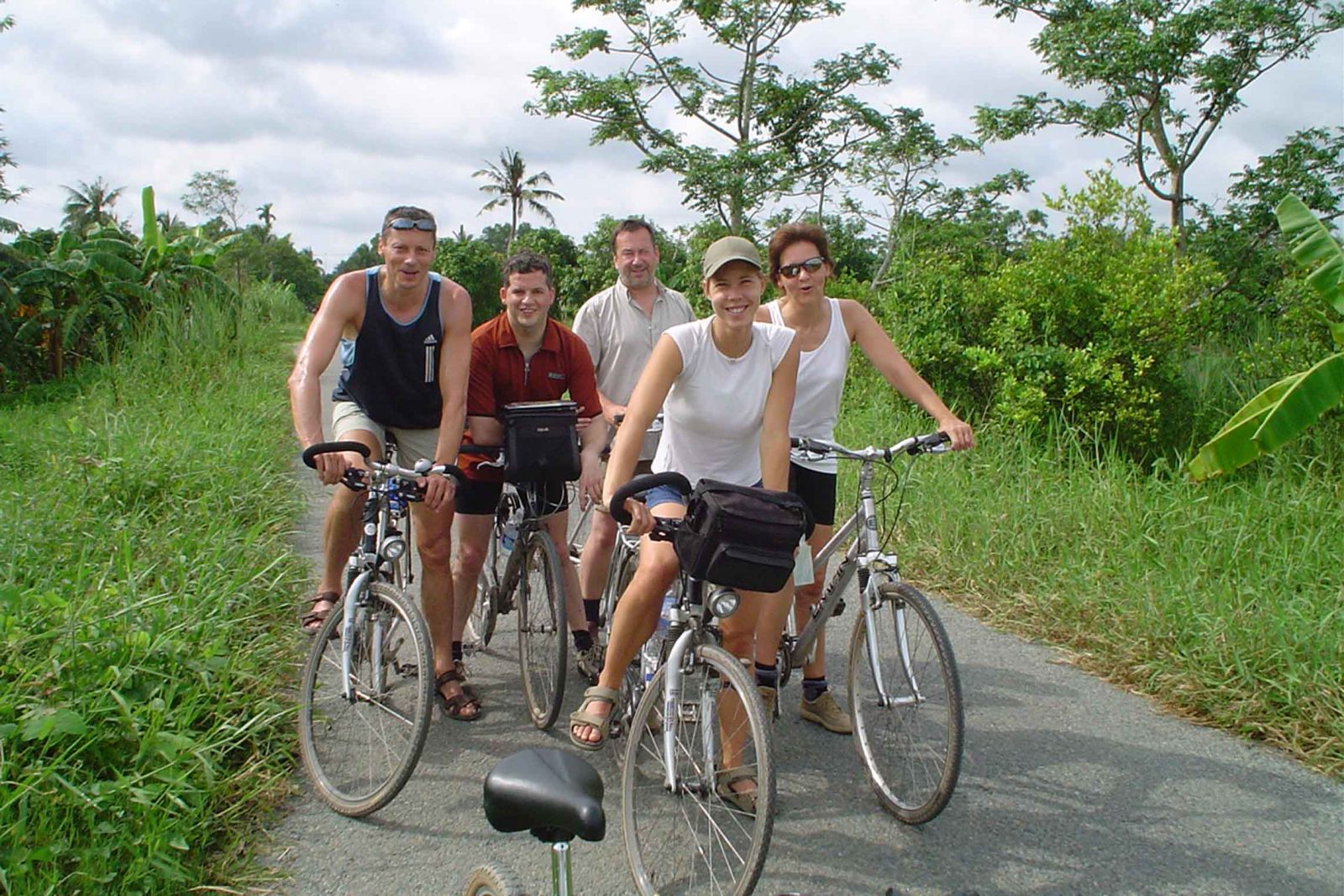 Because they are given so much from Nature Mother, people in the Mekong Delta do not have to worry much about their daily life. Visiting this tranquil area, you will feel like getting lost in an entirely peaceful world far away from the modern world – a world of competition and business to make money for living. Riding a bicycle along one land dirt roads to see fishes in the lakes and rivers, fruits and vegetables in the gardens, rice on the fields; simple houses built from bamboo and to meet and talk with the hospitable people is the best way to explore the Mekong Delta's villages to enjoy the peaceful life at its best. Not only see the slow life, it's also time to calm yourself and have relaxing time!
See more:
I Love Vietnam