An eco-adventure Can Gio forest tour to the mangrove forests of the Can Gio UNESCO Biosphere Reserve is one of the most events of your life! Travel Indochina in Vietnam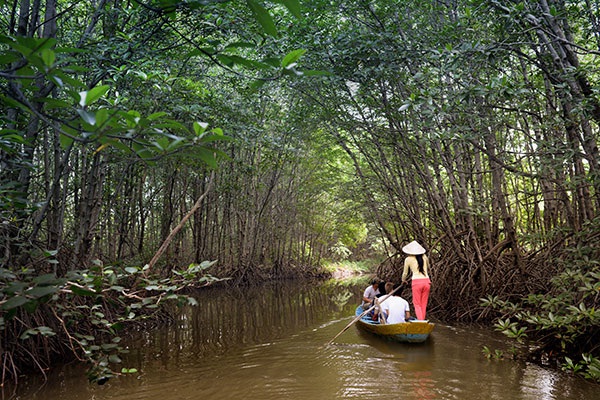 Your interesting speedboat journey will bring you from the center of Saigon to the dense riverside jungles of peaceful Can Gio, through the lush green canals of the Mekong Delta. You will stop at a lovely local riverside market, where you can absorb all the amazing colors, happy sounds and aromas of this rich region at the gateway to the Mekong Delta.
Once departing the Delta, the nearby landscapes of turquoise water palms create way to the high dense mangrove forests of the Unesco Biosphere Reserve. Going on board of a rowing boat, you will have a chance to discover the Giant Bat Lagoon as well as pay a visit to a crocodile reserve, trek through high-density mangrove jungle, watch monkeys and enjoy a place of bird watching once joining in the Can Gio Forest tour. On this tour, you will be served a traditional Vietnamese lunch by local chefs.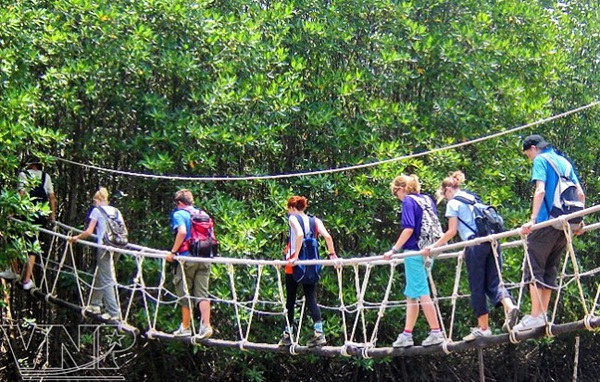 As an amazing part of the tour, you will be served a delicious lunch including many traditional Vietnamese dishes like fresh spring rolls, lemongrass chicken and Fried Elephant Ear Fish, a well known Mekong Delta specialty.
Once departing Saigon, a bustling riverside market at the gateway to the Mekong Delta will be the first destination of your luxury speedboat tour. Observing a traditional market scene, taking some great photos and trying the local Mekong produce are many interesting activities you can do here.
As you reach the market, let the slow-paced agricultural world of the Mekong Delta begin to give way. The textile fabric pictures of green paddy fields, tropical fruit trees together with green coconut palms turn to towering mangrove trees looming over the boat, encompassing you in a dusky twilight world. You have already reached the UNESCO Biosphere Reserve of Can Gio, one of the most important ecosystems in Vietnam, being home for 200 species of fauna as well as 52 kinds of flora.
Thanks to the excellent hospitability of the locals here, you will have an opportunity to visit traditional fishing hamlets, where fishermen loop their nets by hand by the river. And then taking a gentle row on the peaceful waters of Giant Bat Lagoon as well as enjoying a short trek with the willing help of tour guide through the mangroves is must-do thing.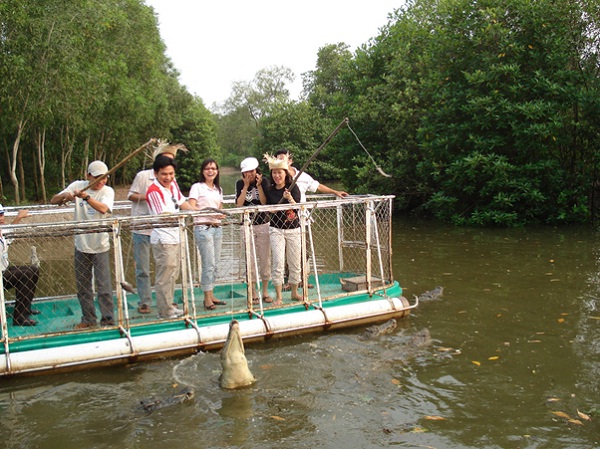 If you are a nature lover, visiting a crocodile reserve and even feeding them via a fishing rod at Vam Sat Eco Park definitely attract you. Crocodiles were once multiple in the region, but unfortunately were hunted that they are near extinction. And do not forget to walk around and see monkeys and cheeky gibbons to see them swinging from the trees, your kids will surely enjoy this time of the tour!
Bring with you your binoculars as you will have various opportunities to see exotic birdlife – both local and migratory – including painted storks and duck-billed pelicans!
Travel lovers.
Read more: