The most bustling - floating Cai Rang market
A Pandaw river expedition is not like an ocean going cruise. There is no dressing up for dinner and no 'captain's table'. The atmosphere on board is very friendly and informal, more like a party on a private yacht than a cruise ship. Nearly everything is included in the price and there are no hidden extras for excursions.. Even your drinks are included in the price of your ticket. There is an incredibly high level of personal service and care aboard, with a crew passenger ratio of 1:2. For these reasons passengers keep coming back and exploring more of a lost South-East Asia.


The Pandaw stateroom is the most celebrated feature of our ships. Finished in brass and teak, the main and upper deck rooms are very spacious at 168 square feet (15.6 sqm). Much loved by all our passengers we have ensured that with each ship we build the stateroom remains the same. Our cabins do not have mini-bars, satellite TV's, internet or phones. There is a 24 honesty bar on the sundeck. Pandaw passengers usually want to escape from the tiresome features found in international business hotels.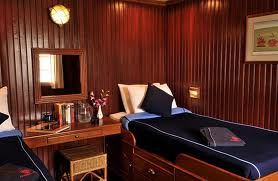 Many passengers describe life on board a Pandaw more like being a guest on a private motor yacht than a cruise ship. Where we go and what we see is intrepid in extreme. What you come back to is a floating base of discreet comfort, caring service and all the good things one looks for in life.

The Pandaw dining rooms are designed to open up along the sides and only at night do we close them up and use air conditioning. We know our passengers want fresh air not chilled air.
We offer a great choice of local cuisine and exotic foods. We source supplies as locally as possible, given environmental health regulations. Breakfast and lunch are buffets and dinner is served at the tables. Passengers who do not like hot or spicy foods are offered European alternatives and vegetarians are well catered for. Our chefs know that the majority of passengers want to eat the best of each country they pass through.