General Information
An Giang Water Area is located in southwestern region of Vietnam, where the upper Mekong is divided into two flow Hau River and Tien River running through Vietnam. It has favorable climate and land for agricultural development, it is also valuable tourism resource as well. Due to dense river system, the water traffic here have been developing strongly. Most of the trading activities take place on the river or floating market, which is a very unique cultural feature of western region. Travel to An Giang  with: Mekong delta cruises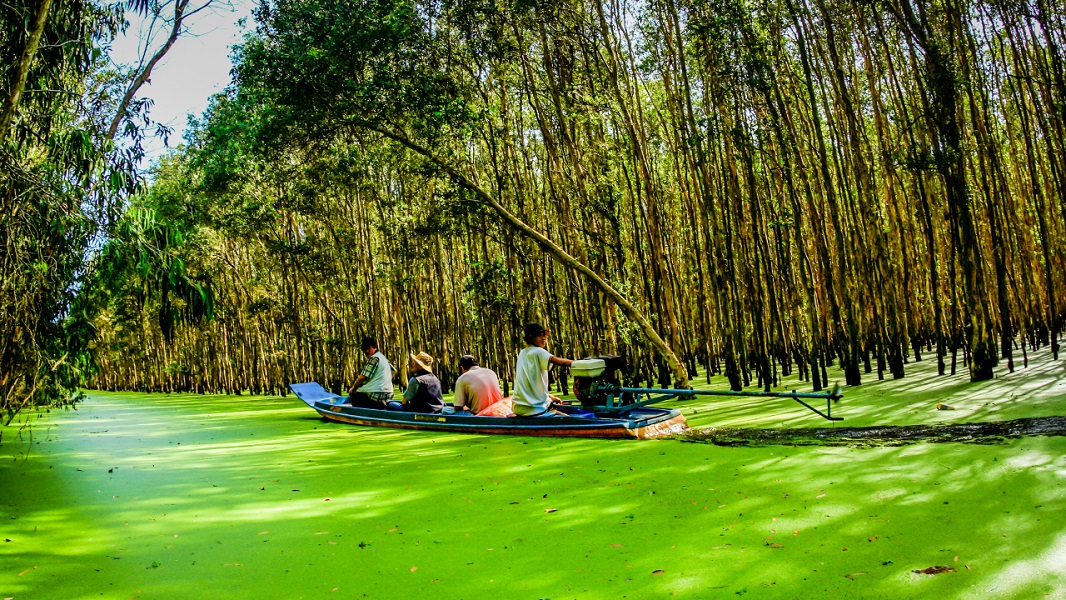 Most of visitors traveling to An Giang often come to familiar highlight places like Ba Chau Doc Pagoda, Sam Mountain, Cam Mountain, Thoai Ngoc Hau Tomb, That Son Range, or famous Tuc Dup Hill,… However, there is another different An Giang, with less-known spots. However, for those who love to explore local regions, these places will be fascinating and challenging tourist destinations.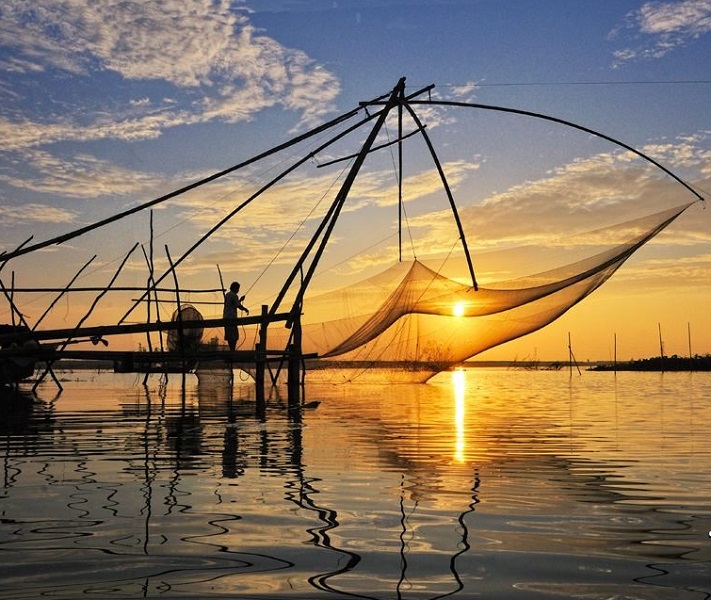 To explore beauty of western water area to the fullest, you should travel by motorbike, thereby you are able to actively choose itinerary as you want. On the way across Dong Thap, you should not forget to visit Thuong Phuoc Gate, where Mekong River starts to flow into Vietnam. From here, you can feel the greatness of the river that has passed through many countries. Beginning in Tibetan, China, Mekong River flows through Laos, Myanmar, Thailand and Cambodia, then it stops in Vietnam and it is divided into nine smaller rivers that make up prosperous Cuu Long Delta. To get more information, you can click: tours in Indochina
Bung Binh Thien
Next, when entering An Giang Water Area, the first place you should visit is Bung Binh Thien or also known as "well of the sky". Located between Binh Di and Hau River, Bung Binh Thien is approximately 193 hectares wide, one of the largest freshwater lakes in the West. The reason why this place becomes special is that the water in the lake is green all year around, although nearby canals are muddy. That very reason creates a lot of legends about Bung Binh Thien.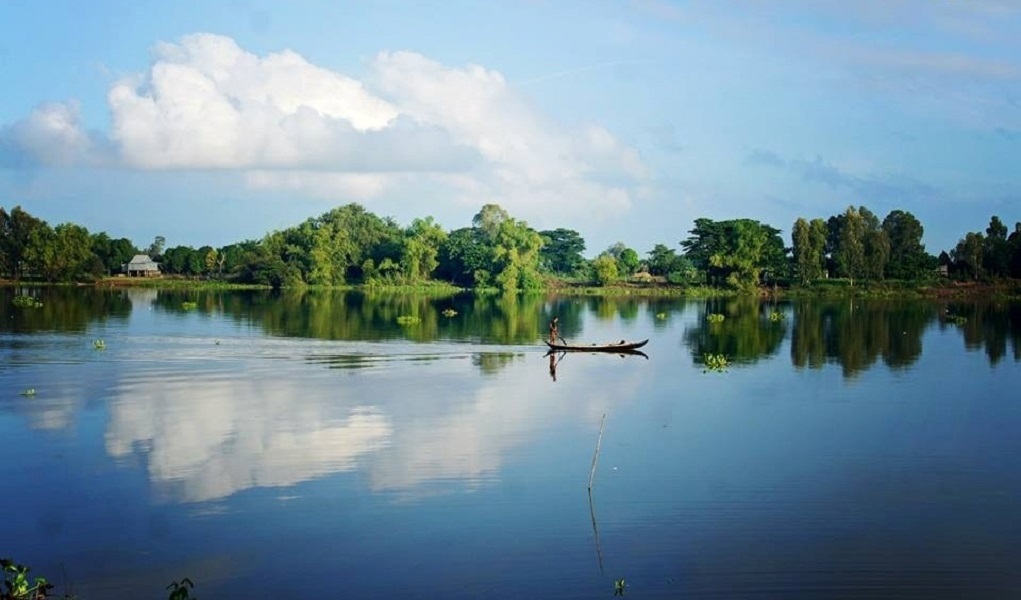 Tra Su Melaleuca Forest
The next amazing destination is Tra Su Melaleuca Forest. It is located in Tinh Bien District lying near the border. The specialty here is jaggery. Therefore, tourists should not forget to stop by a roadside stall, enjoy a cool cup of jaggery water to cool down and then continue to travel. Tra Su is a typical mangrove in the western region of Hau River. It is the home to a plenty of waterfowl andaquatic species, contributing to diverse and rich biological system of An Giang Water Area in particular and Vietnam in general.
When setting foot in melaleuca forest, you can feel fresh and pristine atmosphere immediately. The wind blows through the top of the trees, birds chirp in the forest. The small boat slowly takes you through rows of melaleuca trees, go deep into the forest. Green duckweed spread all over the water, white flowers of melaleuca fall everywhere. You can see storks spanning winds on the water for food. There is a garden of birds singing. Unexpectedly peaceful space will help you forget daily life problems, and enjoy every sweet moment of miraculous nature here.
Ta Pa Hill
When leaving Tra Su, travelers can go straight to Tri Ton in An Giang Water Area to visit Ta Pa Hill. This is also a place where little do people know. Ta Pa Hill is only 120 m high, on the hill there is an ancient Chun Num Pagoda built according to Khmer-styled architecture.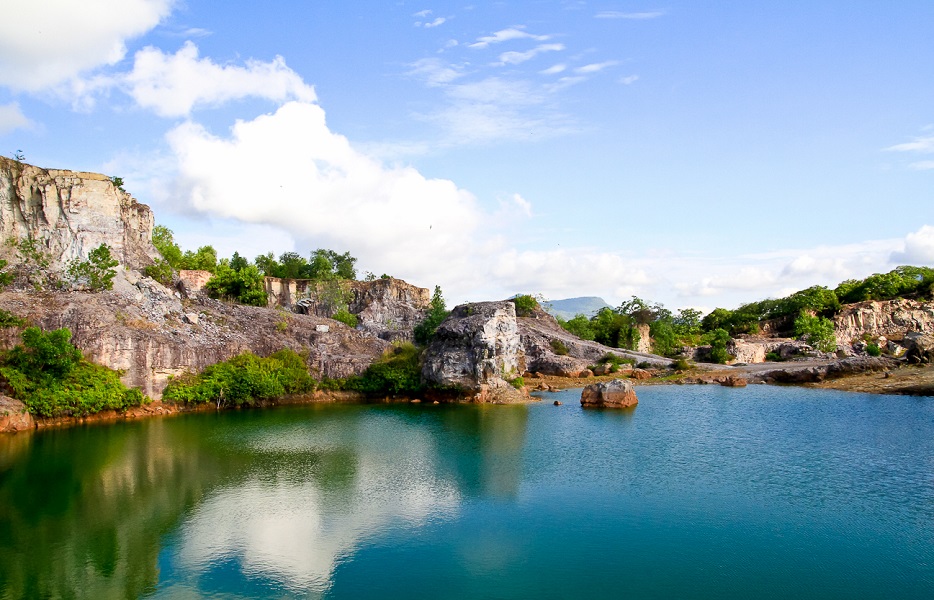 If people go 200 meters behind the gate of the pagoda, they will reach the top of the hill. From here, visitors can see panoramic view of Tri Ton District. Below is beautiful Ta Pa Lake Ta Pa Field with full of beautiful colors: yellow and green. Farther away is indigo blue color of the burning smoke and the buffaloes walking in the sunlight. The farmers have just finished their work after a hard-working day.
If you're still healthy enough after visiting suggested destinations above, it would be great to discover other highlight places in An Giang Water Area such as: lotus village in Thoai Son, Oc Eo cultural relic sites, Co To Mountain, Bong Lai Temple,…
See more:
I Love Vietnam