Saigon or Ho Chi Minh City is a perky city. This charming city has become more and more spectacular and luxurious with bright street lights and traffic lines. It is the time when you can find night markets with their own character and simple street food stalls with a wide variety of stunning dishes making them popular spots for locals and travelers. Due to the high temperature of day in Saigon, the cooler air at night offers travelers perfect time to travel around, meet and gather together in open air and share a meal or a drink under the huge-sky. Why don't you come to see the best part of Saigon by night, sample street foods, have fun and enjoy all offered by the city as a local? It is high time to experience the buzz of Saigon's nightlife on the back of a scooter. Indochina travel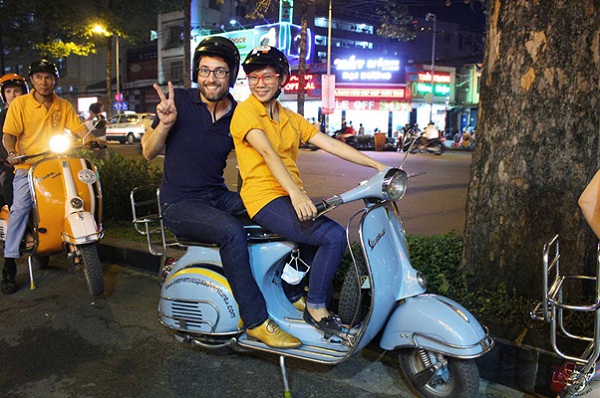 Twist all the primary roads and back alleys to explore Ho Chi Minh City when the night falls. All you need to do is to sit on back of a scooter to enjoy the incredible sight, fragrant smell of food and amazing sound of this stunning city. Taking part in this tour, you will have a chance to know more about not only stunning authentic Vietnamese cuisine but also our long term culture. Listen to the stories of the vendors about the food history is also a funny thing to do. Let's dive into daily nightlife of Saigon, enjoy delicious dishes and have funny moments like local people.
In the night cool air, a hot bowl of Vietnamese noodle soup is an ideal choice. Why not start your food tour with a hot rice noodle soup such as Pho, Hue rice noodle soup, etc. you will definitely taught how to use a spoon and chopsticks to eat the dish. And then you will certainly do it and enjoy the dish like Saigonese.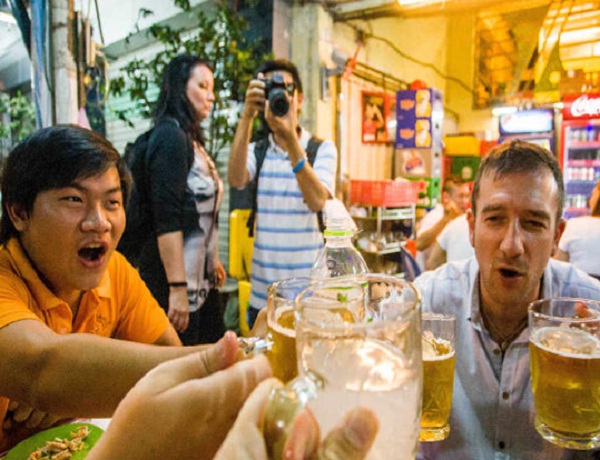 Then do not miss a chance to try rice paper salad and Vietnamese pizza which are considered as two addicting snacks winning the heart of teenagers in Saigon. These foods can be found everywhere on Saigon streets from street shoulder poles, simple rolling carts to street food stalls. Make a stop at a finely snail stall to opt for a type of snail including sweet snail, gun snail, mud creeper, star fruit snail and various cooking methods such as stir-fried with coconut milk, dry stir-fried with salt and chili, grilled with salt, grilled with chopped green onion oil. What to do next? Enjoy the snail dish and explore "Snail Eating" – one of the most amazing parts of Saigon culture which is popular among young Saigon people is exactly what you want to do.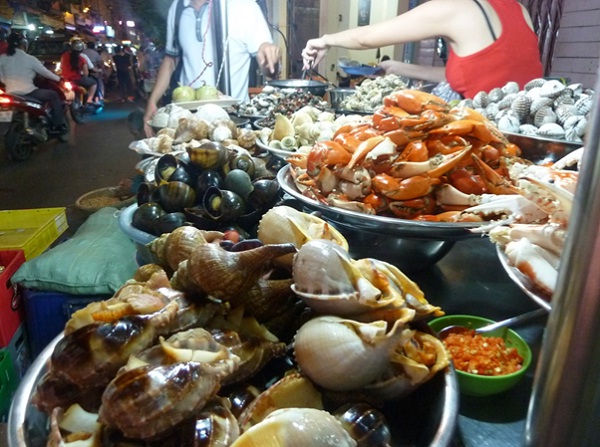 After that, the art of "Nhau" or Beer Food in Saigon is available for you to discover. It is said that Vietnamese people are among the people consuming the highest amount of beer in the world. It is a perfect way for young people in Ho Chi Minh City unwind after a really long hard-working day. Friends and lovers gather on the pavements or at a hidden corner of narrow alleys to drink beer. You will dive in world of "Nhau" with "1, 2, 3, dzo", popular Saigon beer as well as exotic beer food.
To make you more comfortable, choose among a wide variety of food options including crispy Vietnamese pancake, stuffed rice pancake, broken rice with grilled pork, etc to enjoy all the best of Saigon street foods at your wish. Sampling delicious Vietnamese sweet soup and coconut jelly may be the great way to end this amazing food tour. End your food tour in Saigon with lots of smiles.
Travel lovers.
Read more: