The Mekong Delta in Southern Vietnam is one of the most popular destinations for travelers in our beautiful country. Most people go on their Mekong river tours in Vietnam for a short vacation and to visit one or two towns or floating markets. After all, it is a large region with a real tourist infrastructure and facilities, unspoiled nature, unique culture, exotic food, warm-hearted and hospitable local people, and mesmerizing mud-colored waterways as good cross-region transportation. It can be overwhelming and time-consuming to plan for your Mekong River tour in Vietnam, especially if it is your very first time visiting our spectacular land. Hope that this step-by-step travel planning guide on how to plan a trip is useful for those who do not want to become stuck in a travel nightmare.
Choose your destinations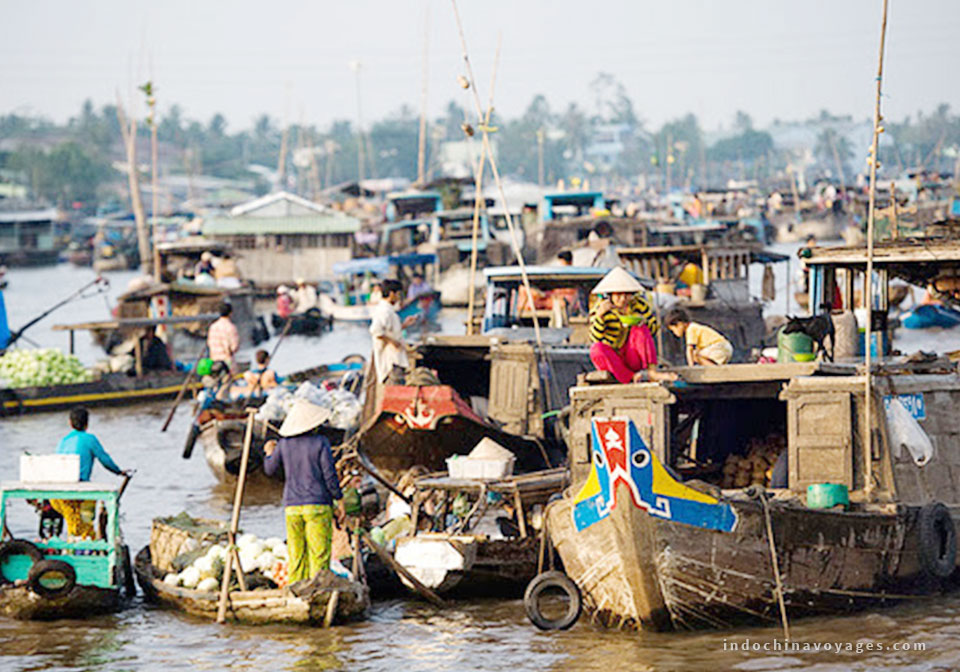 Your first step in how to start planning your Mekong River tour in Vietnam is to decide where to go. If you have only 1 or 2 days, you will not be able to see the entire region of 13 provinces. You might have known the Mekong Delta, but depending on your travel style and travel budget, you can set your priorities and decide on your route and destinations.
Whether you are a one-day taster or a week-long extravaganza seeker, the Mekong Delta has all manner of options for you to choose from. Can Tho – the Mekong Delta's melting food pot is an ideal destination for Vietnamese food lovers. Meanwhile, not far from Ho Chi Minh City, My Tho is popular among tour groups as a perfect spot for a day-trip. It is packed with people seeking for an appetizing glimpse of the delta's northernmost tributary – the Tien Giang from mid-morning to late-afternoon.
Another jumping-off point for boat trips is Vinh Long – where you can visit Cai Be floating market with piles of fruits on bustling clusters of boats and experience overnight homestays on a cluster of islands. However, if you want to immerse in the bounteous fruit orchards or navigate through rows of coconut palms, laidback Ben Tre has a more universal appeal.  You can spend less time in some towns but balance it out by having a longer stay in other 12 destinations. See above for our destination suggestions for an average of 1 day per destination.
Don't leave the Mekong Delta without savoring the local food
We might have already known about the vast, varied landscapes, the flooded world of floating markets, a dizzying variety of greens, and rustic and rugged houses, but the first time travelers on their Mekong River tour in Vietnam still have a few surprises in store, especially when it comes to the local food. Here's what to eat before leaving the Mekong Delta.
You want something delicious and organic, something simple yet quite impressive to eat instead of fussy, complicated, and grease dishes? There is no better place than the Mekong River – where you can explore the locals' particular taste for strong-flavored food with a wide range of interestingly unique dishes made with fresh ingredients. Bánh canh (noodle made from sliced flour), bánh bột lọc (bot loc cake), hủ tiếu Sa Đéc (Sa Dec noodle soup), cá lóc nướng (gray eel-catfish), bánh bò thốt nốt (palm sugar steam rice cake), bánh canh cá lóc (snakehead fish thick noodle soup), etc. are must eats here.
Ask a local where to eat
Whether you are traveling overseas travel or going on a domestic trip at home, most of the times, local people are always the ones to know their area best and to lead you to a cheaper yet tastier dinner with incredible ambiance than suggestions you could ever find in any guidebook. Go with a local, and you will not have to spend your whole vacation time worrying about money.
The Mekong Delta's weather varies
Investigating the weather beforehand is also what you need to do. At some point of the year (from November through April/May with the average temperature of about 28 °C) almost every place in the Mekong Delta region is sweltering, much hotter than people in Norther Vietnam  tours or Southern Vietnam are used to. And from May to October, many parts of the area get much rainier than what most of our country experiences. Thus, on planning your Mekong River tour in Vietnam, it is recommended to check the seasonal weather patterns.
Avoid the busiest travel time
From Christmas to Vietnamese New Year is the busiest travel time in our country. Vietnamese from all over the country are going home to big family reunions. As a result, the prices of flights within the country become much higher. If you can, avoid planning your trip at this period.
Summer in Vietnam is time to pack your friends or family to go on a Mekong River tour in Vietnam. It can be an exhausting ordeal to plan your perfect holiday, but I am here to help. In this post, I am about to share with you the best travel tips.