Mekong Delta, located in the South of Vietnam, is considered to be the land of delicious cuisines. Imagine you are in provinces of distinct cultures, seeing the local life and enjoying the local food, is it worth your time?
But your trip in Mekong will become much more interesting if you check out these specialties. So ensure you will not miss top 5 favorite cakes on travelling in Mekong delta tours Vietnam.
Banh Xeo
Banh Xeo, aka Vietnamese pancake or crepes, can be found in lots of provinces along Vietnam. However, Banh Xeo in the Southern region has the very distinctive taste. Every pancake has a yellow crepe skin covering the yummy ingredients inside. The skin is the mixture of flour, turmeric powder, coconut milk and water. People also add some green onion to make it look more colors. The inside is various, which can be pork belly, silver shrimps, beef or minced duck meat. In addition, there are bean sprouts, mushroom and dry mung beans to make the dish more succulent.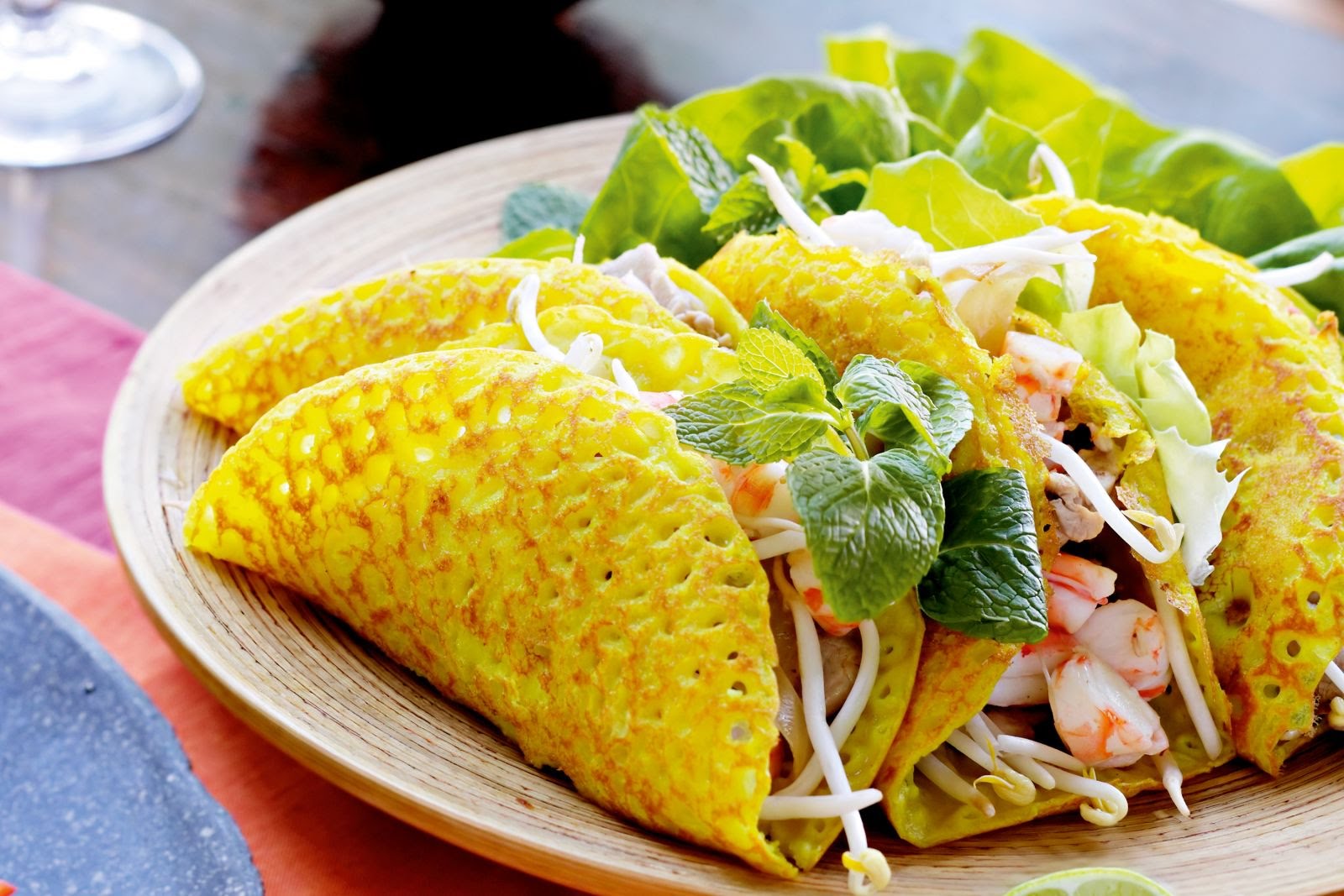 So what are the best way to eat Banh Xeo? Well, you can wrap a piece of the cake inside a mustard green with some mints or Vietnamese perilla, then dip the roll into fish sauce. It is so mouth-watering to just describe Banh Xeo. So come and enjoy it!
Banh Cong
The second dish you should not miss in Mekong is Banh Cong, aka Taro and Prawn Cake. The crisp skin of Banh Cong is basically made from rice flour mixed with mung beans, baking powder, coconut milk and water. The delicious flavor mainly comes from the fresh shrimps, which still have the shell on, and the crunchy taro. The cakes become crispy and have the caramel color after deeply fried with metal paddles in oil. Similar to Banh Xeo, Banh Cong is also eaten by rolling with mustard greens, lettuce, coriander leaves and dipping sauce.
You can see more: mekong cruise to get more information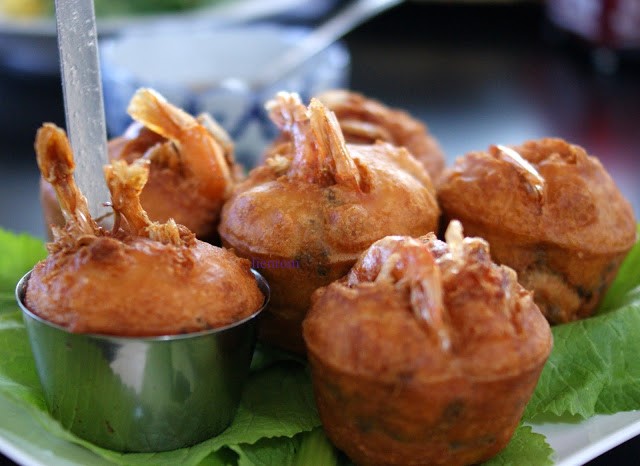 Banh Khot
Banh Khot or mini pancake is the third salty cake you must try on travelling in Mekong. It is not easy to make these lovely yummy cakes as it requires to have a very unique cupcake pan. These mini pancakes are similarly made from rice flour, saffron flour and coconut milk. Fresh shrimps, pork meat and mung bean are added to fill the face. The skin of Banh Khot is not as crunchy as Banh Xeo or Banh Cong, instead it is soft. The mini pancakes are best served with vegetable and dipping sauce. With its mini size, you can finish the whole cake at one bite!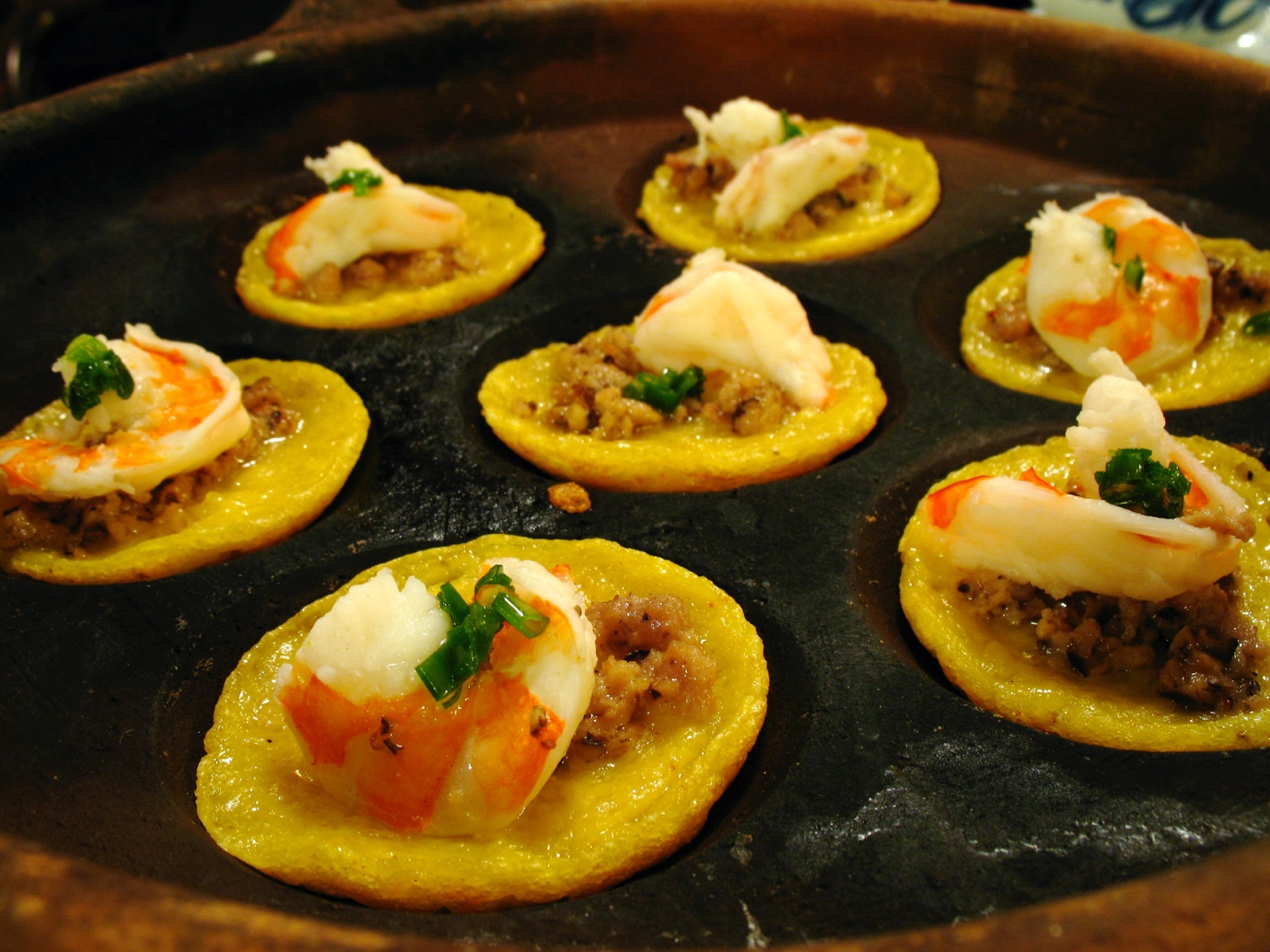 Banh Bo
Banh Bo is known as steamed rice cake in English. As can be inferred from its name, the cake is made from rice flour mixed with a little bit of baking powder and coconut milk. In general, there are two kind of Banh Bo, including the steamed one and the grilled one, basing on the method by which it is made. People usually create cakes with such natural different colors as red from Magenta Plant or green from the Pandan Leaf. Despite its sweet taste, Banh Bo is eaten in different ways. It is not only a good dessert but also a perfect accompaniment for roast port, Chinese hollow doughnuts and etc.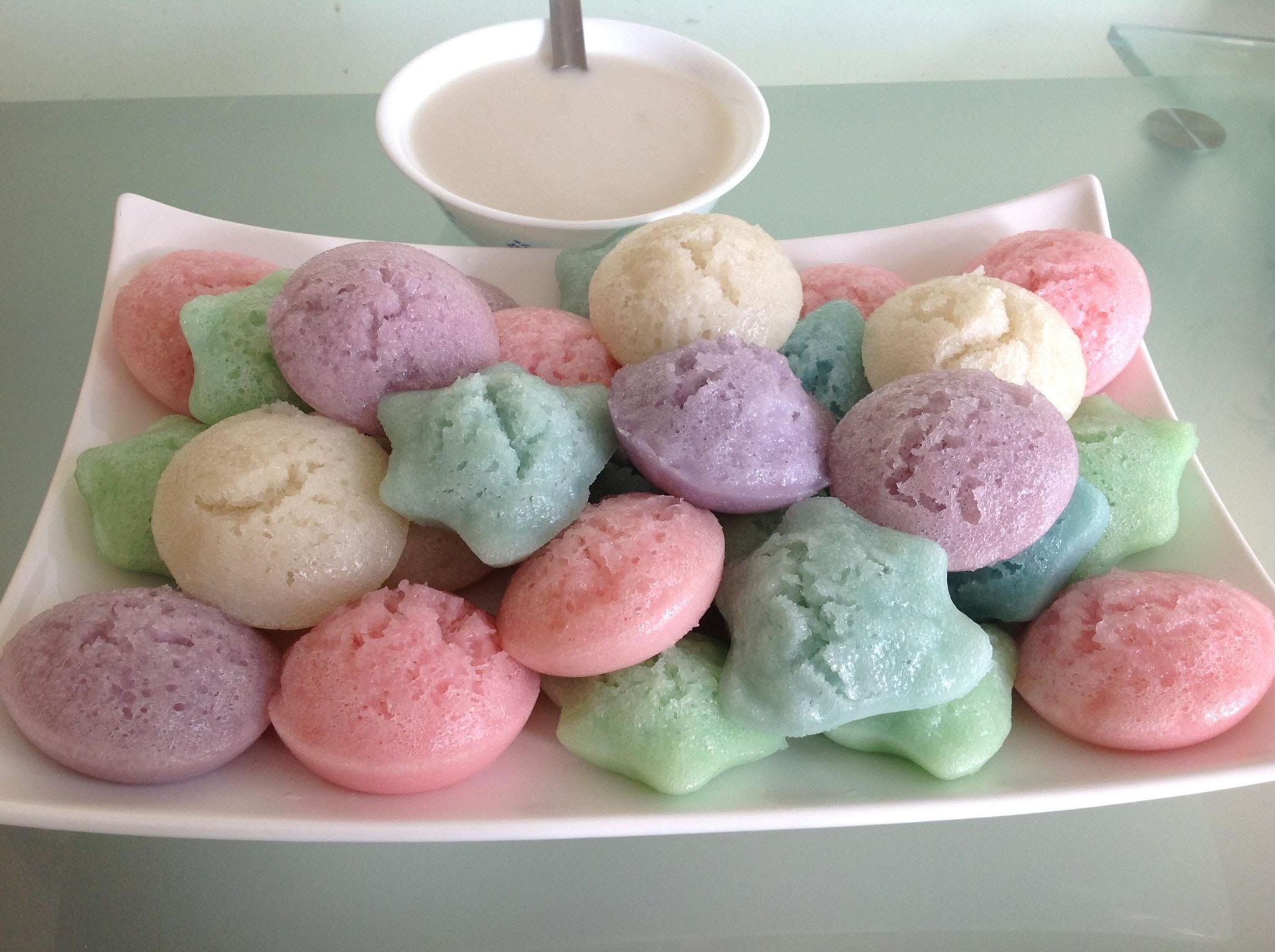 Banh Pia
Banh Pia is one of the most well-known specialties of Soc Trang, a province in Mekong area. The cake has the strong taste of durian and salted duck's yolks as the two major ingredients. It is a really complicated process to create greasy and buttery Pia cakes so not many locals can make it themselves. Instead, they buy Banh Pia from large companies, typically from Tan Hue Vien which has exported its cakes to lots of countries in the world. So if you have a chance to visit Mekong, don't forget to try a Pia cake!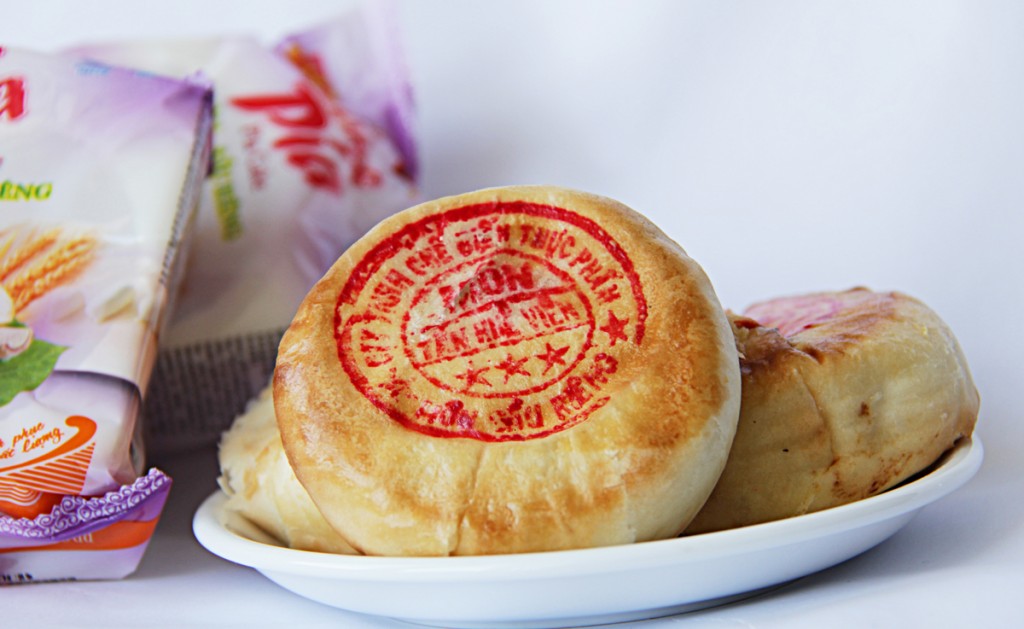 Hopefully you will try all the three salty cakes and the two sweet cakes we suggest above and enjoy your time in Mekong.
See more:
Asia Travel Lover