Although you can find incredibly wide range of delicious dishes in Hoi An, a must try dish is water fern cake, which is called banh beo in Vietnamese. Although very popular in central area of Vietnam, Hoi An's water fern cake is more outstanding. Not only enjoying the stunning scenery, travelers arriving in Hoi An will also have a chance to enjoy the mouthwatering foods. In addition to being a culinary art, enjoying local food is more importantly the way to get access to the traditions and culture of the different regions, which you have never had a chance to visit. Indochina tours Vietnam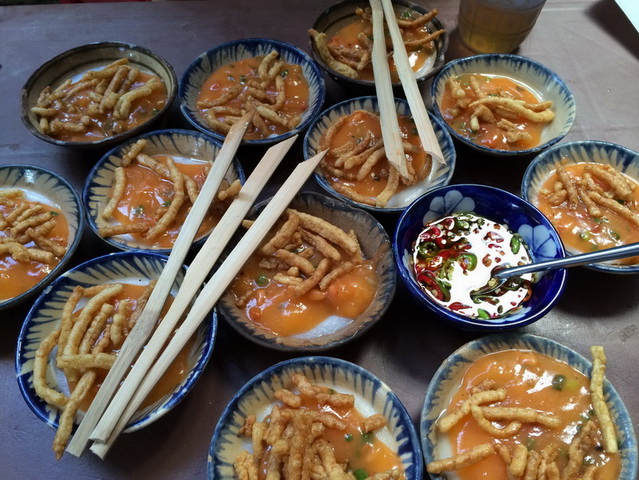 Although very diverse with a lot of delicious European, Chinese, Indian dishes, Vietnamese culinary arts in Hoi An today is still appreciated. Thus, anyone coming to Hoi An does not miss a chance to try the rustic dishes on the sidewalk or in a small restaurant. Simple but "Banh Beo" tastes well for most people.
As its name suggests, Banh Beo, whose cooking way is not difficult, is very simple yet really delicious cake soft and each small restaurant requires a different private beautiful formula. However, rice flour, stuffing (from pork and shrimp ground) and fish sauce with green chili are often included in the main components of "Banh Beo". "Ram giòn" (from dried and fried noodles), crushed roasted peanuts or fried onion are included in the auxiliary components of "Banh Beo". They steamed "Banh Beo" and serve it to guests with a bamboo spoon and a porcelain bowl to enjoy.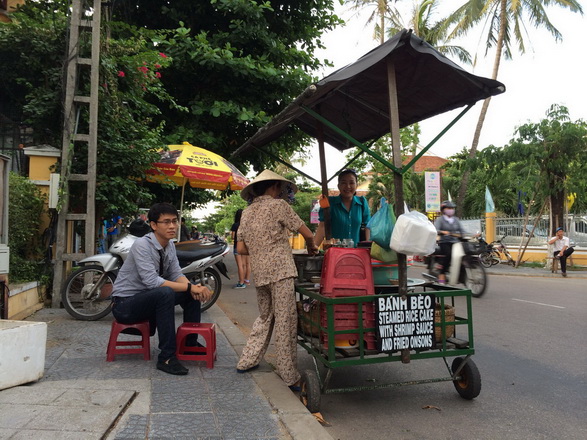 In addition, more interestingly, only in Hoi An can you have an amazing opportunity to sample "sweet Bánh Bèo". To create the strange yet delicious taste of "sweet Bánh Bèo", they add a little bit sugar into the rice flour.
On the sidewalks of Hoi An, you can find the best small Banh beo restaurants. Make sure that, you will probably enjoy a few dozen bowls once coming to a banh beo restaurant. Let's see some of the best "Banh Beo" restaurants in Hoi An.
Aunt Tai's "Banh Beo cart" in Hoi An
Opening at 3 o'clock in the afternoon, Aunt Tai's "Banh Beo cart" is the mobilized food cart selling "Banh Beo" around Hoi An. Tran Hung Dao, Ngo Gia Tu, Ly Thuong Kiet and Nguyen Hue Street are some names of the streets you can find this cart.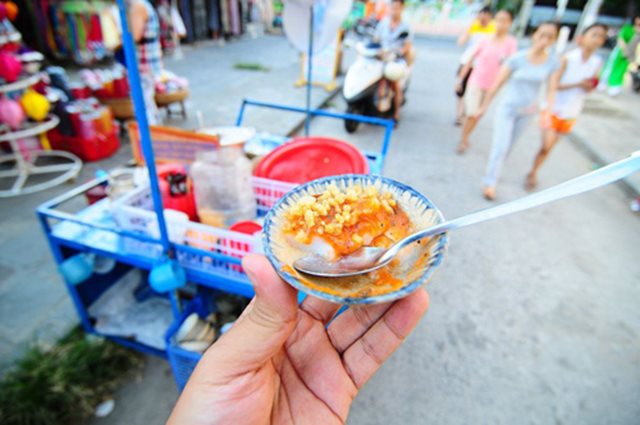 Aunt Bay's Beo cake
Located at the corner of the old wall on Hoang Van Thu Street, the Aunt Bay's "Banh Beo" restaurant, which only opens in the afternoon, is where you can make a stop, relax and enjoy awesome "Banh Beo" dishes while walking, viewing, taking some photos in the ancient town. Mekong delta cruise
Aunt Ty's on Nguyen Thi Minh Khai, near Japanese bridge, in front of Phung Hung old house, which only opens in the morning.
Aunt Tu's on Phan Dinh Phung Street, which opens at about 4 o'clock in the afternoon.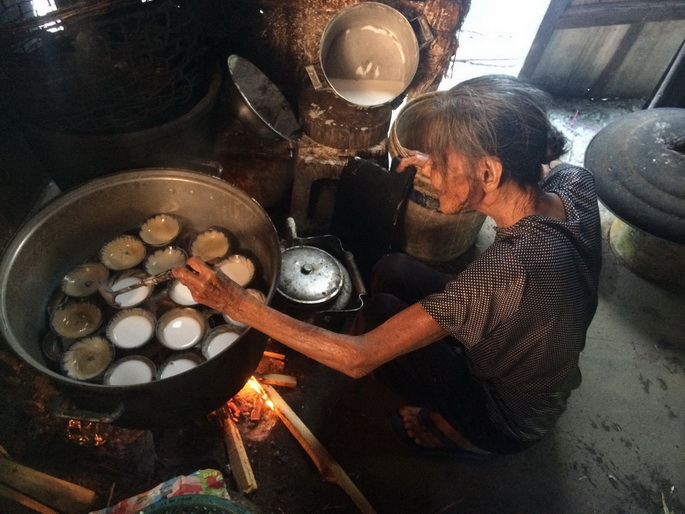 Aunt Lan's cart at 62 Phan Dinh Phung street (near Tan An market), which opens at between 4 or 5 o'clock in the afternoon.
"Bánh Bèo Rừng" at 17 Dinh Tien Hoang Street (near Tan An market), which is only opens in the morning.
Aunt Ha's on Nguyen Tat Thanh Street, which opens all day long.
See more:
IV Blogging Team