Vietnamese Bread
One of the most impressive things you can easily see when visiting Hoi An is most of bread branches start by the personal name such as "Phuong" bread, " Tinh" bread, etc, it is radically different from that of Hanoi or other places in Vietnam. Banh My is the Vietnamese words for "bread". Bread or specifically the "Baguette" was introduced by the French during the colonial period in Vietnam. However, unlike the traditional French baguette, the Vietnamese baguette is made by rice flour along with wheat flour. The ingredients normally include steamed or roasted pork belly, Vietnamese sausage, grilled pork, pork liver, fried egg and some kinds of vegetables like carrots, cucumbers and lettuces. My friends told me that Banh My in Hoi An is one of the best take away foods in Vietnam. Explore with: Indochina travel Vietnam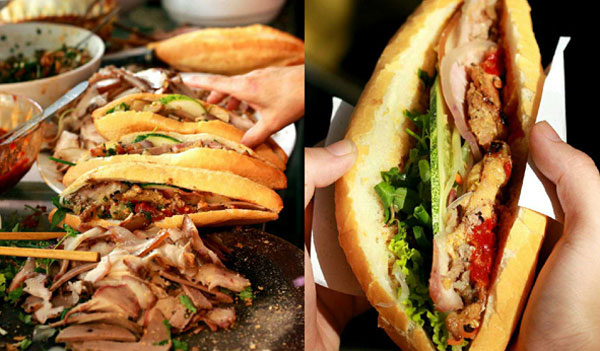 Banh Dap
Another local dish I would like to introduce you is "Dap" cake. "Banh Dap" is the Vietnamese name but in English, it is called "smash pancake". It made from rice and in the middle, it's wet rice paper and outside are two rice crackers. As the name, when you eat, you have to smash it. The sauce is also the most important factor make this dish more delicious and tasty. It is made from fish sauce, peanut oil, chopped pineapple, garlic, chili and fried shallots but for locals, they usually eat with many chilies, garlic and whole salted anchovies. It will be great when in the early morning, after riding one round around the ancient town, you can take a seat and enjoy this special food.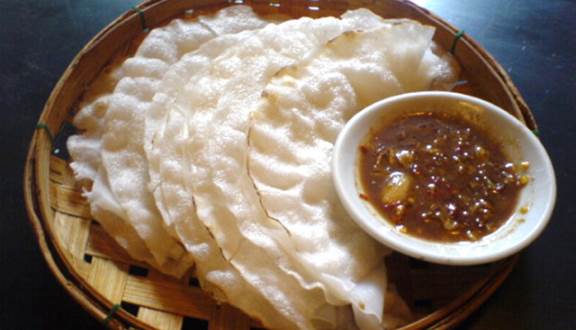 Cao Lau- Hoi An noodle recipe
Cao Lau is the dish what you will absolutely fall in love immediately when you try in the first time. The secret lies mostly in the water to produce the broth, the soup. The water is taken from the water wells in order to make sure that Cao Lau will have the best flavor. In fact, in the other places they also can make this dish but the taste will not as good as in Hoi An. The locals mix up a lot of ingredients together in a bowl: slices of barbecue pork, pork crackling, bean sprouts, lettuce, herbs and a little soy sauce. As "banh dap" above, Cao Lau also come with crackers. When you eat it, you have to mix everything together and can add some hot chili if you're a big fan of spicy. mekong river cruise luxury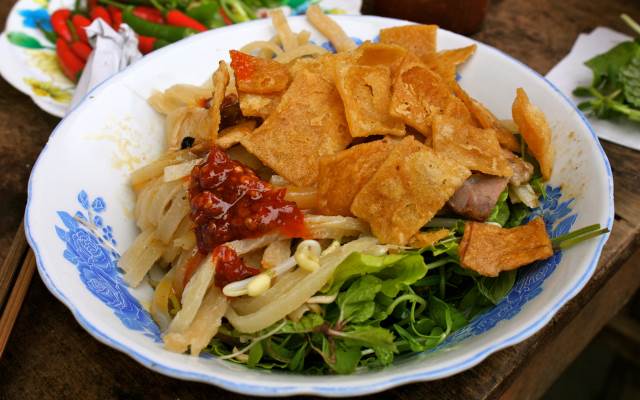 Chicken rice
In Hoi An, there are many restaurants which offer you the menu with a lot of special dishes. If you take a look, you can easily see chicken rice is an essential part in these menus. Are you wondering that it is chicken rice like anywhere else? The answer is no. It is a special ingredient, special recipe found here, just in Hoi An. They use some unique vegetables that just found in Hoi An. In Vietnamese language, it is called " rau ram". Then, they use papayas to put into the rice, some onions and chicken, of course. Instead of using plain rice, fried rice is the choice for this dish to make it more tasty.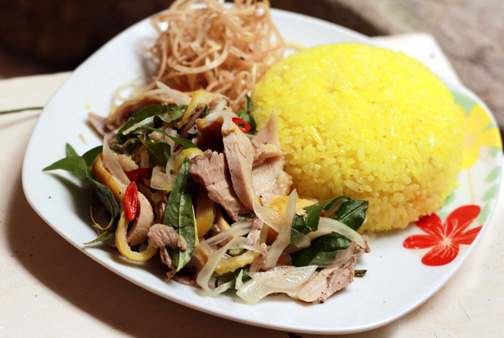 Quang noodles with frog
Apart from chicken rice or Dap Cake, you will have a chance to try another must-eat Vietnamese food in Hoi An is Quang Noodles with frogs. "Quang" means "Quang Nam", that's why it is regarded as a traditional dish in Hoi An. it seems to be a little bit scary the foreigners but it's so tasty. The soup is from the pot where they steamed the frogs. And they put additional ingredients like gingers and some chilies. Coming together with this dish, looks like others, you can see different variety kinds of vegetables and banana flower is one of them. It is definitely special in Vietnamese cuisine. In order to enjoy it, you have to put some noodles and vegetables into the bowl, use the chopsticks to get the frogs out and pour the soup over.
There are a lot of delicious dishes in Hoi An that I can not introduce you just in an essay. It will be truly great if you take a light here to embrace and eat them with your heart.
See more:
Asia Travel Lover