For those who fall in love with draft beer and also love a bargain, the northern Vietnam might be their mecca. Not only popular in Hanoi capital city and the Northern region, the infamous bia hoi can also be found in many other parts of Vietnam. In Vietnamese, bia means beer and hoi (or tuoi) means fresh. Tours Indochina Vietnam
What is bia hoi like?
There are no breweries that make the stuff seeming to issuing their own recipes, at least in English, but words on the street indicating that it is normal lager made with barley malt and hops, with around 50% being rice, which helps to keep it clear and light. If you find rice in beer weird then you might not know that 30% of Budweiser itself is rice.
As it goes flat and begins going bad quickly, bia hoi, which has no preservatives, is said to be pretty much undrinkable after 24 hours or so. These places only order that much, or even less, to be delivered each morning as they know about how much they can sell each day.
Finding bia hoi in Hanoi
Around these towns are several beer garden-type places and beer halls, which expats living here like frequenting, but honestly, joining the rogue's gallery of locals, expats and tourists at Bia Hoi Corner itself – at the intersection of Ta Hien and Luong Ngoc Quyen Streets is your best bet. And chances are very high that you will wander through there whether you are trying to or not if you are spending more than a day in Hanoi. jahan mekong cruise
As you will get the privilege of having a seat in a tiny plastic chair while drinking, pretty much all Vietnamese people enjoy meals seated on one of these, if not the even-smaller plastic stools you see at some places, in this sense it is a truly local experience.
By far Bia Hoi Hai Loan at No 41 Luong Ngoc Quyen is the most popular place among tourists. One of these problems with this place is that if you come round after 7pm or so it is likely that they might tell you that they are out for the day as they open in the early afternoon and seem to run out of bia hoi just 4 or 5 hours later. Alternatively, let's order a bottle of Hanoi beer or Tiger for VND 20,000 or VND 15,000, which takes some of the fun out of things.
Best place to get bia hoi in Vietnam
Bia hoi in Hanoi is often a bit warm and poured down. In Hue, down on the Central Vietnam coast, you can also find the stuff in a few tourist restaurants but for the best bia hoi you can get, keep going a bit farther south to the lovely ancient town of Hoi An.
Though Hanoi capital is a gorgeous city in quite a few ways, if it was your only stop on a visit to Vietnam, you would get crazy. Featuring more than 200 tailor shops ready to custom make you a dress or suit in a day or so for next to nothing, Hoi An, which is extremely touristy at its heart, but with cheaper and better food, and restaurants awash in cold bia hoi, is also lovely destination to visit.
Hoi An has so many restaurants that competition is fierce and hung out front at many places is a sign with their bia hoi price and full menu displayed on it. Although a few places charge VND 4,000, the going rate in Hoian is also VND 3,000.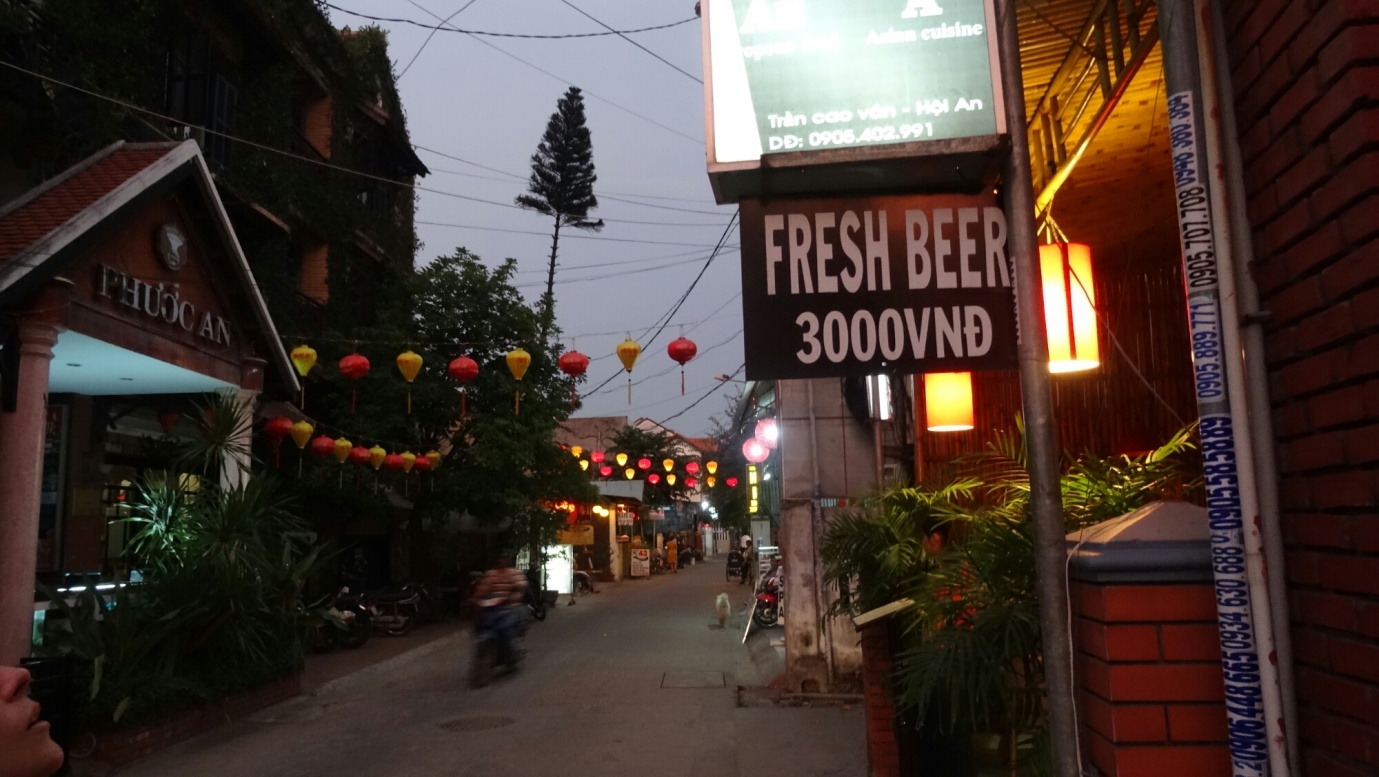 Another interesting thing is that most of Hoi An's bia hoi is never watered down and always served cold in really beautiful restaurants that have stunning tourist-friendly decoration. Even though you do not want to miss the plastic chair on a smoggy street corner in Hanoi experience, most people are over it after only one glass or two of this kind of stuff. These wonderful restaurants, including those overlooking the scenic river, and quaff an endless stream of higher quality bia hoi are where you can eat in Hoi An.
See more:
IV Blogging Team