Chau Doc, An Giang Province is situated on the southern bank of the confluence of the Chau Doc and Bassac rivers. Although Chau Doc is an amazing destination to discover, it is infrequently put into the Mekong Delta tour itinerary of foreign travelers for sightseeing. However, this town is much well-known for those to plan to go overland between Vietnam and neighboring Cambodia; as it is the launching point for the speedboat journey from Chau Doc to Phnom Penh.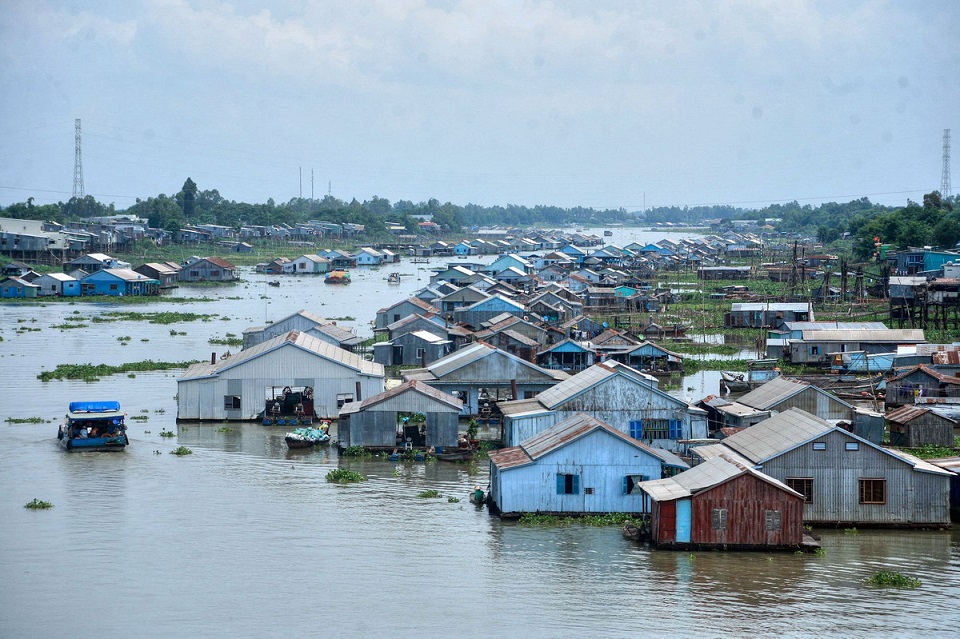 By speedboat/ferry from Chau Doc to Phnom Penh
From Chau Doc, you can enter Cambodia via Vinh Xuong/ Kaam Samnor border gate which is located to the Northwest of Chau Doc town along the Mekong river. There are a few cruise provides to run boat journeys from Chau Doc to Phnom Penh via Vinh Xuong border:
Hang Chau Express Boat: departs daily at 07:30, duration: 4.5 – 5 hours, arrives Phnom Penh at 12:30.
Blue Cruiser: for the same route, this cruise is a higher quality boat, leaving Victoria Hotels pier at 07:00 and arriving pier in Phnom Penh at 12:00 including the border check.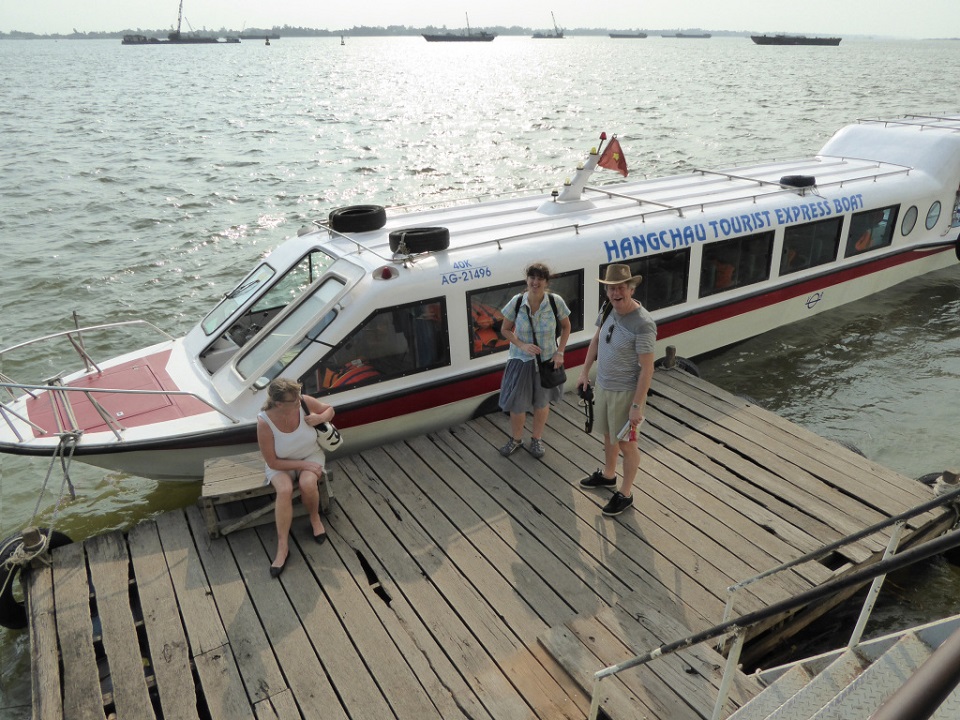 Visa requirement
As Cambodia E-visa is not accepted at the land border so you are required to prepare visa in advance or do a visa on arrival available at the crossing gates with fee.
You simply complete the Visa Application Form and pay US$30 which is the regulated price for the Cambodia Tourist Visa which is valid for a single entry and for a stay of up to 30 days inclusive of day of entry and day of departure.
Cruise providers will also support for applying visa on arrival with fee around US$4-5/person.
How to get from Ho Chi Minh City to Chau Doc
Using local shuttle bus
The cheapest way to get from Ho Chi Minh city to Chau Doc is by local bus; that takes you upto 5-6 hours, departing from Mien Tay Bus Station in Ho Chi Minh City. Phuong Trang – Futa Bus Lines is a familiar option among transfers in the Mekong Delta for its high quality transportation service to meet the needs of worldwide travelers; so you can easily book it online before departure.
Using private transfer
To save much of your transfer time, choosing private vehicle will be an ideal choice.
1 day itinerary: Take the private van and go directly to Chau Doc. Distance: 215 km – 4-5 hours including some rest stop.
2 days 1 night: This is the shortest itinerary extended with the day trip at Mekong Delta, Vinh Long Province as the famous fruit orchards of the delta.
Day 1: Ho Chi Minh – Cai Be – Vinh Long – Chau Doc
Day 2: Chau Doc – Morning Speedboat to Phnom Penh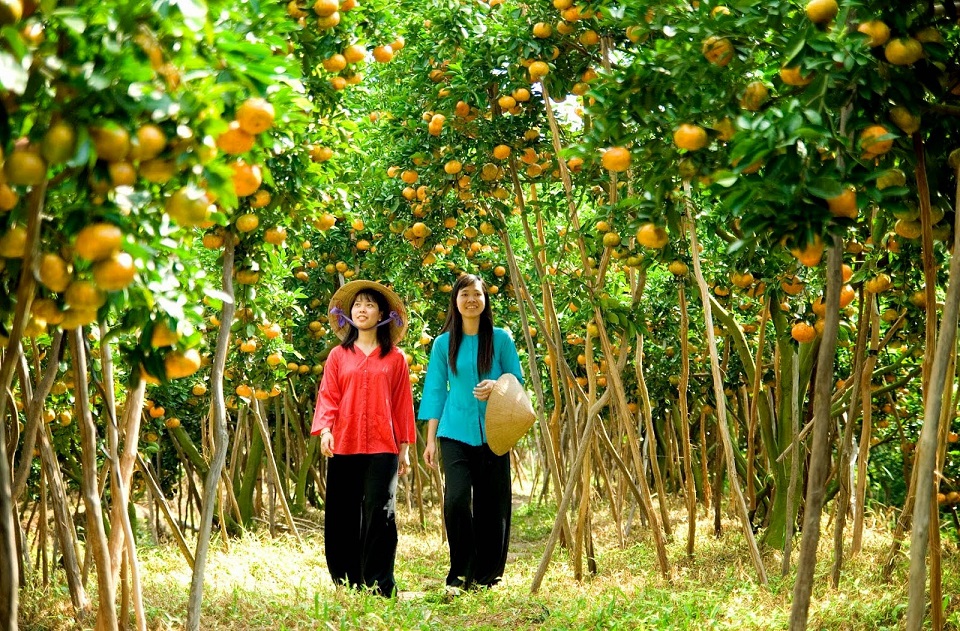 3 days 2 nights: For a two night itinerary, you can stop at Can Tho for visiting the impressive Cai Rang Floating market in early morning; then take a 3 hour ride to Chau Doc to go sailing in the natural mangrove forest before overnight at Chau Doc.
1st day: Ho Chi Minh – Vinh Long – Can Tho
2nd day: Can Tho – Cai Rang Floating Market – Chau Doc – Tra Su Mangrove Forest
3rd day: Chau Doc – Morning Speedboat to Phnom Penh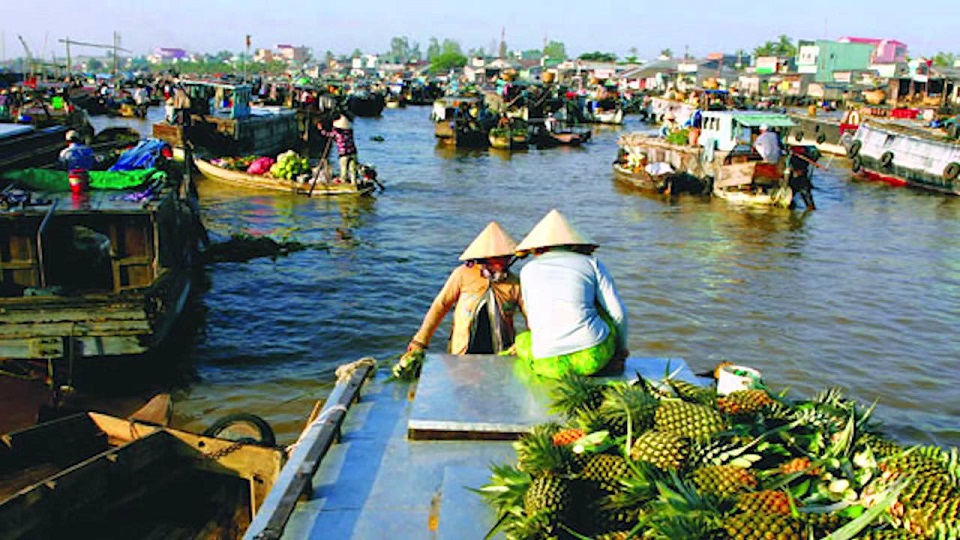 >> Suggested 4-day 3-night Mekong Delta itinerary: Authentic Mekong Delta Tour 4 Days
The Mekong Eyes is a join-in boat that has private double/twin shared cabin; and takes you to either 3 days/ 2 nights or 4 days/ 3 nights depending on specific travel dates. There are 1 night on board and 1 night at Chau Doc hotel for the regular 2 night itinerary.
Route: Can Tho – Cai Be – Sa Dec – Cao Lanh – Tan Chau – Speedboat to Phnom Penh
>> Click to see more about Mekong Eyes Explorer Cruises
This is the private cruise lasting for 3 days/ 2 nights. The traditional boat can accommodate from 2 to 6 people for 1-3 bedrooms; which is an ideal choice for small groups, families and friends.
Route: Cai Be – Sa Dec – Long Xuyen – Phu Tan – Chau Doc – Speedboat to Phnom Penh.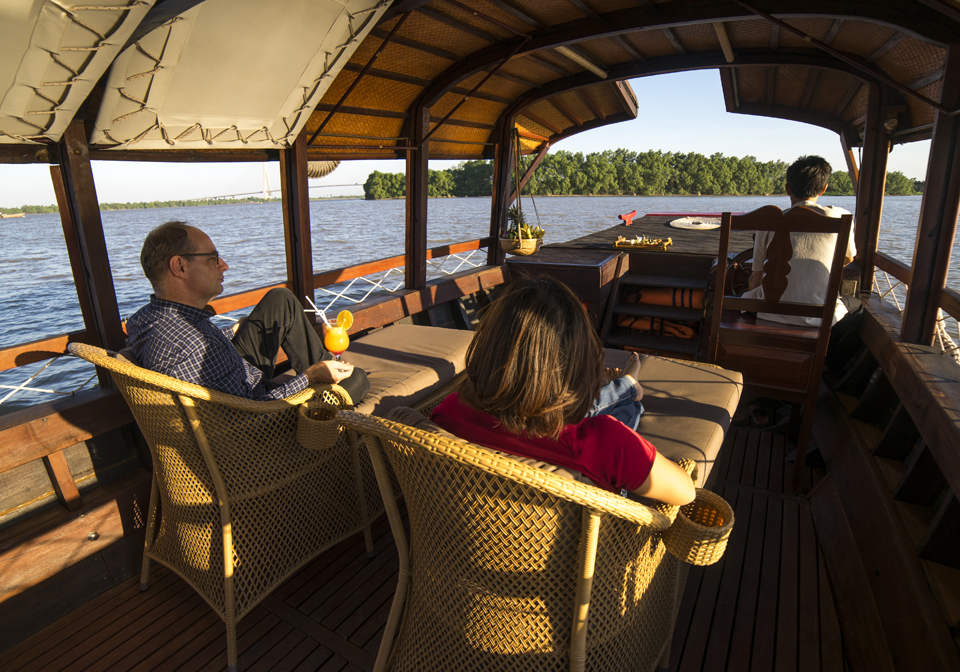 >> Click to see more about Song Xanh Sampan Cruises
Either which means of transportation you choose to travel from Chau Doc to Phnom Penh, you will need to stay overnight in Chau Doc town to wait for the early morning speedboat. So please choose the one inside the city center or nearby the picking up point, depending on Mekong Delta cruise you choose to ensure you catch the boat on time.
Wish you enjoy cruising and  traveling in Mekong Delta during your Cambodia and Vietnam tour package!
Linh Chu – Travel Specialist