Phnom Penh, or also known as Nam Vinh, is the largest city and the capital of the Kingdom of Cambodia. It is also the capital of the municipality of Phnom Penh. Phnom Penh was founded by an old lady named Penh, who built a sanctuary on the hill called "Wat Phnom Daun Penh District" (House of Lady Penh shrews). In 1434, moved the capital from Ponhea Yat Basac City (Kampong Cham province) to Phnom Penh. Sanctuary has been removed, and it was replaced by the King. Later, he built up the hill and built a brick monuments on the hilltop.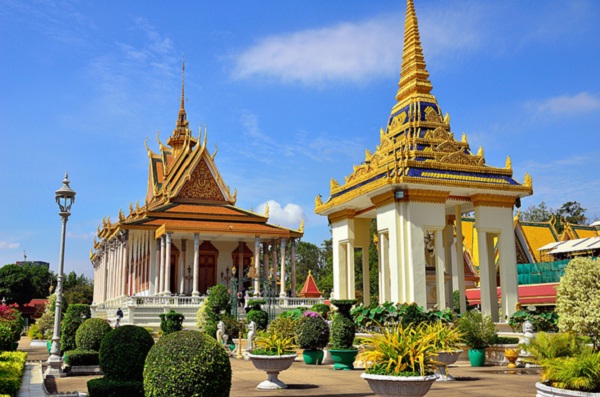 Guests were able to reverse the boat floating on the upper Mekong River to visit Angkor, Siem Reap City and only a few kilometers to the north. The whole 4 days 3 nights trip from HCMC, through Chau Doc and Phnom Penh around 335 USD.
The two ships SGM 01 and 02 is the companion on the trip. On ships equipped with toilet and mini bar so guests can enjoy convenient living. Bach Dang Wharf pickup, HCMC, speedboat will straight to Chau Doc town, visit Ba Chua Xu Temple, Thoai Ngoc Hau Tomb. Here, visitors can admire the beautiful scenery along waterways atmosphere of people living along the river banks.
The next day, canoe highway gate pick up the Tien River, exit procedures, then back to Phnom Penh, Phnom Penh port, preparing for the afternoon visit the Royal Palace, Golden Pagoda, Silver Pagoda, Wat Thap … and Naga casino. It is about 3rd day of the trip, speed boat across the Tonle, the largest in Southeast Asia to get to Siem Reap. Here, travelers had to spend the day handicraft villages to buy souvenirs, enjoy the sunset from Phnom Bakheng hill, see Apsara traditional dance of the Khmer people. The next morning, the delegation will go to Angkor Thom, relics University dynastic capital of Angkor and Bayon temple – Buddha 4 sides. Route would also discover the secrets of Angkor forests, visit the Elephant Square, Palace of King Chayjavoramen 7th. Indochina holidays
The last afternoon, before parting for a flight from Siem Reap to Ho Chi Minh City, tourists visiting Angkor Wat, the mecca of the Khmer kingdom. According to records, the temple was built in 20 years by King Suryavarman II from the mid 12th century, architecture featured Hindus. Meru Peak is symbolizing the cosmic center of the Holy getaway. This trip is one of the new tours in JSC Saigon Tourist – Mekong, in the program "Wake Me Kong" start from March 5. The Price does not include visa costs 25 USD Cambodia, Siem Reap airport fee 25 USD. Private international visitors and overseas Vietnamese must add 40 USD cost Vietnam re-entry visa.
Travel lovers.
Read more: