For those of you who want to enjoy peaceful beauty of nature, Vietnam is one of the most appreciate destinations. Specially, in Vietnam, the Mekong Delta is a must – visit destination for idyllic rural beauty, attractive specialties and unique culture. And if you want to experience a rural life with natural beauty and many peaceful views, you should spend time on visiting Gao Giong Ecotourism Park in your Mekong Delta tours.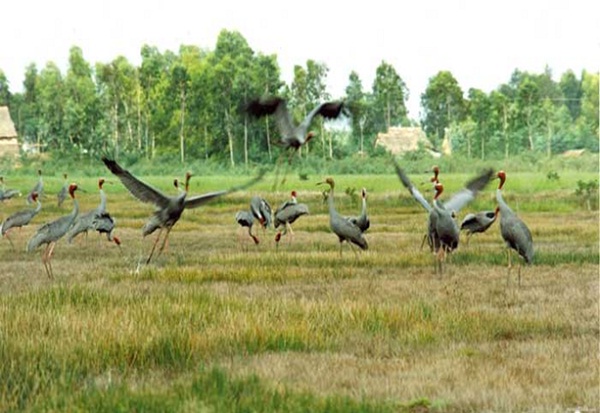 Lying within the flooded Dong Thap Muoi area in Cao Lanh District, Dong Thap Province (about 170 kilometers from Ho Chi Minh City), Gao Giong Ecotourism Park has become a popular destination for both domestic and foreign tourists to relax and enjoy meandering sampan cruises through the wetlands. The environment is an example of the region's mangrove lowlands and the park acts as a "green lung" of the Dong Thap Muoi region.
The way to the park is lined by green rice fields dotted with houses and small gardens and alluvial canals. The scenery embraces stillness and a deserted atmosphere. Entrance to Gao Giong is VND10 000 per person including tea, lotus beans and a video introducing the park. Before stepping into the Gao Giong bird yard, tourists will be taken to an 18-meter-high tower to catch a panorama of the bird yard and the endless cajuput forest. Travel Indochina Vietnam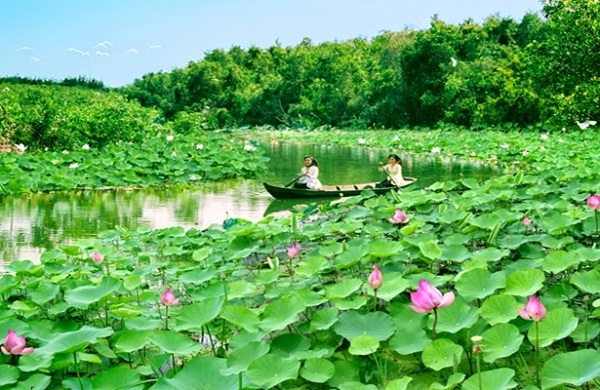 Gao Giong is well-known for its bird yard. The bird sanctuary covers 35 hectares with diversified species including egrets, sparrows, wild ducks and herons, and, especially some rare species listed in the Red Book. This is a 2,000 hectares complex of cajuput forest where more than 15 species of precious birds live, nest and lay eggs. Besides, the site offers a rich variety of aquatic resources, etc.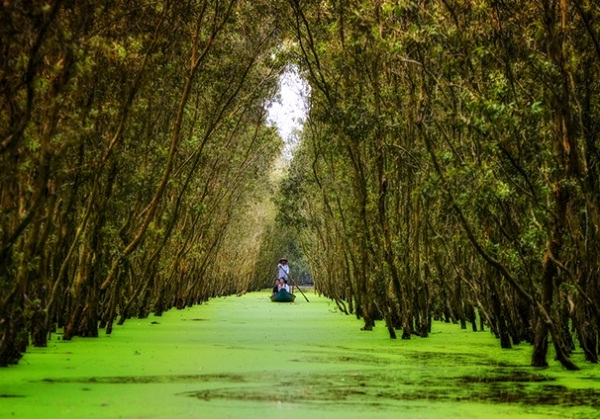 Tourists are enthralled by the sounds of the birds swinging on cajuput trees or perched on lotus flowers. At dawn and at sunset especially, the melodies are a nice background to the inherent stillness.
Drifting on canals shaded by cajuput trees, contemplating the hundreds of birds singing happy songs and getting lost in the poetic and deserted space, excursionists take home unforgettable memories of the Mekong Delta.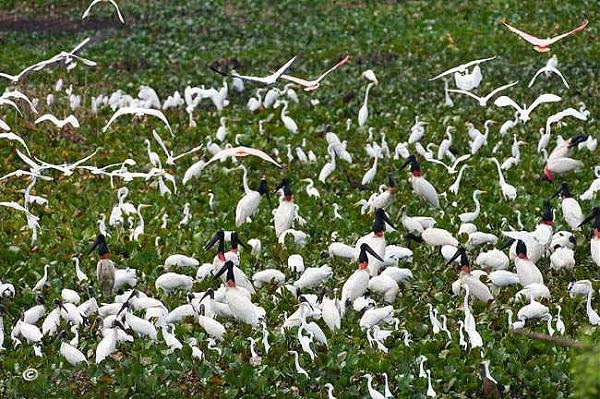 Best time in Gao Giong is flood-season that tourists can see water everywhere dotted with red water lilies, violet lagerstroemia, pink lotus and the greenery of cajuput mangroves, a harmony of nature and flowers which can be found nowhere. In flood season, on already-harvested rice-fields, thousands of stocks can be seen looking for food that makes a scenic beauty. Visitors to Gao Giong not only to enjoy fresh air, tranquility or listen to sweet songs and melodies by country-girls in their traditional shirts, but to be entertained with specialties as grilled fish rolled in lotus leaves, baked rats, hotpots, etc or taste fried lotus seeds and sip lotus tea and understand the local history.
Visiting Gao Giong Ecotourism Park, you will have memorable experiences with its natural beauty, wildlife and attractive specialties. Moreover, you also have chance to learn more about the Mekong Delta's unique culture or understand the local history. Surely, Gao Giong will be a wonderful destination in your Mekong Delta tour.
Asia Travel.
Read more: