It is said that you had not visited the south-west of Vietnam if you had not visited floating market. Literally, having been around for a long time, floating markets make the most exciting part of life in the south-west, the land of ditches, canals and rivers. Travel to and join Cai Rang market with: Mekong delta cruises
If traveling to Can Tho, metropolis of the south-west but not dropping by and purchasing something in Cai Rang (6km from Can Tho City), it would be regretful.
Colorful market
Cai Rang Market stretches about 500 meters downstream Can Tho River from Cai Rang Bridge. Several hundreds of boats gathering there from the dawn until before noon make the water surface colorful with numerous tropical fruits and the area extraordinary animated. What create meandering lanes for smaller ones to weave through are the large sized anchored boats. All create a joyful and bustling atmosphere drawing a large number of travelers.
The majority of the boats there are packed with a lot of farm products such as: vegetables, dragon fruit, banana, coconut, watermelon, grapefruit and so on which are specialties of Cai Rang Town, Chau Thanh district and the nearby areas. Going among the others to serve market-goers and tourists are small boats that sell wine, soft drinks and food for breakfast. Also available there, not different from what are sold in common markets on land are other services and products like mobile card, cosmetic, spicy, clothes, mending machine, selling gasoline, etc.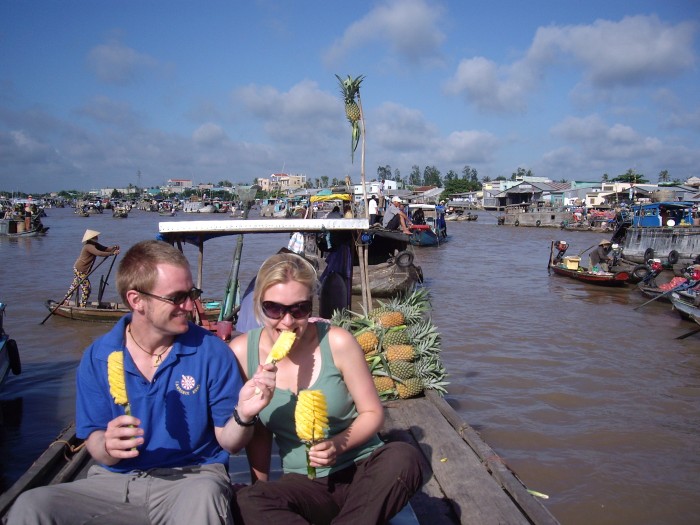 When trading from boats, catching some sample of products that are thrown by sellers from other boats, buyers will get excitement. Also, while shopping on boat, you can see floating house of the locals along the riverside and enjoy fresh fruits. Saigon to phnom penh by river boat
Tips
The largest wholesale floating market in the Mekong Delta – the Cai Rang Floating Market opens at around 05:00 AM and welcomes locals and tourists till around midday, meaning that if you want to visit, you will have to get an early start to the day. So you will have a hard time finding a tour if do not make it to the water by as most tour boats along the riverfront leave between 05:00 and 07:00.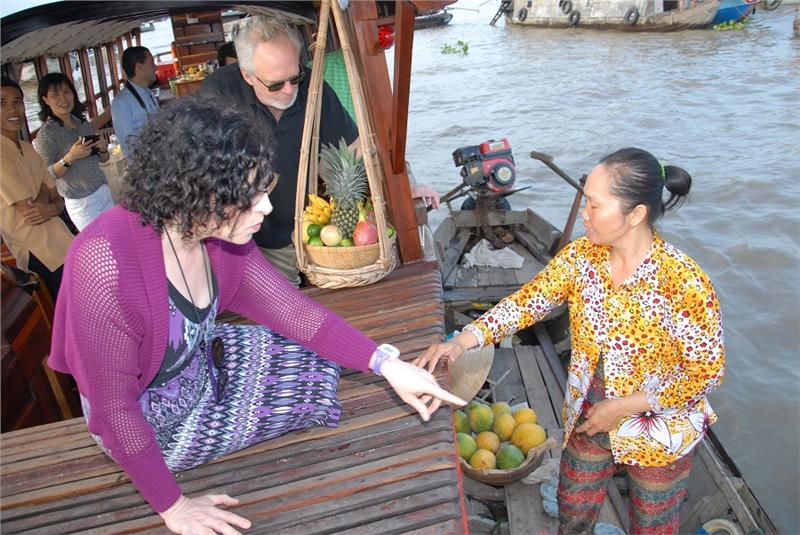 You will not have the option of seeing this floating market as a day tour from Ho Chi Minh City since the market starts very early in the morning and because Can Tho is a healthy about 4-hour bus ride from Saigon. Instead, to catch the liveliest scenery and enjoy the most animated atmosphere of Cai Rang market (often 6 AM to 8 AM), you will have to and should spend the night in Can Tho and come to this market at the dawn, about 5 AM. There are several tour operations in Ho Chi Minh City selling two-day-one-night tours starting somewhere around the VND 990,000 (USD $43) mark and up.
How to get to Cai Rang Floating Market
To reach this market about six kilometers from Can Tho, you will have to experience about a 30-minute boat ride. While floating down this river, you will catch a closer glimpse into the life along its shores. Houses built on stilts over the water, vibrantly painted boats anchored along the shore and merchant vessels carrying loads down the river are what you will pass.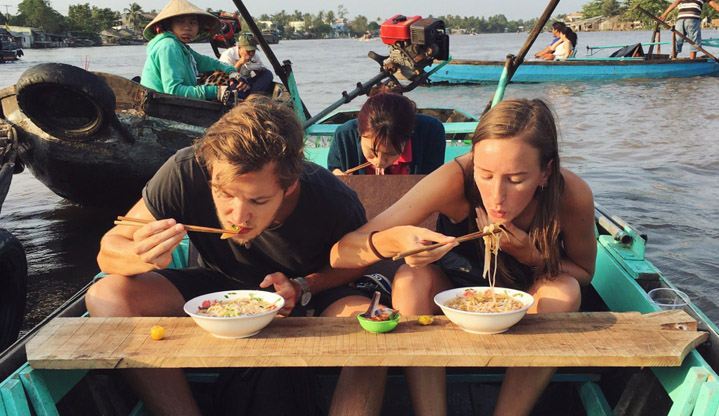 You can charter either a motorized boat or a non motorized one to begin a morning shopping experience in floating market after enjoying local breakfast and watching the sun rising. Along Vo Tanh Road is the area where most of boats for charter are situated. Depending on the kind of chartered boat, the fee is differently charged.
As you will be able to pick your bus, room and boat while saving some money, it is highly recommended to head down to Can Tho on your own and booking things yourself. All hotels in Can Tho of course will offer tour options at its desk or, simply go to the Can Tho downtown waterfront on Hai Ba Trung Street and directly negotiate with one of the many boats you will find along the shore if you want to book a boat ride yourself. Just remember to get there early or the boats will leave without you and expect a tour booked this way to cost about VND 100,000 (USD $4.4) per person.
See more:
I Love Vietnam