Vinh Long Vietnam has a simple but impressive beauty. Vinh Long province has relatively flat terrain, which is reinforced by the two big rivers every year. That is why this land has favorable conditions for fruit growth and unique types of water tourism. It is also known for the unique honest characteristic of its people and natural beauty. Thus, it is an attractive destination that you should not miss. And in your journey to discover this beautiful region here is the essential information to keep in mind.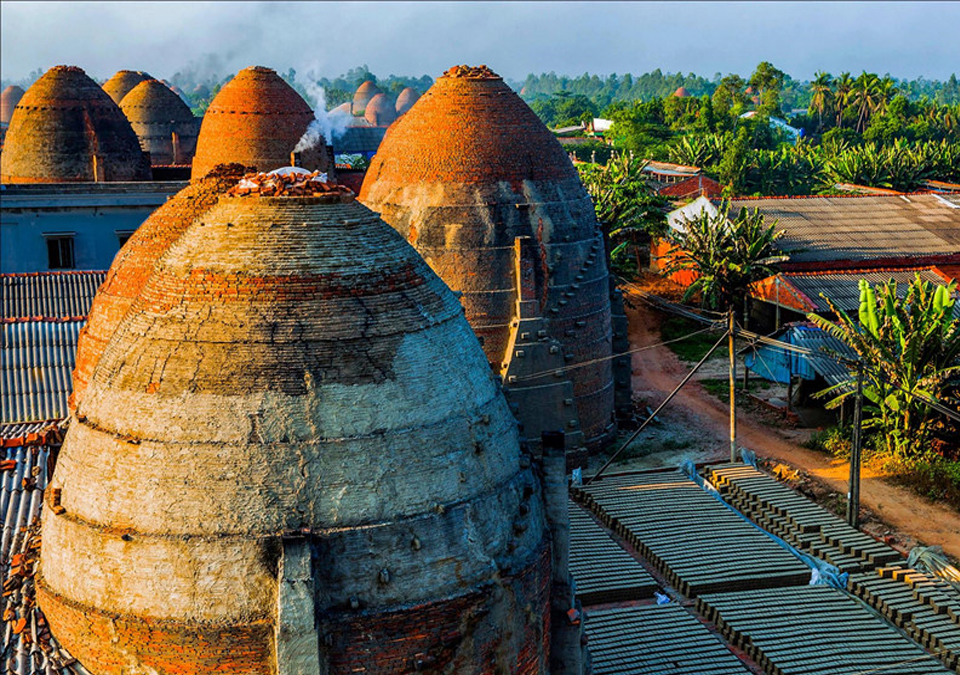 Vinh long Vietnam weather 
With the tropical monsoon climate, this landscape welcomes you to visit at any time of the year. Vinh Long has two distinct seasons: rainy and sunny. So it depends on your goal to choose when to start your journey.
The period from November to April is the dry, hot season. So if you go this season, you should expect to get a suntan.  Moreover, it is more convenient to move around and discover Vinh Long full time in this season than in the rainy season.
However, the rainy season is also very worthy of your hard time traveling to Vinh Long Vietnam? You will be surprised by how interesting your journey might have.
The rainy season from May to October is the ideal time for admiring lush fruit trees. Also, only in this rainy season can you try various unique fresh fruits in the west of Vietnam.
With that, it is up to you whether you would like to visit Vinh Long on a rainy or sunny season. Now your next question must be how to get to Vinh Long Vietnam.
How to get to Vinh Long Vietnam?
Vinh Long is a province located in the Mekong Delta region, about 135km from Ho Chi Minh City and about 30km from Can Tho City – the center of the Mekong Delta Vietnam. As it is formed by two rivers: Tien river and Hau river. This place is very much separated by a system of rivers and canals. 
From Ho Chi Minh City, it takes about 2 hours to get to Vinh Long Vietnam by motorbike or bus, car.
By bus, you buy tickets at the western bus station at 395 Kinh Duong Vuong, An Lac Ward, Binh Tan District Ho Chi Minh City. Many car parks operate Ho Chi Minh City – Vinh Long route such as Phuong Trang, Mai Linh, Phu Vinh Long. One-way fare ranges from US$3.5 to US$4.5.
If you go by motorbike, you can refer to the following route: Saigon – along Highway 1A – Binh Tri Dong A – going to Tan Tao Street – Cho Dem – towards Ho Chi Minh – Trung Luong – City Vinh Long.
Another option is private cars. Vietnam tour companies often offer a full tour package including car trips from provinces to provinces. Especially when taking an unfamiliar road in rural areas, bus and bike options can be complicated and not safe. And as prices in Vietnam are cheap in general, it will not be too costly to travel by car.
Or else, you can take a Mekong Delta Cruise that traverses to several areas in the Mekong river including Vinh Long.
Vinh Long Vietnam accommodation
You have a lot of choices of where to stay in Vinh Long: Renting a hotel, homestay or camping. Depending on your preferences as well as economic conditions, you can choose a suitable accommodation form.
Motels and hotels in the center of Vinh Long's prices range from US$11 to US$17.5 / night. With this price, you can already expect a fully equipped room and excellent services. If you want to travel conveniently, you should choose hotels in the area of these following streets:  ​​3/2 street, Le Loi street, Nguyen Thi Ut street, Hung Dao Vuong street. In case you want to save costs, you can book cheaper hotels and motels that are further from the center. Here are some suggestions: Thai Binh Hotel, Thanh Binh, Binh Lu hotel, etc.
Nevertheless, homestay might be the best option for you in Vinh Long Vietnam.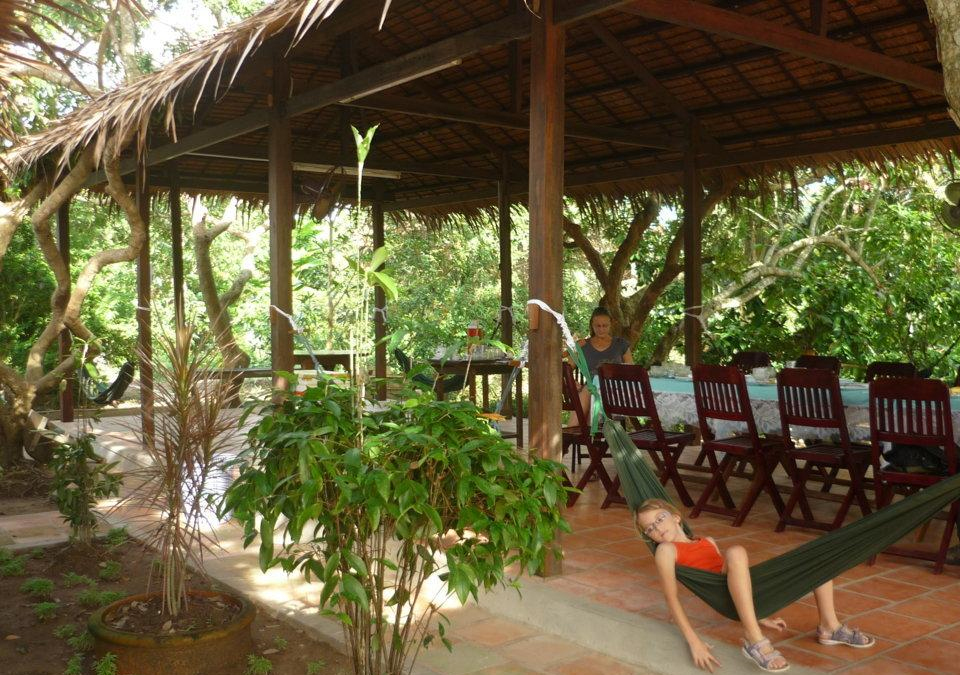 Because Vinh Long is not popular with many hotels. Selecting a homestay might be a great choice. In a homestay, you can cook for yourself. Besides, houses for homestay are close to locals'. With this, you can easily discover Vietnamese local life and culture. A homestay with good feedback has a price ranging from US$6.5 to US$13/ night.
Things to do in Vinh Long Vietnam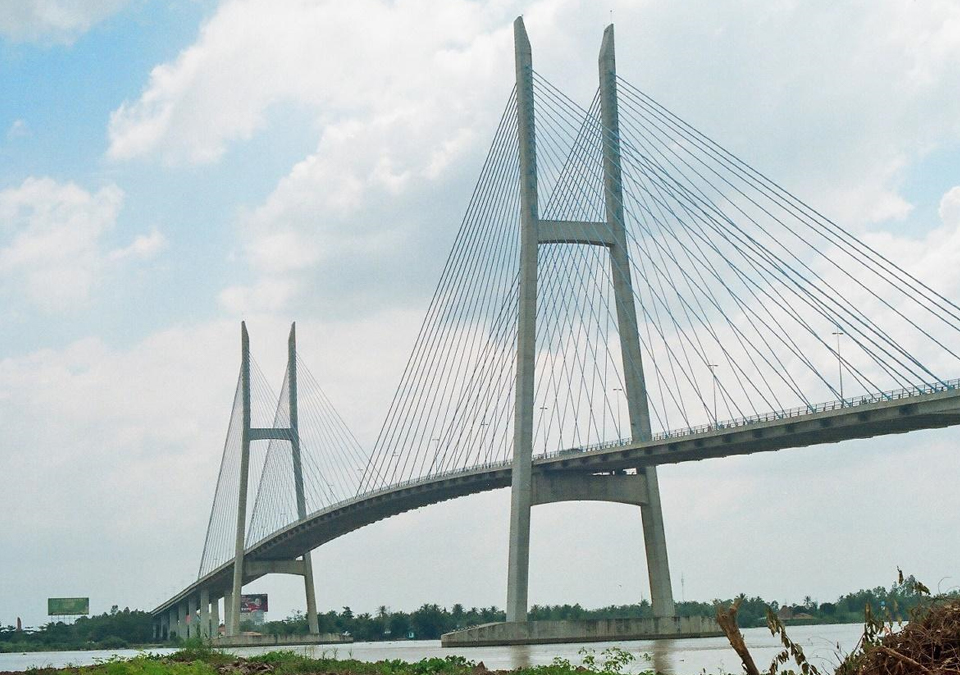 My Thuan bridge is the proud architect of Vinh Long people.
My Thuan is the name of a small village on the left bank of the Tien River – the northern branch of the Mekong River, Tien Giang Province. This charming architecture bridge is a work of cooperation between Australia and Vietnam. If you have the opportunity to travel to Vinh Long or Western provinces, you should not miss the chance to take photos with this unique architectural bridge as a particular marker in your travel itinerary.
Take a journey to Tra On floating market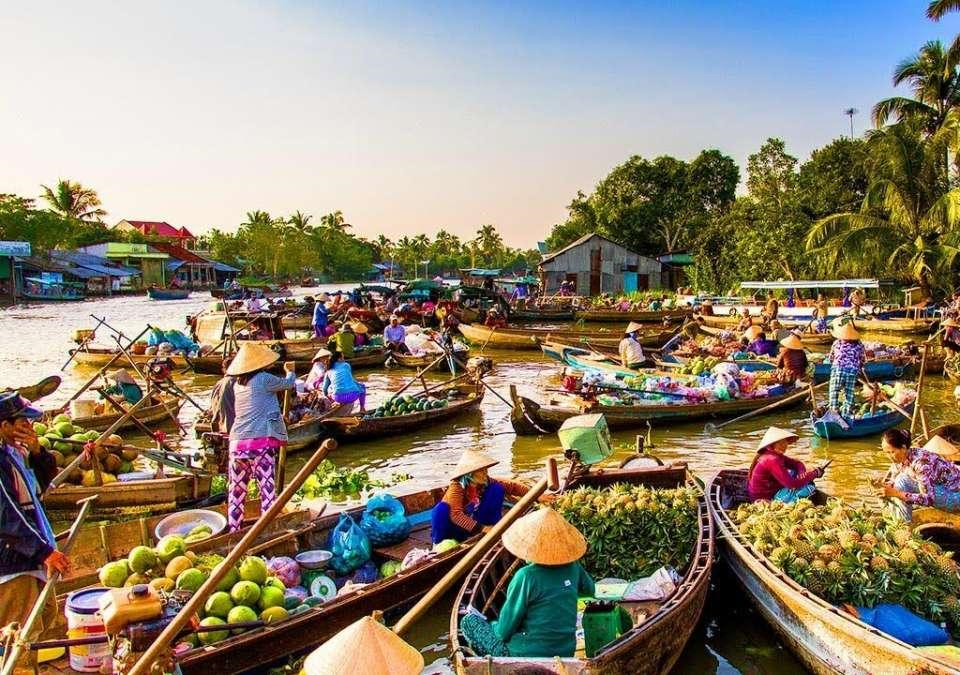 If you want to learn about the cultural characteristics of the people in Vinh Long, you must visit Tra On floating market. Tra On floating market is in the downstream of Hau River with the length of over 300m. The water level often decides this market population. If the water is high, the market is crowded and vice versa.
Tra On Floating Market is a wholesale market distributing agricultural products to many other small markets in the province. Therefore, at any time of the day, you can find a lot of boats on this path.
Walking around Tra On floating market, you will have the opportunity to enjoy many famous Vinh Long specialties 
Be amazed at Vinh Long Pottery Village
Vinh Long has a unique pottery village along Co Chien river.
Unlike other pottery villages, in Vinh Long, people create various art of pottery from clay soils. Therefore, the final products have brilliant red color and distinctive white prints. Due to its color, local people refer to the pottery village as "The Red Kingdom".
In your trip to The Red Kingdom, you have the chance to witness local craftsmen creating pottery and experience its making process. You can also bring home your work as souvenirs.
What's more, pottery houses that are made entirely of pottery are impressive with its peculiar architecture and vibrant color. It will sure make you feel like you are in a different dimension.
Vinh Long pottery village is 17km from Vinh Long city center, taking a 30-minute drive from there.
Vinh long Vietnam food
The most favorite thing in the countryside as in Vinh Long is that there are always fresh specialties for you to enjoy. Here are some recommendations for you.
Grilled snakehead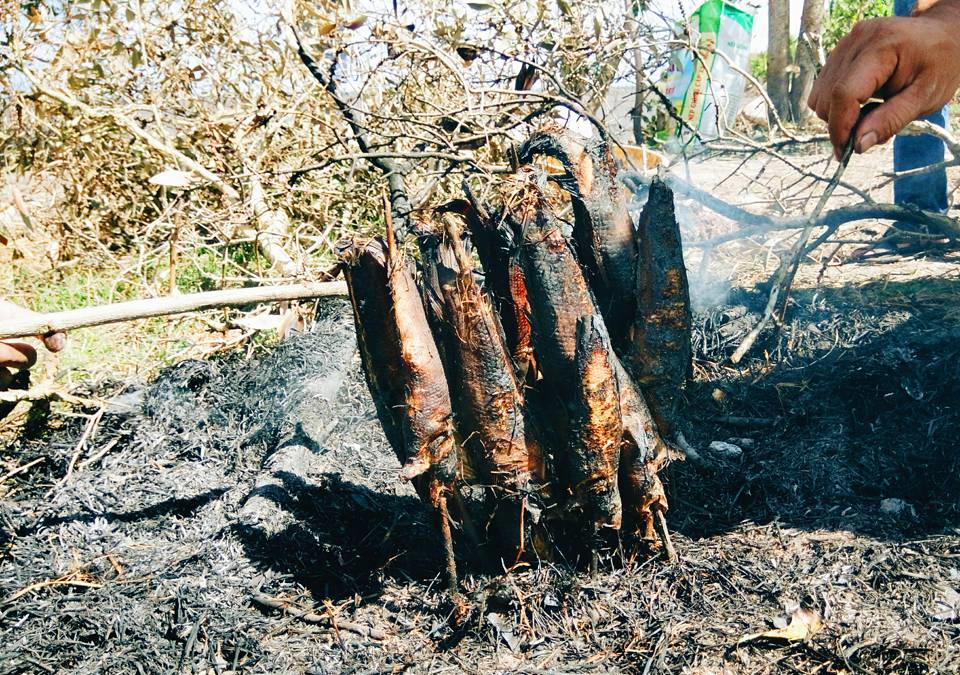 Grilled snakehead fish is the most delicious specialty that you cannot miss when traveling to Vinh Long. People grill snakehead fish in the straw on the ground with charcoal. In this way, snakehead fish tastes sweet and flavorful. Not to mention the dish has a wonderful smell of charcoal. 
This dish of fish is delicious when you eat with vermicelli, rice paper rolls, and dipping sauce. The accompanying vegetables are basil, driftwood, cucumber, star fruit, thinly-sliced ​​banana, especially young buds such as cashew nut, mango bud, trumpet horn, etc.
Fruits
When coming to this region of fruit, you cannot forget to enjoy dishes or drink made from many types of fresh fruits like Marian plum, orange, Grapefruit, etc. People often drink these fruits' juice. Or differently, they use them to make sour soup and tilapia. It is an exciting experience for you to discover Vietnam's unique cuisine.
A visit to Vinh Long Vietnam is often combined with visits to other beautiful destinations in a Mekong Delta tour such as Ben Tre Vietnam, Can Gio Vietnam, Can Tho, etc All of these places are fairly close to Ho Chi Minh City. All have a unique trait of characteristics of people in Western Vietnam. But each place differs a bit and it is surely exciting to find out.
Suggested cruises to Vinh Long Vietnam
Phuong Dao – Travel lover