Be famous for being a vast maze of rivers, canals, floating houses, and fruit orchards, Mekong Delta becomes a must-see site for Vietnam travel. Hence, for many travelers, they really want to spend at least 2-3 days in the Delta to enjoy the most of this unique place. But if you only have a day to fit for Mekong Delta tours from Ho Chi Minh City, is this worth taking a Mekong Delta day trip? Yes is our answer as you may still have the chance to experience various and memorable activities.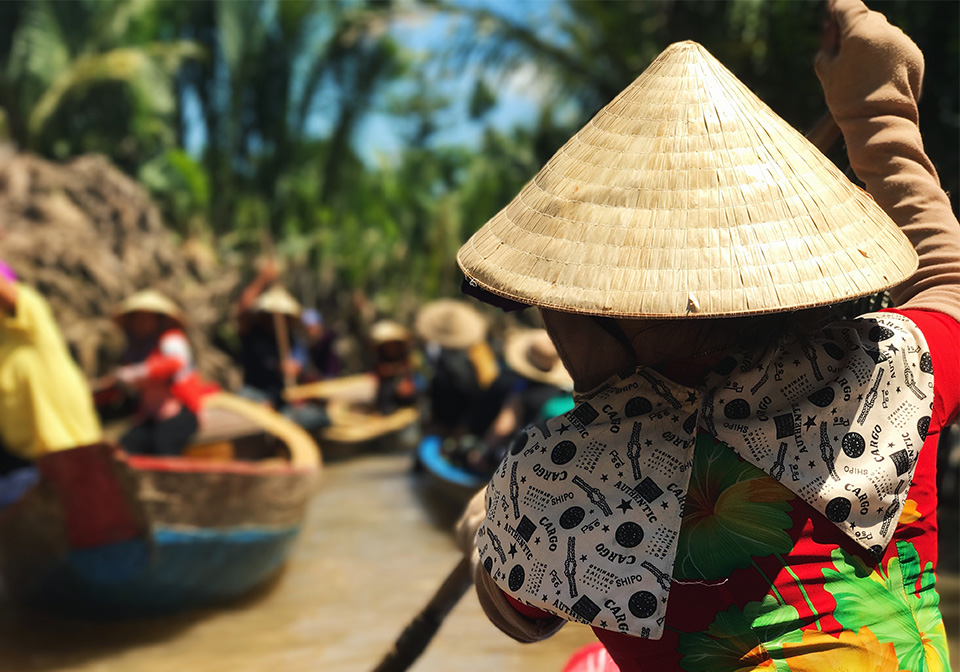 What to expect from a Mekong Delta day tour?
Visit the fruit orchards and taste the fresh local specialties such as honey, tropical fruits
Surrounded by canals with the rich fertility from the Tien River, the fruit orchards have become a huge provider of fruits not only for domestic supply but for export as well. Though travelers can visit these tropical fruit orchard all year round, it is better to travel in the summertime from May to August. This is the harvest season of Lo Ren star apple, Hoa Loc mango, Binh Hoa Phuoc rambutans, Nam Roi pomelo, and many other regional fresh fruits. To name as a few, do not forget to visit Cai Be, Vinh Long or Vinh Kim Orchard. They are all big fruit baskets of Mekong Delta.
Traveling to the fruit orchards during the busiest time of the year, you may catch a glimpse of the busy and colorful buying and selling activities. Two of the most famous Mekong Delta floating markets – Cai Be and Cai Rang markets are gathering points. It is where high-quality fruits from the nearby orchards have been traded and transported to other areas by boats for many years.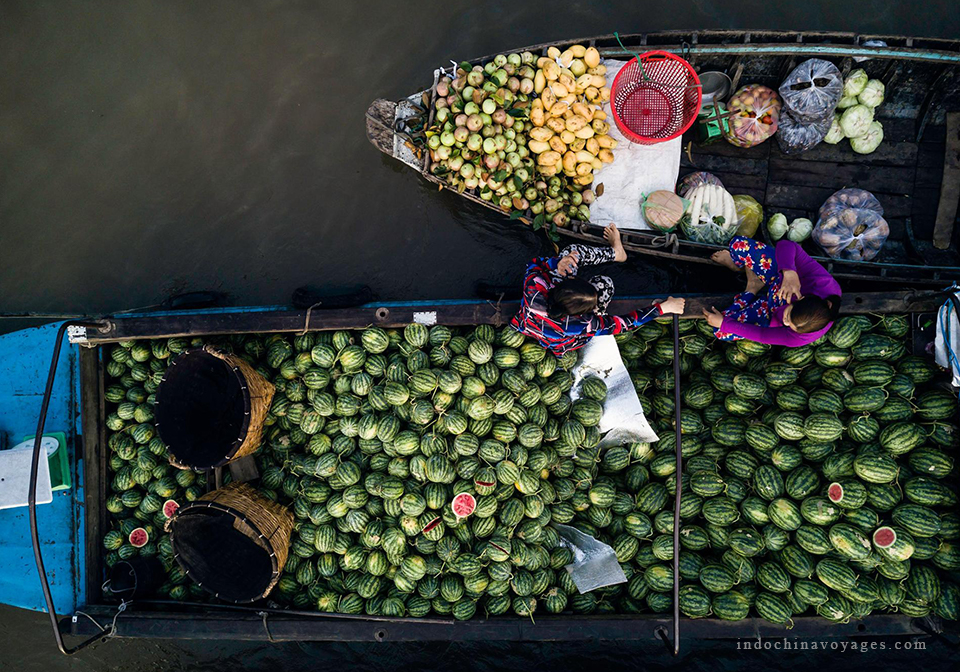 Staying inside the orchards, you may have the chance for a fresh-tasting of the tropical fruits with the honey raised inside the garden of each family. 
Take a cycling tour around the village
After relaxing for a while, you will start to wander around the village on the islet on a bicycle which is one of the most interesting things to do for any travelers. This is not only a way to practice some exercises after a long ride by bus but also a chance to be immersed in the rustic atmosphere of the countryside. 
A curved bridge to connect two sides of the river, a fishing net for the daily work of local farmers, a monkey bridge made of bamboo and organic materials and lush green fruit orchards are what you can expect throughout your ride. 
Sometimes, you will feel so excited to hear the local kids' voice of "Hello", "Hi" which is really friendly and memorable.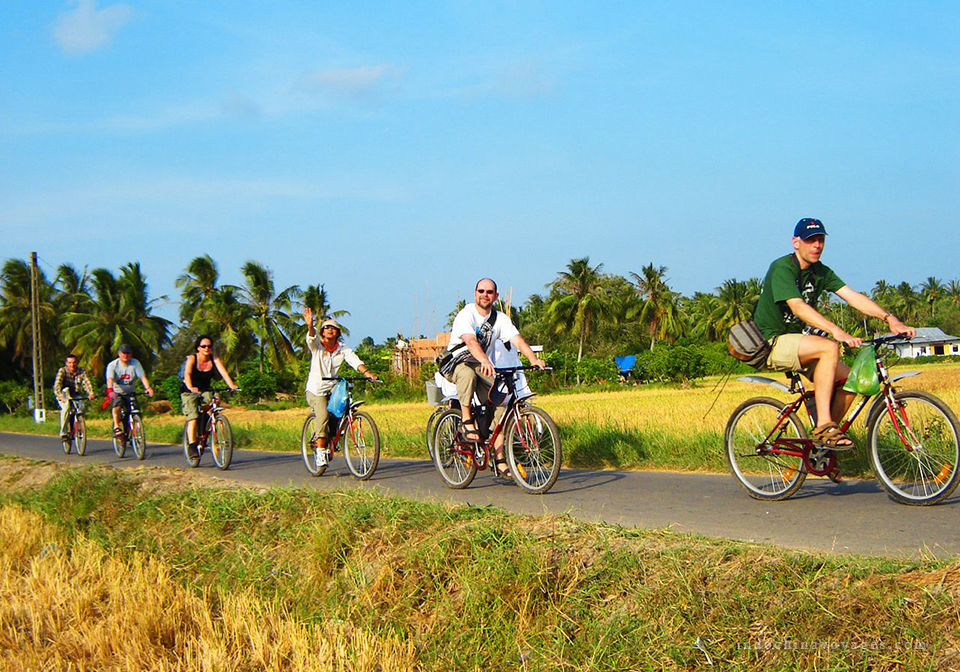 Explore the small canals on a hand-rowed sampan
Sail on a traditional hand-rowed boat sampan under the shadow of water coconut trees is very peaceful and relaxing. What's an escape from the bustle and hustle of the big cities. You can join a hand with the local boatmen as there is a paddle already placed inside the boat. Though the ride only lasts for 10-15 minutes, it becomes the top thing to do when you are in the Mekong Delta.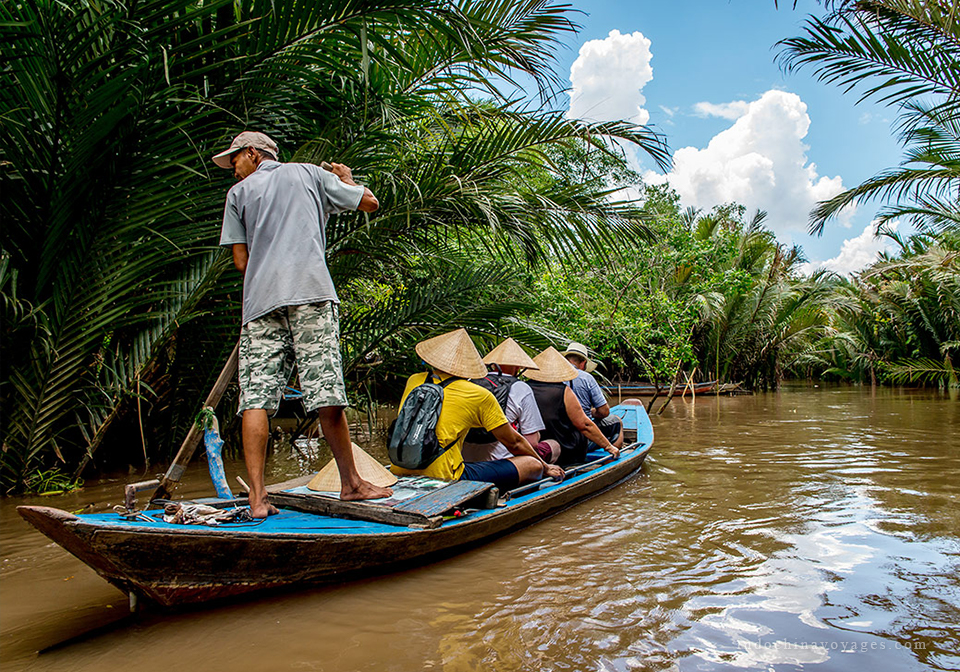 Visit the coconut processing workshop
When touring to Ben Tre – a kingdom of coconut, you may be dropped by a coconut candy making workshop. From there, you can see the full procedure of making a small sweet bar of coconut milk candy from the raw material of fresh coconut. After the candy just comes out from the oven, do not hesitate to taste the hot pieces of sweet and greasy coconut as you will love it and continue the next bite.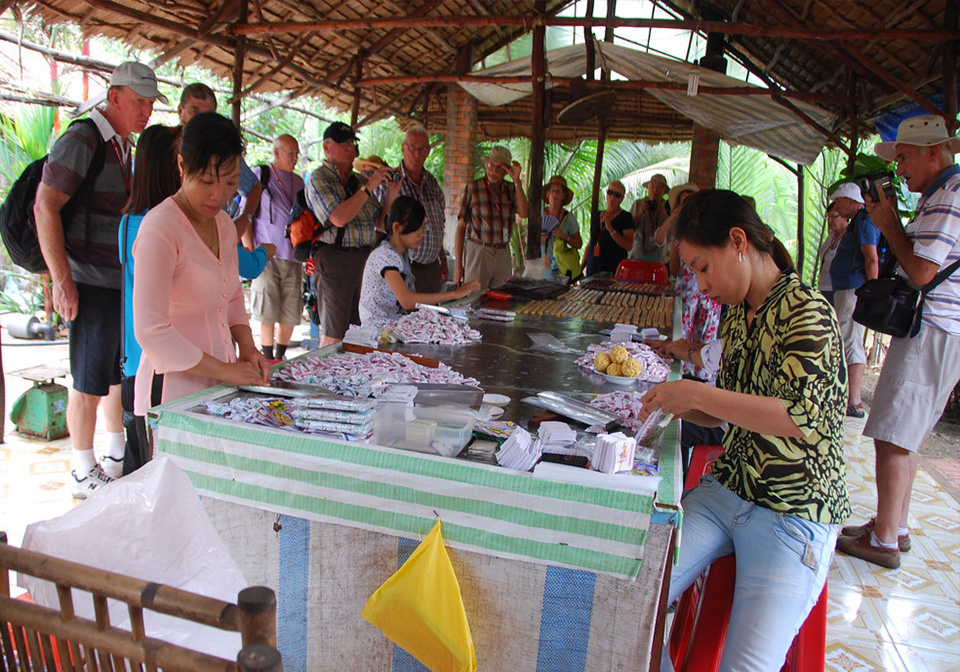 Enjoy delicious local lunch on the islets/ onboard
A trip will be not perfect if you do not try the specialties of the place you visit. With a huge advantage of rivers and canals, the main ingredient for meals is mainly from the water. You can try the deep-fried fish in a roll of vegetables, rice noodles, grilled prawns, sweet and sour soups of fish and fresh vegetables such as morning glory of the gardens on the islets.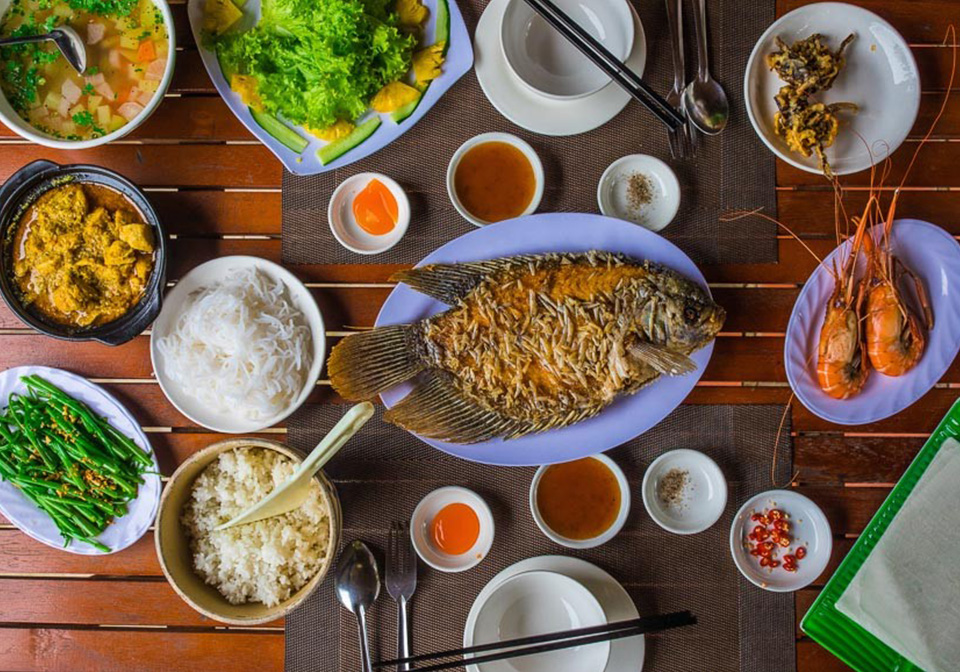 What are the best options for the Mekong Delta day trip?
Normally, travelers can choose classic tours by road transfer from Ho Chi Minh City to My Tho – Ben Tre, less touristy Ben Tre and Vinh Long. The provinces can be easily reached after a 1.5 – 2-hour drive. Therefore, you may expect to start on a day since 08:00 and return to your hotel at 16:00 – 17:00 on the same day.
While My Tho is among the popular sites for group tours coming from Ho Chi Minh City, Vinh Long is a new destination with fruit orchards and more local handicraft workshops. They are brick-making ones, rice popcorn workshop, rice paper making house or traditional rice cakes house, etc. Travelers are deeply interested in having hands-on experiences when interacting with the locals and enjoy the boat ride in a very rustic atmosphere without not too many boats. 
Recently, there are new deluxe day trips to Mekong Delta by luxury speedboat transfer from Tan Cang Pier (Ho Chi Minh City). For the same duration, you can get an insight into the local citizens living along the Saigon River together with many typical activities of the delta as mentioned. With a different boat pier and route to explore, the combination of modern and traditional boats bring the most authentic experience for anyone who loves discovering Mekong Delta with a little extended budget within a day.
Let's plan your Vietnam tours to Mekong Delta and have a great Mekong Delta day trip with our hospitable and friendly locals.
Linh Chu – Travel Specialist