The chaotic business hub – Ho Chi Minh City aka Saigon is where most flights to Vietnam land. Now we can definitely forgive you for staring at postcards of Vietnam panoramas of rice paddies like perfection while you are surrounded with this city's nightmarish traffic. These postcards are likely to be selling a bucolic haven, enveloped by mist, that you can find nowhere. In this city, the only mist you can see is a result of the fumes arising from thousands of motorbikes on all the crowded roads. If you have one or two week in Vietnam, you can experience idyllic Vietnam in all its glory at Halong Bay, Mui Ne/Phan Thiet or Phu Quoc. If not, then a day trip from Saigon to the Mekong Delta should be an ideal way to get a real taste of the splendid Vietnam countryside. jahan mekong cruise
My Tho – an amiable market town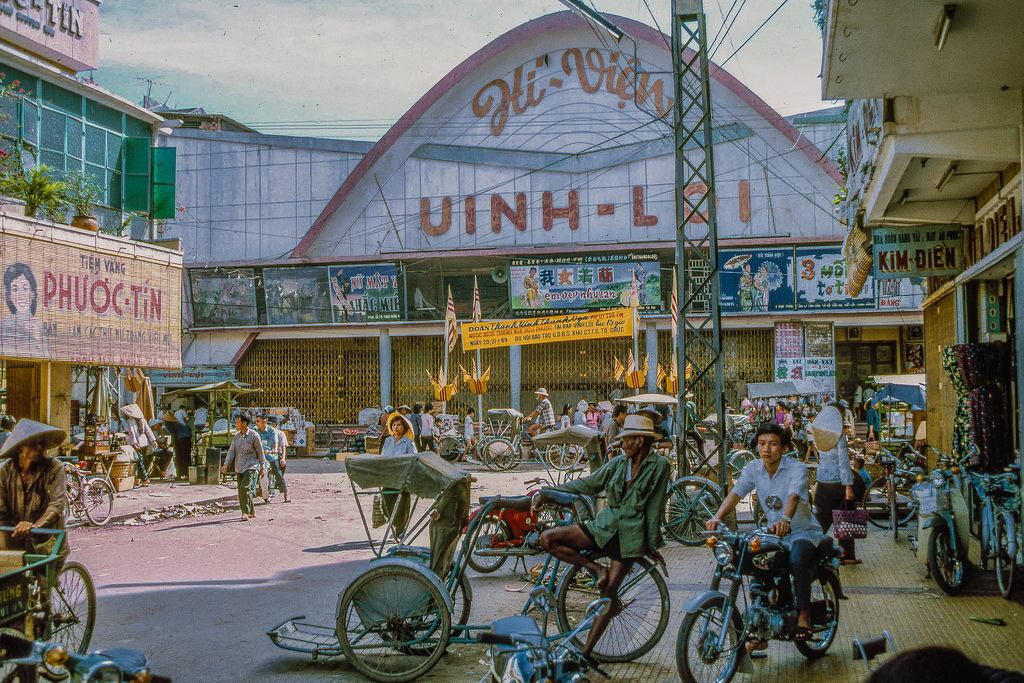 My Tho, seventy kilometers out of Ho Chi Minh City, is an amiable market town that lies on the north bank of the Mekong River's northernmost strand, the Upper River (or Tien Giang).
A 2-hour drive through suburban Ho Chi Minh City leads to My Tho, an awesome market town and the gateway to the busy floating markets of this Delta. The Mekong River, also known as The River of the Nine Dragons in Vietnam or the Mighty Dragon, is the life-line of six countries in Asia (Vietnam, Laos, Cambodia, Thailand, Myanmar and China). It passes through rice plantations, lush tropical forests, swamps, temple cities and boasts of some of the most fertile and richest landscapes in the world.
Even though day trips such as this are bound to bring the touristy feeling, once looking at the brightly-coloured boats bobbing along the calm waters of the Mekong, you will fall in love with this river. You will definitely want to be back for more!
Ben Tre – Sweet Aftertaste Of Coconut Kingdom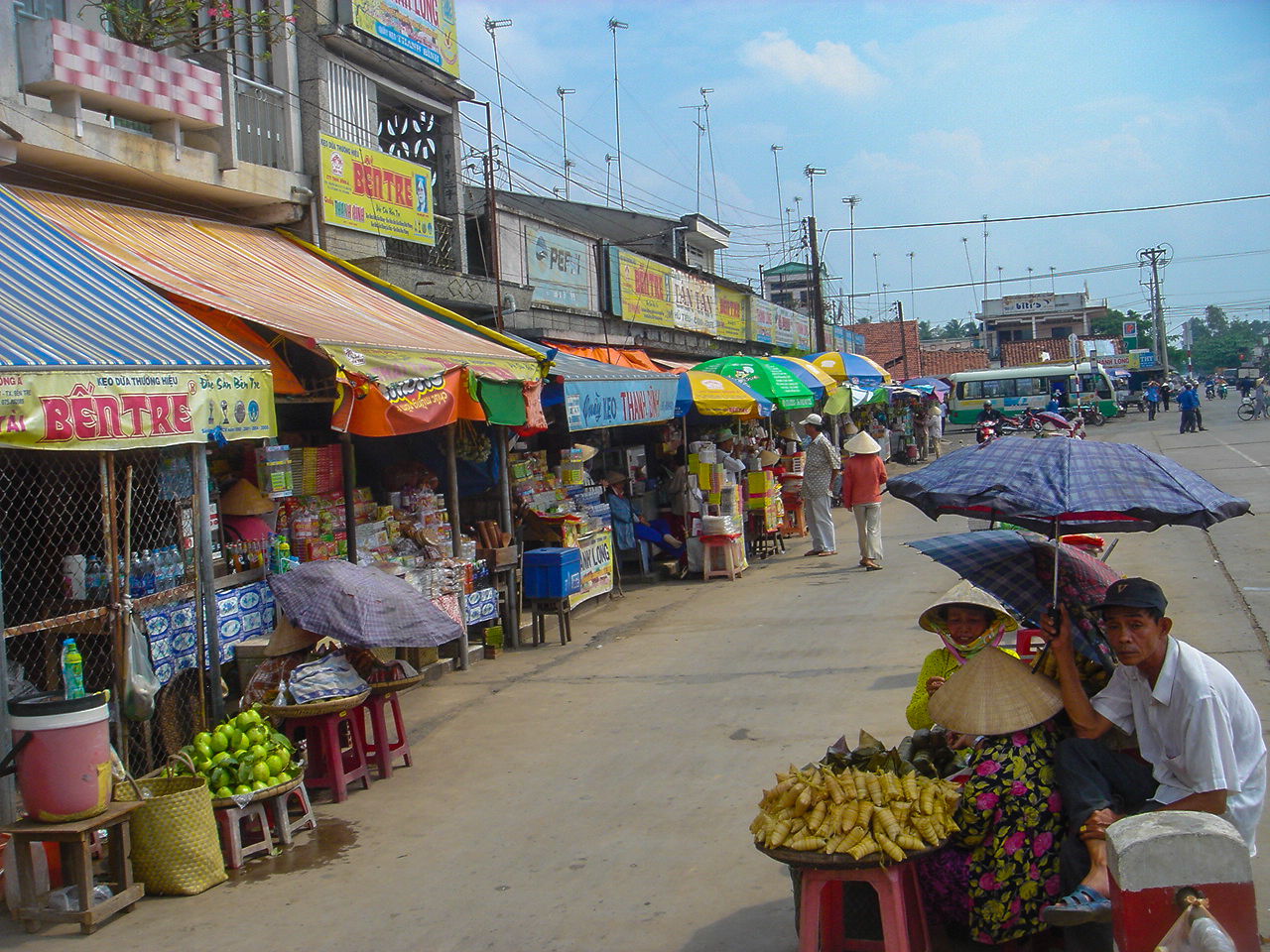 Only about 2 hours and 15 minutes away from My Tho, Ben Tre is the best option for a day trip to the Mekong Delta from Saigon. However, this fascinating destination retains an authenticity which has been somewhat lessened in nearby My Tho.
This friendly and picturesque Mekong Delta town has historically welcomed only a small number of travelers, but thanks to the opening of a bridge connecting Ben Tre and My Tho, it has been far easier for day trippers to visit this town from Saigon.
Ben Tre – a pleasant enough place, with a small town charm, that makes it an all-year- round reasonable spot for those with enough time on their hands to dawdle slowly through the Delta, is a much better base than My Tho for those who are on a budget. mekong eyes
Full day bike tour to the Mekong Delta from Saigon, Vietnam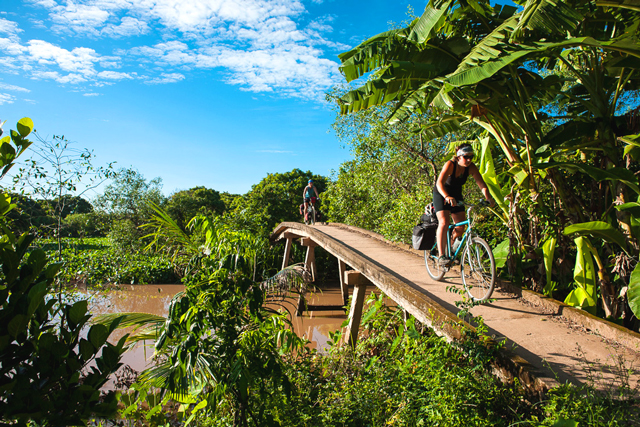 Cycling from Saigon to the Mekong Delta, south of this city, then you will have an interesting experience rich with tradition, the foods and flavors and magnificent scenery unique to southern Vietnam. In addition, the flat landscape of the river and rural pathways make it perfect to discover by bike. Normally, your trip starts and ends in Ho Chi Minh City center.
About 2 hour drive south of Ho Chi Minh City, the Mekong Delta makes its dramatic final push to the South China Sea, at the end of its epic 4900 kilometer journey. Your tour will weave along orchard trails and canal paths, through the charming villages and towns that this area is known for and across ferries that sometimes only fit half a dozen people.
During this tour, you will have a chance to sample the food specialties of the Delta, a region rich with fresh vegetables and tropical fruits. Join this full day bike adventure to experience and taste the beauty and spectacle of the Mekong Delta!
Canal Paths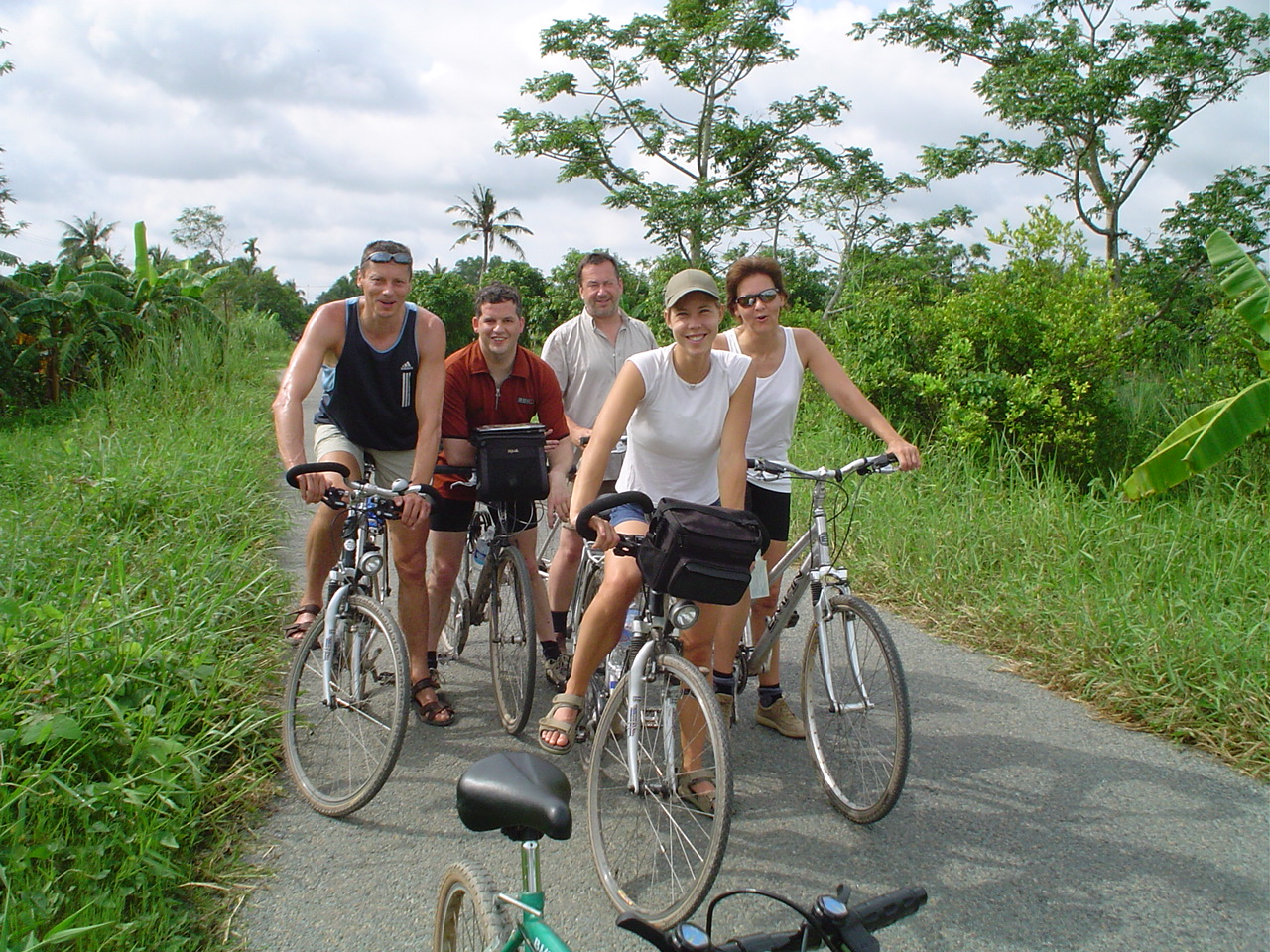 The Mekong Delta area is well known for its flat, concrete and safe paths that take tourists deep into the region past friendly and welcoming locals. Also, this route features paved rural roads with much room for safe and interesting cycling.
With a huge water transport and the huge systems of footpaths, single tracks that criss-cross the flat lands, fruit orchards, forest and rice-paddies, the Mekong Delta in Vietnam is perfect region for traveling by bike. Moving on water by boats is the main means of transportation in rural areas. Cyclists of all different levels can ride bicycle on the back roads of Mekong Delta to experience the authentic Vietnamese countryside and local life. Travelers are able to organize bicycle touring through Mekong Delta from Phnom Penh and Siem Reap in Cambodia. Alternatively, you can also start from Saigon, Vietnam.
See more:
Asia Travel Lover