With nature's gift of many rivers, ancient people in Mekong Delta have learned to adapt to the environment. And their legacy is an amazing river culture. Mekong Delta floating markets are an unmistakable part of that culture.
The floating markets in Mekong Delta have been a way of trading for more than a hundred years. At first, due to dense canals, people had to use boats or sampan as vehicles for the daily commune and transporting goods. Then, floating markets became a trading hub for tropical fruits – another famous agriculture product of the southern region. Later on, people began to sell more local products. Taking Mekong Delta tours from Ho Chi Minh is not uncommon. However, it is still a unique way to explore the local culture.
To make it easier for you, we sorted Mekong delta floating markets into 2 categories: the popular and the less-touristy ones. Now, Let's see some of the most fascinating markets on the river.
Well-known Mekong delta floating markets
Cai Be floating market
Cai Be is a tranquil small town located in Tien Giang province, which is just a 2-hour drive from Ho Chi Minh city center. Thus, if you are already there, it is perfect to have a one-day tour of Mekong Delta floating markets. Opened in the 18th Century, it used to be the busiest floating market in the area, famous for colorful garden fruits like grapes, starfruits, or rambutans, seafood & poultry. The liveliest time is from 5 am to 8 am. Therefore, for travelers, the most suitable time to be there is 6 to 7 am. 
Unfortunately, Cai Be floating market is getting smaller through the years since there is a new bridge built and the trade is shifted to the modern central market on land.
However, guests can still emerge into the countryside life by jumping in the sampan boat to discover the small canals. Also, they can ride a bike on the narrow roads along small side canals and visit an orchard.
>> Suggested Mekong Delta tour: Feel The Mekong 1 Day Tour
Cai Rang floating market
It is very common that after Cai Be, visitors move to Can Tho. As it is fairly easy to get from Ho Chi Minh city to Can Tho, people often arrive there in the evening, stay overnight in a homestay then heading for Cai Rang floating market at sunrise. It takes 30 minutes if you get there by boat from Ninh Kieu pier.
This is the largest floating market in Mekong Delta, also the most popular one due to its location and accessibility. So popular that it even attracts Cambodian or Chinese buyers. It is exciting to see the traders "perform" so professionally and creatively to juggle fruits from boat to boat.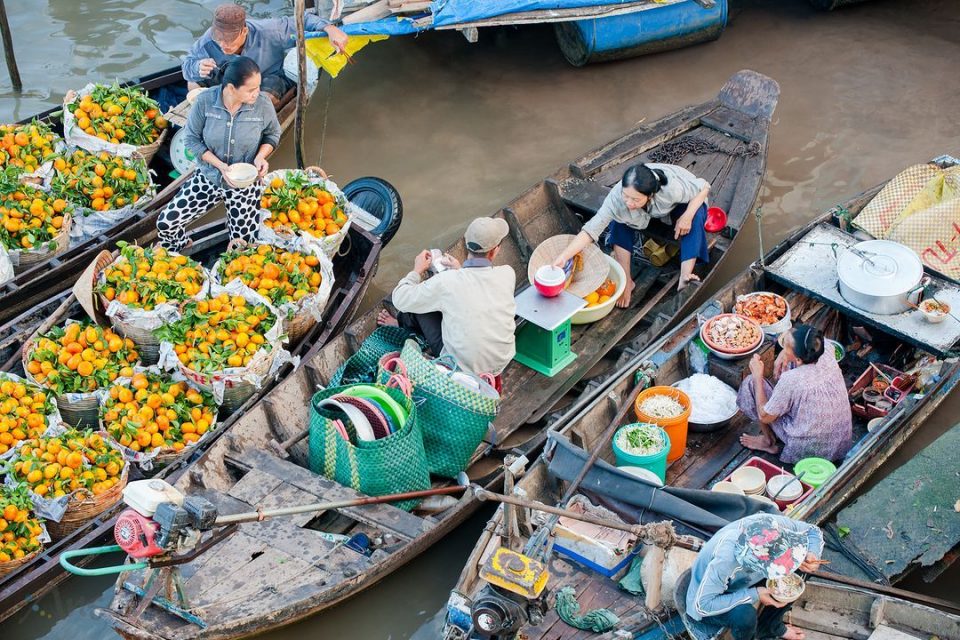 It is believed that some fruits must be planted in such a specific place so that it tastes the best. You can find these kinds of fruit here such as Cai Mon durian, Nam Roi grapefruit or pineapple.
As the business activities start very early in the morning, many floating restaurants are there to serve breakfast for traders, and travelers also.  You can enjoy local noodles such as Pho, Hu Tieu, Bun Rieu, Bun Ca, etc. and have a cup of coffee while boating around. 
Since there are too many boats here, some have their covers, it is hard to know what they sell. So they use a bamboo stick to hang their stuff sample in front of the boat. It makes up the uniqueness of this market on the river.
Once you have finished Cai Rang floating market, you may consider checking other things to do in Can Tho as it is such a lively city. A visit to Bang Lang stock garden or Binh Thuy ancient house can complete your day trip.
>> Suggested Mekong Delta tour: Mekong At A Glance 2 Days
Less-traveled floating markets in Mekong Delta
Phong Dien floating market
Only 20 km southwest of Can Tho city, Phong Dien floating market is far less crowded than the main market – Cai Rang. There are fewer engined boats here and more of manually-rowed sampans. It is pretty fun here as travelers can hear the sellers' gossip, laughter and sing their sales song in traditional style. 
Long Xuyen floating market
Despite the touch of tourism, Long Xuyen floating market keeps its originality. People come here can feel the authentic and genuine atmosphere of a local market. Vegetables are the main merchandise here. Otherwise, freshly cooked food are interesting. Have for yourself a light snack while being on the small engined boat cruising around the market. Long Xuyen floating market will never let you down. 
Tra On floating market
This is the final floating market on the Hau river before it empties into the East Sea. It is not as bustling as other places like Cai Be or Cai Rang but still worth a visit for those who opt for less-touristy sites.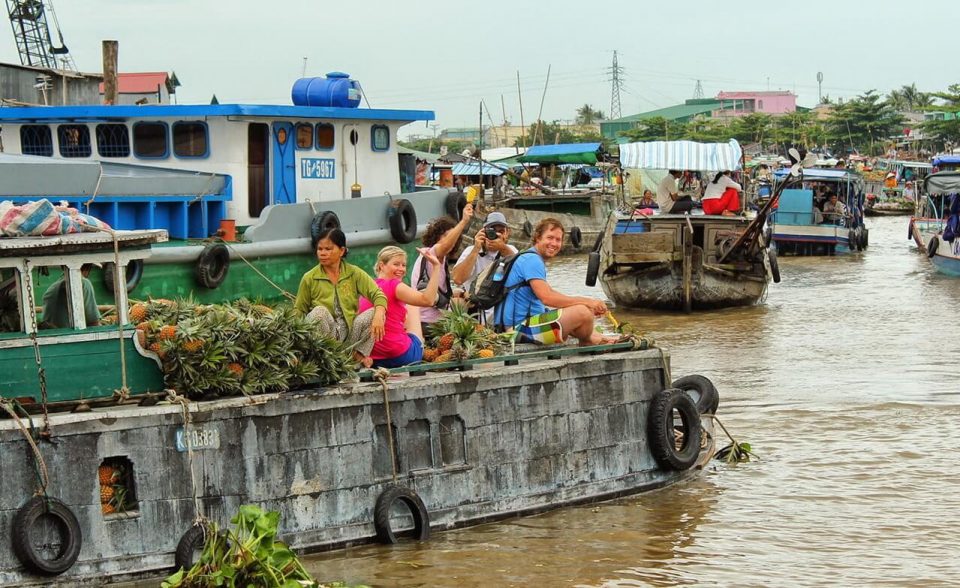 The market wakes up really early as 02:00 a.m. It is very interesting to see the morning rituals of the vendors as they prepare their boats for the day. Like other floating markets, the main goods here are fruits and seasonal agricultural products. Your eyes will feast on colorful boats full of mango, longan, rambutan, dragon fruit, durian, etc, and many other familiar vegetables. Make sure you try some—they are fresh from the orchards!
Before your trip
Once having your best Mekong Delta floating market in mind, it's time to prepare for your favorite Vietnam tours.  Remember to check Mekong Delta weather in advance, you would not want to be there on a rainy day. Also, save some small money in your pocket so that you won't waste time exchanging it to buy stuff later. In some markets where they sell pineapples, you are invited to their boat to see how they quickly peel it which is really fun. 
This sampan boat trip in Mekong delta is one of many things-to-do on water throughout Vietnam. The others include a Halong Bay cruise journey, a foot-rowing boat experience in Ninh Binh – Trang An tour, or a royal experience on a dragon boat of Perfume River in Hue, etc. We highly recommend traveling from North to South (or reverse) to enjoy them all. Find out how to plan the best Vietnam itinerary  2 weeks and start booking for your trip.
Daniel Nguyen – Travel specialist